Welcome to Speedrun Sunday: that sadistic time of the week when we dare to challenge both your D-pad's durability and sanity's stamina with the ultimate test in video game bragging rights.
Hot off the bullet blasted boots of our hellish Enter the Gungeon challenge comes yet another spicy run that'll leave you drenched in shame and sweat. That's right, fans of intergalactic snacks and Planet Pop Star attacks: We're working up an appetite in search of the speediest Star Allies Dream Land has to offer.
THE CHALLENGE
Who can get the fastest time completing Kirby Star Allies' bonus mode, The Ultimate Choice, on Spicy Level 6 as Dream Friends Rick & Kine & Coo?
Our claim to fame is 07:16.80, which shouldn't be too hard to top for all you denizens of Dream Land. The bouncing buddies with the fastest time by 12:00 a.m. PT will win a coveted $10 eShop card (North America), along with the illustrious title Dream Land's Triumphant Trio.
THE RULES
All participants must play as Dream Friends Rick & Kine & Coo. No other characters will be accepted.
Recruit whichever Star Allies you like throughout your adventure. Whoever helps you get the fastest time is fair game!
This is a strictly solo challenge. No multiplayer times will be permitted.
All submissions must be made using the Switch's 30 second video capture feature showing your total time upon felling Morpho Knight, accompanied by a matching Leaderboard snapshot (as shown below).
Make sure to scribble your Twitter handle using the Switch's editing feature alongside your fanciful feat so we know it was you.
Feel free to improve upon and submit new scores as many times as you like.
Follow @NinWire and @cityw0k on Twitter and retweet this post to qualify for today's cash prize. After that, simply share your video and snapshot in the Twitter comments, and we'll personally send both your winnings and a social media shoutout within the week.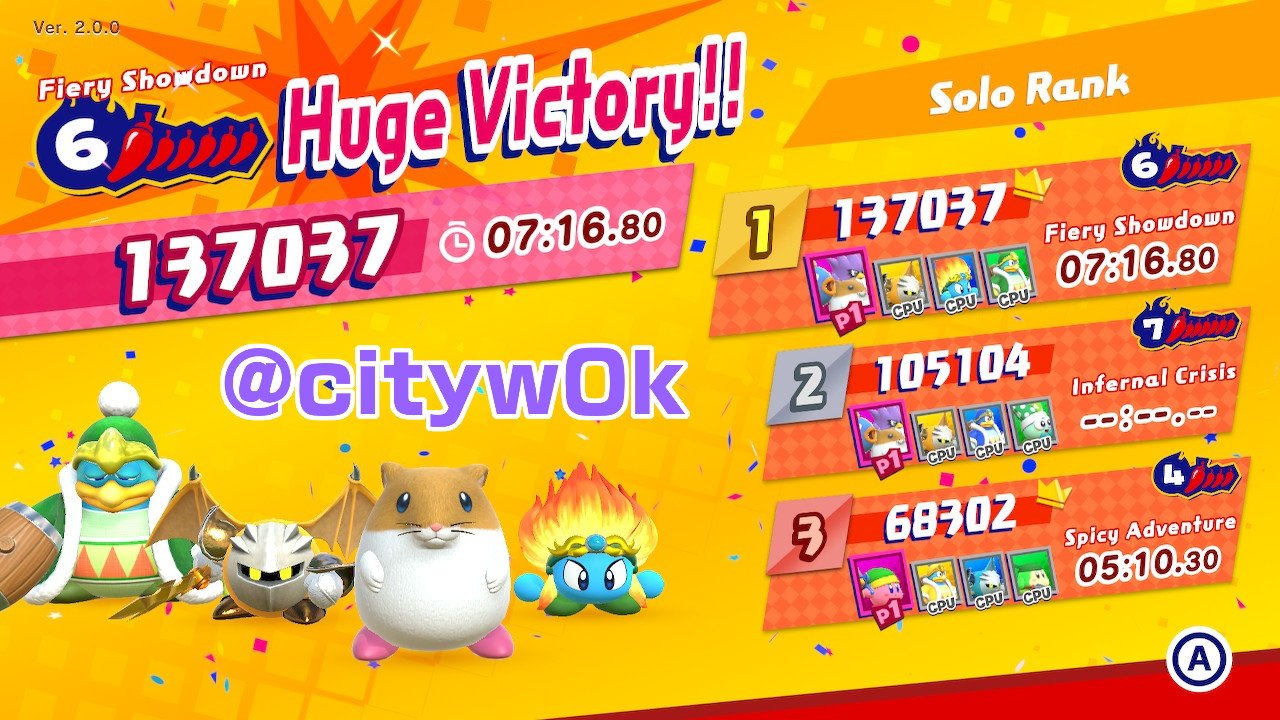 We'll be keeping score right here in the article all day, too, so you can easily keep track where your top rivals rank. Also, feel free to tune in to our Kirby Star Allies livestream at 5:00 p.m. PT where I'll personally be contending alongside today's top competitors for fame and glory.
So whaddya say? Ready to power through the pain only a Planet Pop Star pepper can provide? To quote Kirby's maniacally masked rival, Meta Knight, "Come back when you can put up a fight."
---
Dream Land's Triumphant Trio
1. @RStar5075 [04:07.40]
Dream Friend Flunkouts
2. @plpRuns [04:19.35]
3. @more_jolxy [04:34.29]
4. @mccgavin99 [05:20.75]
5. @aipompous [05:23.64]
6. @ILOVEVHS [05:42.85]
7. @_AquaBat [06:18.85]
8. @cityw0k [06:48.69]
9. @nin10dohfuntime [06:51.70]
Leave a Comment