Both a 1.4.0 update and the long-awaited Shadow Dragon DLC Pack for Fire Emblem Warriors are now available to download.
Among other things, the Shadow Dragon DLC adds Minerva, Navarre, and Linde as playable characters in addition to new weapons, History Mode maps, and costumes.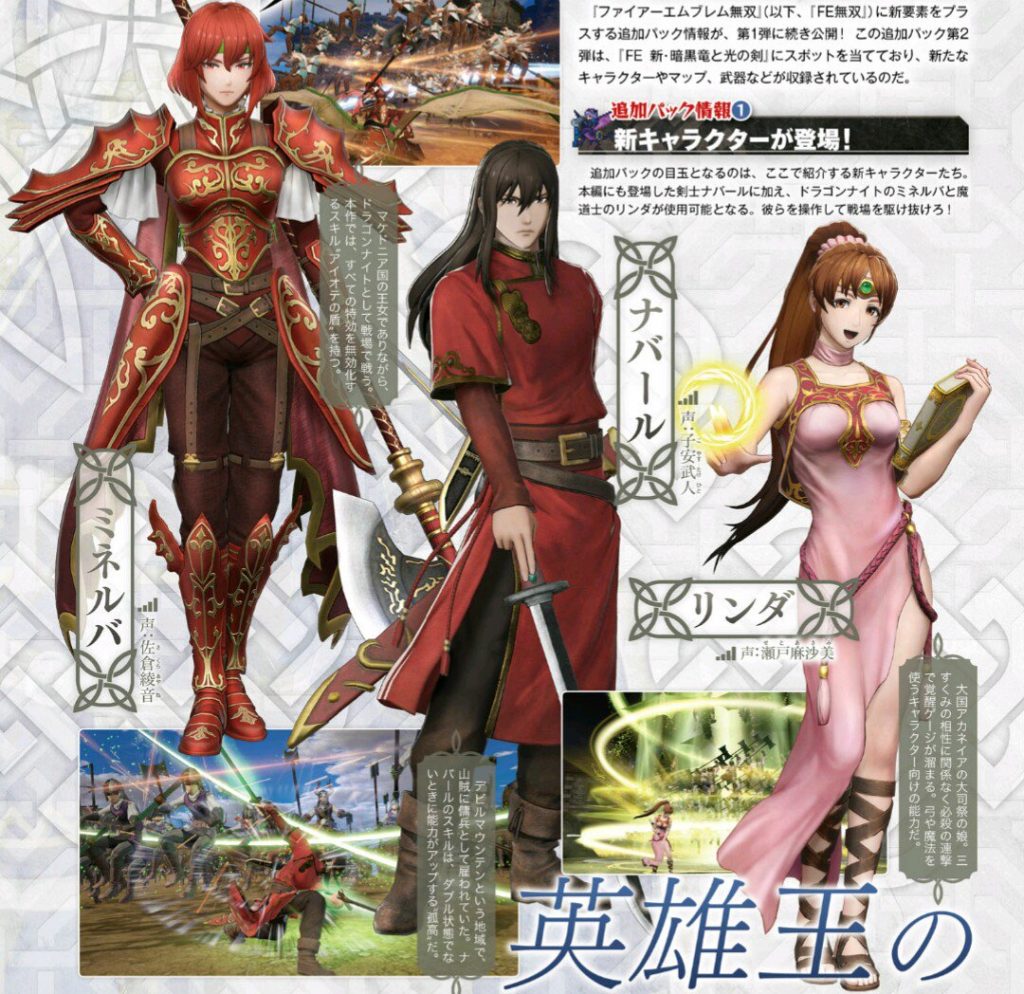 Check out the official update notes for version 1.4.0 below, and details about the Shadow Dragon DLC just below that.
1.4.0 update notes
Fire Emblem: Shadow Dragon Pack compatibility has been added.
The level cap for characters has been increased to 130.
New weapon attributes, Critical Focus and Antiair Focus, have been added.
New blessings have been added.
New crests have been added.
Crest Confirmation setting has been added.
Improvements to the UI.
Various bug fixes.
Shadow Dragon DLC pack details
3 new characters

Navarre is a Mercenary that takes on the opposition with a sword. His Lone Wolf skill increases damage when he's not paired up with another unit.
Minerva, a Wyvern Rider, combats foes with her Axe. Her Iote's Shield skill nullifies enemy effectiveness.
Linde the Mage joins the fight with her Tome. With her Quick Wit skill, critical hits fill the Awakening gauge regardless of weapon advantage.

New History Maps

"A Brush in the Teeth" (feat. Navarre)
"Princess Minerva" (feat. Minerva)
"Knorda Market" (feat. Linde)
New costumes
Marth: Bridegroom
Caeda: Bride
Tiki: Vibrant Dress
Lyn: Swordmaster

New armor break models

Marth
Caeda
Tiki
Navarre
MinervaLinde
Celica
Lyn
Anna

New weapon attributes

Statflip: Swaps both Attack & Defense, and Magic & Resistance. When combined with Topsy-Turvy, the character will physically attack with Resistance and defend with Magic.
Genpeer: Inflicts bonus damage against enemies of the same gender and less damage against those of the opposite gender.
Gencross: Inflicts bonus damage against enemies of the opposite gender and less damage against those of the same gender.

New weapons

Linde: Aura
Navarre: Wo Dao
Minerva: Hauteclere
Caeda: Wing Spear
Tiki: Divinestone
Anna: Anna's Bow

The Fire Emblem: Shadow Dragon DLC Pack can be purchased on the official site. If you already purchased the Season Pass, this DLC Pack is available to you at no additional cost.

Note: new costumes, character-exclusive weapons, and weapon attributes must be unlocked as rewards from playing through the new History Maps.
Owners of both or either the 3DS and Nintendo Switch versions of Fire Emblem Warriors can update their games now.
Those who have purchased the Fire Emblem Warriors Season Pass can start playing with the new Shadow Dragon content immediately; those who have not pre-purchased the pack can do so via the Nintendo eShop.
Leave a Comment