Just in time for for ARMS' next Party Crash, a new update has landed for the game bringing it to Version 5.1. Biff teased the announcement last night on Twitter and with the patch notes available, we know exactly what is coming to a fighting ring near you.
Have plenty of ARMS' currency piling up? Besides taking a trip to the ARMS Getter, you can now throw your coins at the Gallery. Various illustrations can be viewed here, but they must be unlocked by buying them and/or hitting a specific requirement.
Next up is something brand new – Tournament Mode! Here, all ARMS are available to throw around. There are some strings attached, as no records will be recorded, currency given out, and badges won't be distributed.
There's no balancing of ARMS and fighters in this update, but some errors were fixed. Dr. Coyle's ARMS will now fire correctly, the Ramram ARMS will once again move while in mid air, and the Tribolt ARMS will return to your fighter in Skillshot mode.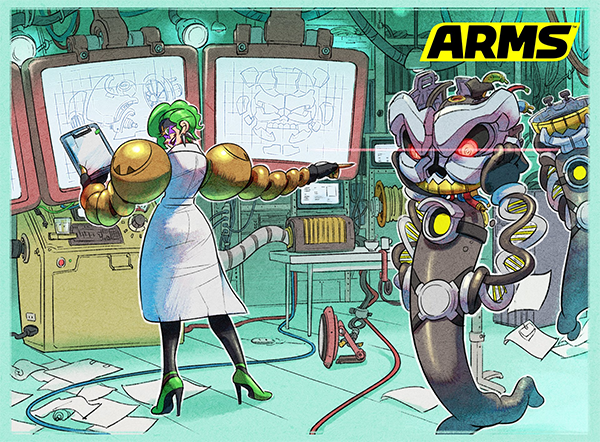 As for Party Crash, it looks like Dr. Coyle found some time to do research while fighting in the Grand Prix. A brand new version of Hedlok has been crafted and will only appear during Party Crash sessions. The ARMS Laboratories have also crafted new Bonus Periods – perhaps you can spot a few when checking the calendar for February's Party Crash? Lastly, if a fighter is behind 1,000 points in the lobby you're duking it out in, their bonus jumps up to a multiplier of 2 instead of 1.5.
And if you have an itch to collect them all, more badges have been added. Nintendo is teasing that some pertain to the usage of ARMS and pairing up certain fighters.
Looking forward to Party Crash? Perhap this update will let you get some practice in before pitting Springtron and Kid Cobra against one another.
Leave a Comment