Hard to believe I've been playing a game at least once a day for a whole year, but on February 2nd that'll be my go-to claim when it comes to Fire Emblem Heroes. Celebrating its first anniversary, the mobile game is offering plenty for Summoners old and new alike. Read on to learn all about what's coming, courtesy of the always adorable messenger owl Feh.
Orbs on Orbs on Orbs on Orbs
More than anything, Orbs make Fire Emblem Heroes' world go round. Along with luck, they're just what you need to claim these characters as your own, and the game knows it. That's why starting next month Fire Emblem Heroes is set to offer 50 of these shining spheres for free! No challenge, no hassle, no problem: just log in starting February 1st at 11 p.m. PT to get 'em.
They aren't the only ones though. Along with the usual log-in bonuses and such, a series of Special Maps will be coming to the game. These 25 look to be themed after all the Focuses that've come to the game since launch, and by clearing all of them on each difficulty you'll earn another 50 Orbs total. Each day will bring a new map, so make sure to stay on top of these to claim as many Orbs as possible!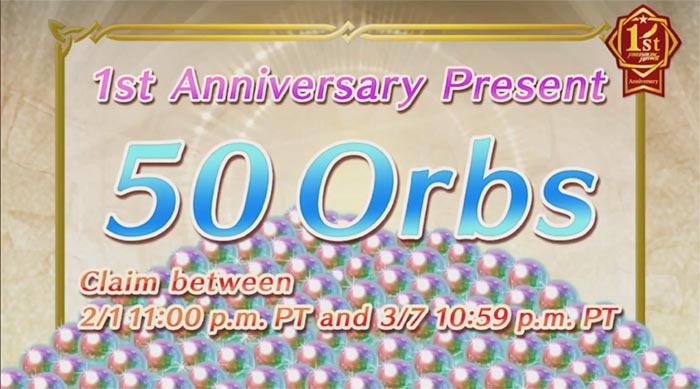 Even more maps to make your mark
That special map list is going to be crowded next month, as there are going to be multiple events alongside the above mentioned. A series of Developer Challenge maps will make their way in starting February 3rd, offering some tough challenges and some more Orbs to grab. These have been done before and are usually fun with fully specced characters rather than their default kits.
February 8th will bring a series of Great Hero Battles, giving Summoners (especially new ones) a chance to grab characters they may have missed the first time around. These will be: Ursula, Navarre, Michalis, Female Robin, Narcian, Lloyd, and best of all the long-awaited return of Xander! His map will have a new difficulty, meaning another chance to summon him on completion.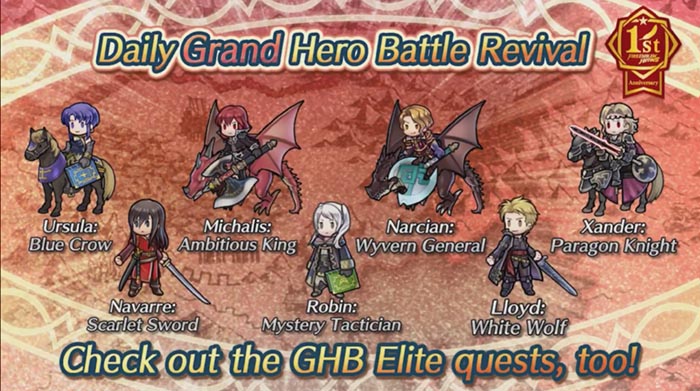 Last up for maps will be a series of training maps. These will be focused on leveling up specific character types by offering certain enemies. The Bow training will be full of flying characters, for example, letting these characters excel and get some quick EXP and SP (which will be doubled during the Anniversary window as well). Guess what more maps means — more Orbs!
The Return of Hero Fest!
Seemingly shunned in favor of Legendary Focuses lately, a new Hero Fest will be held starting February 1st! This will offer four Heroes, one of each color, at a 5% Summon rate by default instead of 3%. This time it's Brave Lyn, Brave Ike, Sigurd, and Nephenee on offer. Whether you're after the characters of their skills, it's a great time to try and bolster your barracks.
And all the rest
That wasn't all the came from tonight's FEH Channel of course. A whole new mode was shown, as was a new Legendary Hero and a special voting event. It's a great time to be playing Fire Emblem Heroes with all these rewards and events raining down, and for all who have ever Summoned you can look forward to another year of coverage from us here at Nintendo Wire. For the whole year through – good luck!
Leave a Comment