At this point, it's fairly well established that the most popular Fire Emblem character of all time is Tellius's own Ike. The leader of the Greil Mercenaries won the first Choose Your Legends poll even though his vote was split in half, an accomplishment that seems unlikely to be matched ever. And it only seems fitting that Fire Emblem Heroes' third Legendary Hero (and its first that isn't an original character) would be the Radiant Hero himself.
Decked out in his Vanguard attire from Radiant Dawn, this third incarnation of Ike is the first Earth-type Legendary Hero added to the game. He comes boasting Ragnell once more, along with a new unique skill Radiant Aether (same as normal Aether with one less cooldown charge), Warding Breath, Seal Atk/Def 2, and Def Tactic 3. It appears to be a mix of his normal and Brave skillsets, offering both a punishing offense and a tanky defense.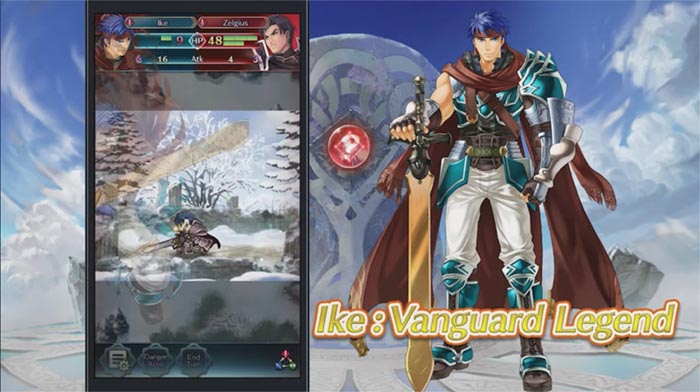 He comes alongside the third Legendary Hero summoning event. The heroes you'll be able to pull from the event include him, Gunnthrá, Fjörm, Takumi, Performing Azura, Siegbert, Sanaki, Faye, Brave Lucina, Summer Xander, Summer Frederick, and Summer Robin. The event will run for six days starting tonight, so get your votes in now.
In addition, it was announced during the FEH Channel that a new popularity poll will be held (separate from this month's previous Choose Your Legends). Titled "A Hero Rises," the event will poll for the favorite unit currently in the game, and the winner will be distributed to everybody. Voting begins on February 1st.
Stay wired for more coverage of the FEH broadcast tonight, and more FEH news in the coming weeks as the 1st anniversary rolls on.
Leave a Comment