Welcome to Speedrun Sunday: that sadistic time of the week when we dare to challenge both your D-pad's durability and sanity's stamina with the ultimate test in video game bragging rights.
Hot off the grease soaked slips of our sultry Super Meat Boy challenge comes another ruthless run that will leave you spun out and seeing Super Stars. That's right, fans of mushroom powered motorways and crippled with rainbow road rage: We're shifting gears and pulling all the pit stops in search of the very best Mario Kart 8 Deluxe drivers the Mushroom Kingdom has to offer.
THE CHALLENGE
Who can rank the highest in our very first Nintendo Wire hosted Mario Kart 8 Deluxe Tournament?
The code to access today's tantalizing tournament is 2324-5859-9979. For those who fancy themselves karting connoisseurs, the top three placing Koopa Kids will each win a prize, along with the illustrious title of Nintendo Wire's Mario Kart Crusader for today's top Poochy. First place will receive a $15 eShop card, second place earns a $10 eShop card, and the racer who comes in third gets a $5 eShop card (all for North America).
THE RULES
The tournament will run between 12:00 p.m. PST and 12:00 a.m. PST today.

You've only got 24 races to prove your worth, so be sure to make them count.

All vehicles, characters, and items are fair game. Pick your favorites and get racing!

In the event of a tie, winners will be determined by who has the higher VR score.

All submissions must be made with the Switch's capture button, more specifically an image of your standing in the leaderboards (similar to the image below).

If your Twitter handle doesn't match your leaderboard score, make sure to scribble your online alias using the Switch's editing feature so we know it was you.

Switch version only.
Follow @NinWire and @cityw0k on Twitter and retweet this post to qualify for today's assortment of prizes. After that, simply share a snapshot of your standing in the Twitter comments and we'll personally send both the prize and a social media shoutout to the winners Monday afternoon.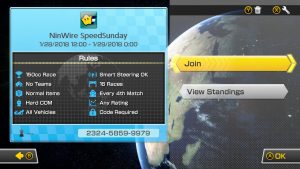 Remember, we'll be keeping score right here in the article all day, too, so you can easily keep track where your top rivals rank. Also, feel free to tune in to our Mario Kart 8 Deluxe livestream at 4:00 p.m. PST where I'll personally be contending alongside today's top competitors for fame and glory. Who knows? Maybe a few other Nintendo Wire writer's will join in the fray, too.
So whaddya say? Ready to rev up your Switch and hop back behind the wheel for another lap of banana peeled mayhem? Start your engines, stock up on some Red Shells and "Let's-a-go!"
---
Nintendo Wire's Mario Kart Crusader
1. @ghostkid825 [346]
Puttered Out Paratroopas
2. @NintendoBlackC [338]
3. @ER1C612 [309]
4. @tsvlink25 [307]
5. @jpjr79191 [298]
6. @diegoszo2003 [289]
7. @Bruno_Caetano [283]
8. @twintelle [254]
9. @CalvinieBobenie [251]
10. @NukeKioh [250]
11. @Chandlier1229 [245]
12. @TheShadowKoopa [231]
13. @ForestTemples [228]
14. @Shaggy_MN_1975 [209]
15. @cityw0k [189]
16. @BamBamRicky [173]
Leave a Comment