Update: Thanks to Persona Central, we can check out the newly revealed trailer of Blazblue Cross Tag Battle, including a look at Blake Belladonna in action. Keep in mind that the date shown in the trailer is for the Japanese release, with the June 5th release standing for North America.
This year is already shaping up to be quite the treat for Switch owners who are fans of fighting games, with everyone from Capcom to SNK getting in on the fun. Of course Arc System Works was ahead of the curve, confirming the cross-over fighter BlazBlue Cross Tag Battle for Switch back in October. Mashing together the worlds of Persona 4 Arena, RWBY, Under Night In-Birth and, naturally, BlazBlue, it promises to be a very unique contender.
Now, thanks to an Arc System Works livestream (via Gematsu), we have official release dates. The game will first launch in Japan on May 31st and in North America a few days later on June 5th.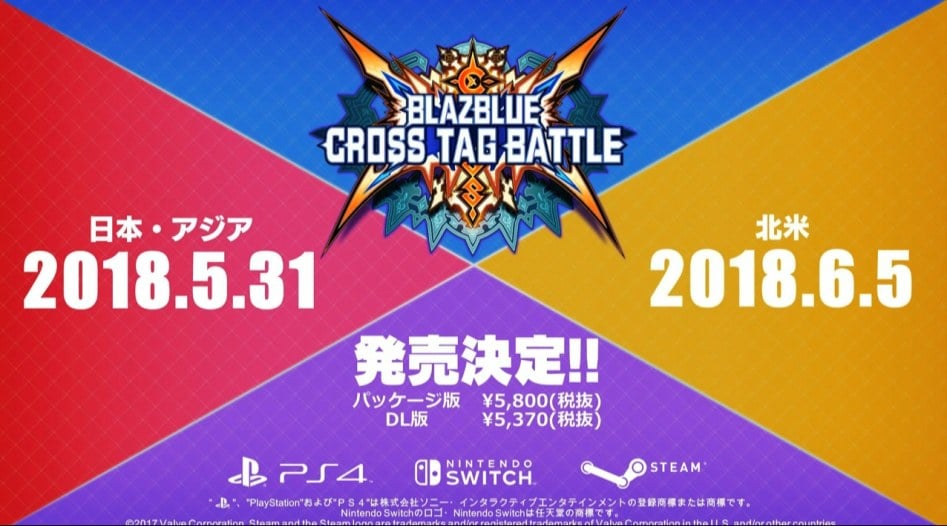 We also get confirmation that the game will have 40 characters in total, DLC included. We currently know of 21 fighters, plus the just-announced Blake Belladonna from RWBY, who will be one of the DLC additions.
Japan will also be getting a special edition with various goodies but we've yet to learn of the west will get anything similar.
Leave a Comment