Welcome to Speedrun Sunday: that sadistic time of the week when we dare to challenge both your D-pad's durability and sanity's stamina with the ultimate test in video game bragging rights.
Hot off the vine-draped droops of our spooky Mario Maker challenge comes yet another ruthless run that will leave you shamelessly shivering in your overalls. That's right, fans of pudgy plumbers and cap casting capers: We're taking Mario's outstanding odyssey for a spin to find the very best in jump roping jumpmen this side of New Donk City.
THE CHALLENGE
Who can get the highest score in the Super Mario Odyssey Jump Rope Challenge?
Our claim to fame is 1030, which is admittedly quite impressive, even for the the hoppiest of heroes among you. The mustached maniac with the largest leaps by 12:00 a.m. ET will win a coveted $10 eShop card (North America), along with the illustrious title of Mushroom King of Swing.
THE RULES
Follow @NinWire and @cityw0k on Twitter and retweet this post to qualify for today's cash prize. After that, simply snap a screenshot of your leaderboard score (as shown below) and share it in the Twitter comments, and we'll personally send both the prize and a social media shoutout to the winner on Monday afternoon. Also, make sure your in-game name matches your Twitter handle, or at the very least scribble your online alias using the Switch's editing feature alongside your fanciful feat so we know it was you. Video submissions using the newly implemented software update are also acceptable as long as it includes a shot of your spot on the leaderboards.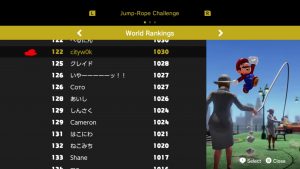 Remember, we'll be keeping score right here in the article all day, too, so you can easily keep track where your top five rivals rank.
So whaddya say? Ready to reach for the stars and prove your pouncing plumber's worth? To quote the singing seductress and maroon mayor of New Donk herself, "It's time to jump up in the air. Jump up, don't be scared."
---
Mushroom King of Swing
1. @SoulOfIce123 [4518]
Portly Plumbers Who Barely Passed Phys Ed
2. @artsyomni [2845]
3. @NBren777 [1051]
4. @cityw0k [1030]
5. @Phantomtomato [283]
6. @AmiiboJason [212]
Leave a Comment