Welcome to Speedrun Sunday: that sadistic time of the week when we dare to challenge both your D-pad's durability and sanity's stamina with the ultimate test in video game bragging rights.
Hot off the cloud draped drifts of our super deluxe Mario Kart 8 challenge comes yet another ruthless run that will leave you begging for Undo Dog's sweet embrace. That's right, fans of spiny stacking and ghastly ghost houses: We're slapping on our hard hats for a Super Mario Maker spooktacular in search of the very best jump men (and women) the Mushroom Kingdom has to offer.
THE CHALLENGE
Who can get the fastest time in my creepy course creation Big Boo's Villainous Vineyard?
Our claim to fame is 3:09:112, which is sure to push the limits of even the greatest plumber's platforming prowess. The mustached maniac with the fastest time by 12:00 a.m. ET will win a coveted $10 eShop card (North America), along with the illustrious title of Bravest Boo Blasting Ghostbuster.
THE RULES
Follow @NinWire and @cityw0k on Twitter and retweet this post to qualify for today's cash prize. After that, simply post your record on Miiverse (as shown below) and share it in the Twitter comments and we'll personally send both the prize and a social media shoutout to the winner on Monday afternoon. Also, make sure your in-game name matches your Twitter handle if possible, though given the uniqueness of this challenge, it shouldn't be too difficult to decipher the validity of submissions.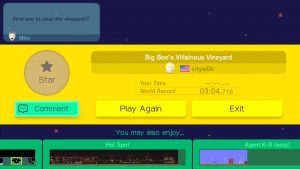 Remember, we'll be keeping score right here in the article all day, too, so you can easily keep track where your top rivals rank.
So whaddya say? Think you've got the mushrooms for it? To quote the green clad scaredy cat himself, "WAHAHA! Who designed this?!"
---
Bravest Boo Blasting Ghostbuster
1. @NinjaFrogtron [2:11:524]
Who You Gonna Call? Probably Not These Guys
2. @R_Roadagain [2:12:833]
3. @Dusk_Crystal [2:27:772]
4. @cityw0k [3:09:112]
5. —
Leave a Comment