Welcome to Speedrun Sunday: that sadistic time of the week where we dare to challenge both your D-pad's durability and sanity's stamina with the ultimate test in video game bragging rights.
Hot off the shellshocked stomps of our cabinet crushing Mario Bros. challenge comes yet another ruthless run set to retrigger your obsessive-compulsive need for neatly stacked structures. That's right, budding architects with a minor in '80s arcade history: We're T-Spinning some love for Puyo Puyo Tetris brick by brick to find the very best in tetromino tumblers.
THE CHALLENGE
Get the highest score in Tetris Ultra Mode.
Our claim to fame is 16864, which shouldn't be too hard to topple for the most hallowed puzzle pushers among you. The shapeshifter with the highest score by 12:00 a.m. ET will win a coveted $10 eShop card (North America), along with the illustrious title of One Line Piece to Rule Them All.
THE RULES
Follow @NinWire and @cityw0k on Twitter and retweet this post to qualify for today's cash prize. After that, simply save a recording of your full run (dated today) and upload it online using the in-game replay feature, then snap a screenshot of your highest Ultra Mode score (as shown below) and share it in the Twitter comments. We'll personally send both the prize and a social media shoutout to the winner Monday afternoon after exchanging friend codes and verifying in-game it was indeed your fanciful feat and not that of some other Puyo prodigy.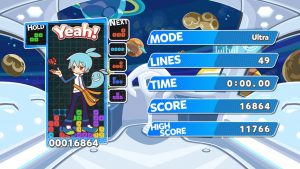 Remember, we'll be keeping score right here in the article all day, too, so you can easily keep track where your top five rivals rank.
So whaddya say? Ready to put your block busting prowess to the test? To quote Puyo's ever wise and mischievous mascot himself, "Gugu~Gugu~! Gugu~Gugu~! Gugugugu~Gugugugu~! Gu~!"
---
One Line Piece To Rule Them All
1. @Wumbotize [70244]
Titans of Tetrominoes
2. @Glacegkt [32108]
3. @Mono2Rabbit [31576]
4. @firexman08 [26325]
5. @dude_im_derick [20482]
Leave a Comment