Welcome to Speedrun Sunday: that sadistic time of the week where we dare to challenge both your D-pad's durability and sanity's stamina with the ultimate test in video game bragging rights.
Hot off the ink-crusted kicks of our splash-o-matic Splatoon 2 challenge comes yet another ruthless run that will stomp your self-esteem faster than you can spout "mamma mia." That's right, fans of mustached men and critter-clogged arcade cabinets: We're jumping down the nearest warp pipe in Arcade Archives Mario Bros. to find the very best in portly plumbers.
THE CHALLENGE
Who can get the highest score in Caravan Mode.
Our claim to fame is 61540, which shouldn't be too hard to top for the most hoppy of jumpmen among you. The koopa kid with the highest score by 12:00 a.m. ET will win a coveted $10 eShop card (North America), along with the illustrious title of Mushroom Kingdom's Sanitation Savior.
THE RULES
Follow @NinWire and @cityw0k on Twitter and retweet this post to qualify for today's cash prize. After that, simply snap two screenshots of your Caravan Mode ranking (as shown below) and share them in the Twitter comments and we'll personally send both the prize and a social media shoutout to the winner Monday afternoon. Also, make sure your in-game name matches your Twitter handle, or at the very least scribble your online alias using the Switch's editing feature alongside your fanciful feat so we know it was you.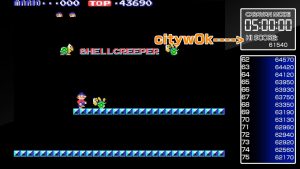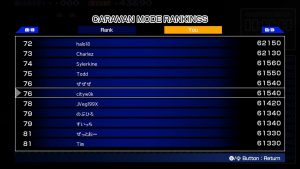 Remember, we'll be keeping score right here in the article all day, too, so you can easily keep track where your top five rivals rank.
So whaddya say? Ready to button up your overalls and flip some Fighter Flies? To quote the great Lou Albano, boisterous Brooklynite with dance moves fit for a Koopa King, "Let's do the Mario!"
---
Mushroom Kingdom's Sanitation Savior
1. @putter243 [72540]
Sewer Swept Brothers In Dire Need of Bathing
2. @eCockpit89 [65370]
3. @cityw0k [61540]
4. —
5. —
Leave a Comment