Welcome to Speedrun Sunday: that sadistic time of the week where we dare to challenge both your D-pad's durability and sanity's stamina with the ultimate test in video game bragging rights.
Hot off the banana-peeled squeals of our ridiculously retro Super Mario Kart challenge comes yet another ruthless run that will leave you rage squidding in a shameful puddle of your own ink. That's right, fans of boisterous booyahs and fashion-savvy cephalopods: We're taking Splatoon's sticky sequel in super soaker supremacy back to the splattlefield to find the very best team of combative cuttlefish.
THE CHALLENGE
Who can get the highest rank in Splatoon 2 League Battles for the day!
Our claim to fame is 1769.8, which shouldn't be too hard to top for the most seasoned of seafood among you. Regardless of squad size or which two hour time period is chosen to compete, the team with the highest rank by end of day will win a coveted $10 eShop card (North America), along with the illustrious title of Coolest Squid Squad To Keep Things Fresh.
THE RULES
Follow @NinWire and @cityw0k on Twitter and retweet this post to qualify for today's cash prize. After that, simply snap a screenshot of your League ranking and today's date (as shown below) and share it in the Twitter comments and we'll personally send both the code and a social media shoutout to the winner Monday afternoon. Also, make sure your in-game name matches your Twitter handle, or at the very least hold a piece of paper alongside your Switch and fanciful feat with your online alias inked all over so we know it was you. Remember, we'll be keeping score right here in the article all day long so you can easily keep track where your top five rivals rank.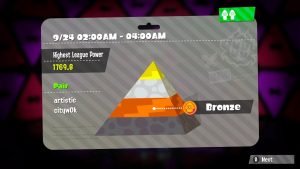 So whaddya say? Are your tentacles up to the task? To quote the sage advice of Inkopolis' hottest pop duo divas "Don't get cooked, stay off the hook!"
---
Coolest Squid Squad to Keep Things Fresh
1. @Mad_and_Jam & @xpascal187 [2438.7]
Splattered Squid Kids Who Got Themselves Cooked
2. @Fate_splat & @AnotherBioGrad [2236.8]
3. @portprisma & @sutagazu [2008.3]
4. @cityw0k & @artisticdoodle [1769.8]
5. —
Leave a Comment