Ten years in any industry is nothing to scoff at, and Nicalis has been putting out some fantastic games in that timespan. To celebrate its history with games like Cave Story, 1001 Spikes, The Binding of Isaac and more under the company's belt as either a publisher or developer, a new logo's been revealed and surprises have been teased for the occasion. Quoting from the release directly:
"You're going to see some very cool announcements from Nicalis over the next few months," says Nicalis President Tyrone Rodriguez. "I can't wait to reveal some of the 10th Anniversary surprises we have planned for fans of our games, and fans of classic video games in general."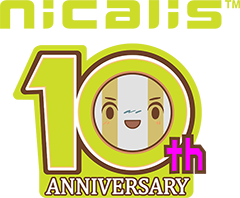 The logo will make its public reveal at BICFest 2017 in South Korea starting September 15th. From there, plenty more will be on the way, both known and unknown. Blade Strangers came out of nowhere to land firmly on my radar back during E3, and more recently Save Me Mr Tako has me excited for its Game Boy inspired style.
You can check out these games in a cool way by browsing the recently revamped Nicalis website. There's plenty of perfectly poised pixels for you to peruse, both on the loading page and the Games subsection. There, in particular, you can spot some characters relaxing with Nintendo Switch titles from the company's repertoire and maybe even spot some characters that should be making their way to the system sometime soon.
Leave a Comment