Even with all the spectacular reveals and announcements coming from Nintendo's Nindies Showcase to fawn over, it's pretty telling that I'm still thinking about the newest No More Heroes game the most. Bringing back Travis Touchdown and mixing in various indie games with Suda51 at the helm is a recipe for a one-of-a-kind experience. While we still have yet to see gameplay, we do have a collection of new concept art to go through. It looks like Travis will have a Power Glove-esque gauntlet this time around (seen briefly in the trailer) that may play a part in connecting him with the Death Drive MK-II. We also get closeup looks at the system itself, a better look at disgruntled father Badman and some shots of Travis' new trailer.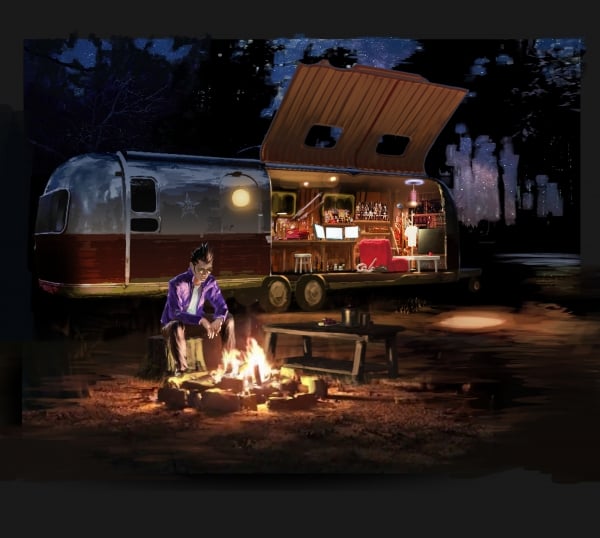 Likewise, Grasshopper Manufacture shared its own rundown of what's been revealed:
"Travis Strikes Again: No More Heroes is a raucous 3D action title, where Travis touchdown wields the Beam Katana to massacre his way through countless enemies, taking on ferocious bosses in an epic battle with Badman. This marks the first time in ten years that Goichi "Suda51" Suda has taken on the mantle of director.

"We've received a tremendous amount of support from our fans over the years, and we are delighted to finally share Travis Touchdown's next great adventure with fans of Nintendo Switch," said Goichi "Suda51" Suda, founder of Grasshopper Manufacture. "We're ecstatic to be expanding the No More Heroes universe in 2018, and we can't wait to share more information with you in the coming months."

Set in the remote countryside of the southern US, seven years has passed since the events of No More Heroes. Badman has come to exact his revenge on Travis for the murder of his daughter, Badgirl. As the two foes are battling it out, they're sucked inside the phantom game console 'Death Drive MK-II', a machine developed by Doctor Juvenile. It is said that whomever collects and beats all six of its games will have their wishes granted."
While it was shown in the reveal that Hotline Miami will be one of the titles Travis will be dealing with, Suda51 revealed last night that Shovel Knight will also be involved in some capacity as well. Assuming it'll only be six games, these two alone are fantastic — and if the other two thirds of the lineup match that standard, we'll be in for one hell of a ride.
Travis Strikes Again: No More Heroes will be out in 2018, and you can keep up with the latest from both Nintendo Wire and the newly opened teaser website.
Leave a Comment