If you thought Retroism's Unholy Night: The Darkness Hunter's SNES cartridge would be the last working game for the system made and/or shipped in 2017, then get ready to shake away your disbelief. Are you prepared to throw down some Street Fighter II? Not the version that came out for the Nintendo Switch earlier this year; I'm talking about the original Street Fighter II on SNES.
Iam8bit and Capcom have partnered up to make a bundle of nostalgia that will be the cherry on top for Street Fighter's 30th anniversary. Simply dubbed the Street Fighter II (30th Anniversary Edition), this throwback is a limited edition collectible that functions as intended. With only 5,500 units made and sold you'll receive the following for $100:
Brand-New Playable SNES Cartridge

Tri-Fold Box w/ Foil, Gloss & Embossments

Premium Instruction Booklet

Retro Pack-In Surprises

Package Design & Restoration by

Jango Snow Art & Design

Manufacturing by

Retrotainment Games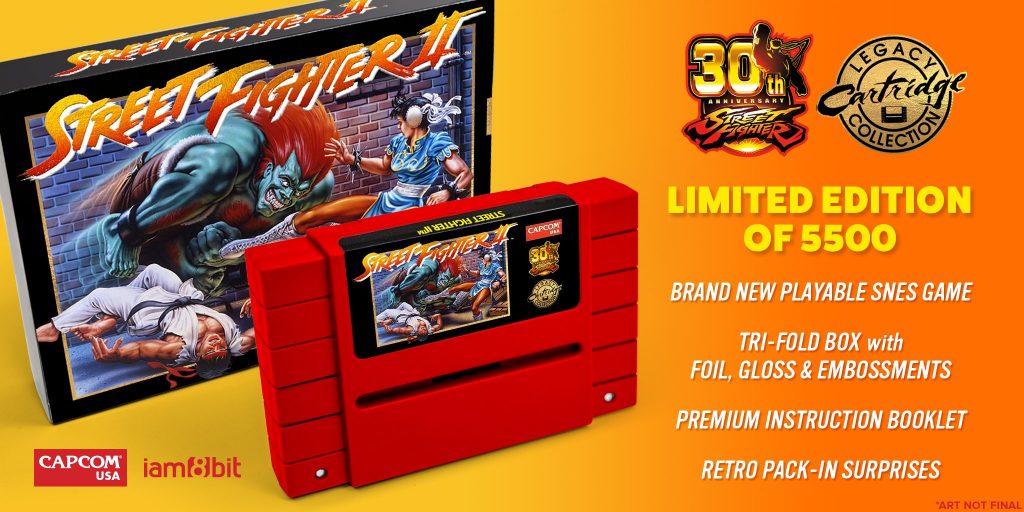 In addition to that, the limited run is being split up even further. The physical SNES cartridge will come in two color variations: Opaque Ryu Headband Red and Translucent, Glow-in-the-Dark Blanka Green. Ryu Red will be the most common with 4,500 units available, thus making Blanka Green the rarer of the two at 1,000 units. The distribution process is completely random and you won't know what you'll get until you open a shrink-wrapped, unmarked box.
Another note to make before buying is a warning added in by Iam8bit that concerns playing the game on an old SNES. More than likely, this is stated for legal reasons so that Iam8bit isn't sued if certain scenarios happen to take place, as stated down below:
"WARNING: Use of this reproduction game cartridge (the "Product") on the SNES gaming hardware may cause the SNES console to overheat or catch fire. The SNES hardware is deemed a vintage collectible, so please exercise extreme caution when using the Product and make sure there is fire extinguishment equipment nearby. Use of the Product is at the sole risk of the user. The Product is sold "as is".  Neither iam8bit, Inc. nor Capcom Co, Ltd. make any representation or warranty, express or implied, of any kind, including any warranty of merchantability of fitness for a particular use, or that the Product is safe to use, and iam8bit, Inc. or Capcom Co, Ltd. shall have no liability for damage to property or persons arising from use of the Product. Nintendo of America is in no way associated with the release of this Product."
Orders will ship out in late November of this year. Perhaps this might solve your SNES Classic woes along with a potential line of other games receiving limited runs in their old SNES cartridge form?
Leave a Comment