This week in the Nintendo eShop: Bandai Namco reminisces over the golden age of the arcade, Olimar embarks on yet another voyage for Earth's garbage, and your many Miis mingle in a quest for friendship.
The slow summer of sales continues this week with not much new to report. Wii U owners and gluttons for punishment will be happy to know the abomination that is Mighty No. 9 has been knocked down to a fraction of its original price. Otherwise both the original Trine and its sequel have another week left to capitalize on their 50% discounts.
SWITCH DOWNLOAD SOFTWARE
Namco Museum (Bandai Namco, $29.99 | available 7/28) – Get ready to slather on some Bengay, arcade fans: Namco Museum is looking to cramp up your joystick hand with a slew of coin-op arcade classics from yesteryear! Nearly a dozen titles are available in this retro compilation, with fan-favorites Pac-Man, Galaga and Dig Dug leading the charge alongside lesser known, but equally awesome games Rolling Thunder, Skykid and Tank Force. As an added touch of authenticity, the Switch can even be turned vertically to mimic a miniature arcade machine. Talk about attention to detail! I gotta say, it's nice to see someone pick up the Virtual Console slack while Nintendo continues to scramble for something more official.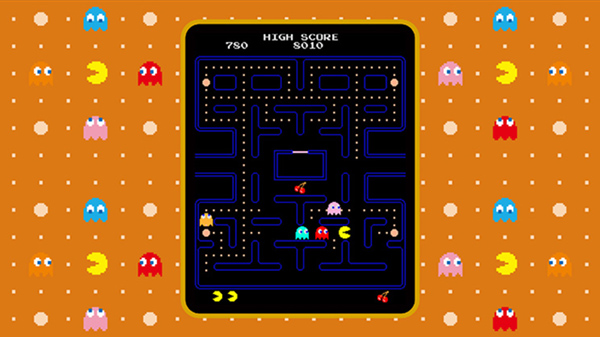 Namco Museum – Pac-Man VS. Multiplayer-only Ver. (Bandai Namco, Free) – Of course, most notable in today's exhibit of classic Namco titles is Pac-Man VS. — a frantic four-player romp developed by Nintendo under the supervision of Shigeru Miyamoto himself where three friends work together as the iconic ghosts and relentlessly hunt down the fourth pellet gobbling player. You'll need at least two Switch systems to participate in the multiplayer mayhem, but fortunately Bandai Namco was kind enough to offer this free download so you only require one copy of the game play.
Overcooked: Special Edition (Team 17, $19.99) – Sharpen your paring knives and dust off your finest chef hats: The chaotic couch co-op game Overcooked is serving up a storm on Switch today! Embark on a culinary quest of increasingly challenging and bizarre kitchen gauntlets to become a master chef capable of conquering an ancient edible evil. Much like cooking itself, Overcooked is best enjoyed with friends as you and up to four budding sous-chefs work together as a well-oiled team of super-chefs or go head-to-head in sizzling cook-offs for ultimate kitchen supremacy. Reviews on other platforms peg it as one of the most fun and challenging local co-op games ever made, burned only by its bland single player mode and lack of online flavor. Feel free to stir up some chaos with a download if you and your friends are curious about what it's like to live life inside one of Gordon Ramsay's nightmares. (That's meant as a compliment, trust me).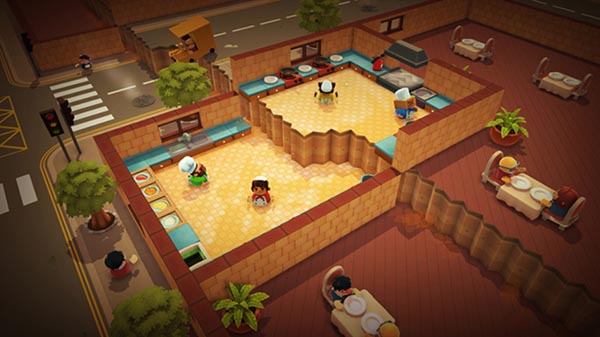 Qbics Paint (Abylight, $4.99) – This nifty creation tool invites you to channel your inner Michelangelo (the historic Italian Renaissance artist, not the pizza obsessed turtle) and digitally sculpt 3D figures with the simple touch of your fingertips. It sort of reminds me of Picross 3D, though with the freedom to dream up your own creations outside the 80 unique models on tap. Thanks to its user-friendly interface, intuitive controls and social media integration, it looks to be a fun distraction for novice creatives who dig dipping their toes in some pretty pixel art. Just keep in mind that Qbics probably doesn't play while docked, as the Switch's touch screen is crucial to the gameplay experience.
Ultra Hyperball (Springloaded, $9.99 | available 7/28) – Pegged the sport of the future, Ultra Hyperball is part soccer, part NFL and all 8-bit insanity. Players don the helmet of Jay, an unlikely hero battling against the odds to join the Hyperball league and become the fictional sport's ultimate champion. Tilt and tap your way through its comical single player story, all the while bouncing balls as high as possible in comically competitive fashion. Its pixelated presentation, pick-up-and-play arcade mechanics and many multiplayer modes make it a steal at just ten bucks, especially if you have a few friends who are sports fanatics.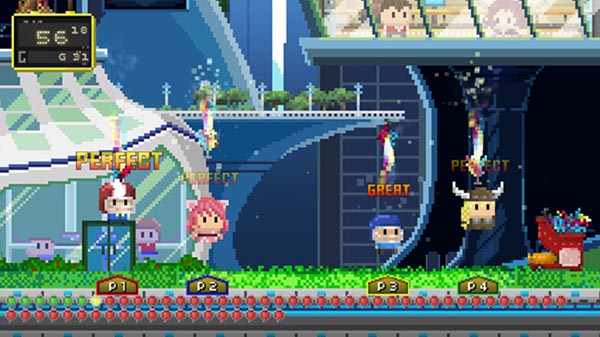 Arcade Archives – Super Sidekicks (Hamster Corporation, $7.99) – Easily mistaken for a side-scrolling beat 'em up featuring the many neglected sidekicks of the world's most renowned superheroes, Super Sidekicks is in fact one of the very first realistic soccer games released on the Neo Geo back in 1992. Of course it's pretty archaic by today's standards, so unless you're burning with nostalgia for some old school soccer action it might be best to wait for FIFA's Switch debut later in September. But hey, at least it's something different than the oversaturation of fighters we've become all too accustomed to each and every week since March. That's gotta count for something, right?
SWITCH ADD-ON CONTENT
Mighty Gunvolt Burst – DLC Character Ekoro (Inti Creates, $1.99 | free until 8/9) – The blue-haired heroine and protagonist of the Gal Gun series descends from the heavens into Mighty Gunvolt Burst today as a fully playable character! Equipped with her patented Angel's Arrow and backed by the power of the Goddess' Blessing, she'll make quick work of whatever mighty foes happen to cross her path. Remember, you can nab this downloadable character completely free for the first two weeks, after which she'll revert back to her regular pricing at just a couple bucks.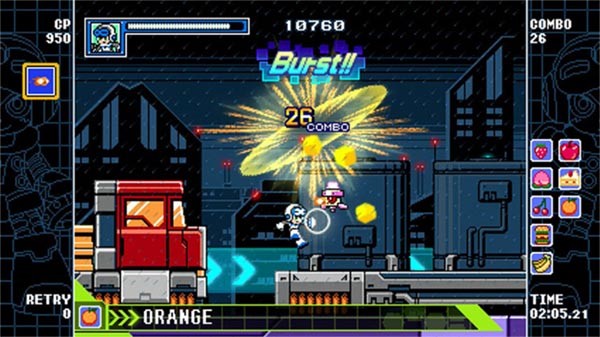 3DS RETAIL
Miitopia (Nintendo, $39.99 | available 7/28) – Ever wanted to be the star of your own video game adventure? Chock-full of humor, intrigue and epic questing, Miitopia is a playwright's dream come true where you cast your favorite Miis in roles across the kingdom for classic turn-based RPG action. Given my brief time spent battling through the demo, its masterful melding of elements from both Find Mii and Tomodachi Life are addictively endearing. After all, few games feature the unlikely pairing of Samurai Jack and Darth Vader in their efforts to destroy the ever gloomy, teenage angst-ridden Daria Morgendorffer from bumming out and literally wiping clean the smiles of Miitopia's many inhabitants. While I can't help but feel like this would have been a perfect launch title alongside the 3DS' anemic software draught way back in 2011, it should still prove a delightful romp today during the system's waning year.
Hey! Pikmin (Nintendo, $39.99 | available 7/28) – We're a mere day away from Pikmin's first-ever 2D side-scrolling adventure scurrying onto 3DS systems! Starting tomorrow, eager earthlings can finally satiate their bloodlust for plucking planted friends and tossing them headfirst into all kinds of gluttonous monstrosities. The half-pint hero Olimar is at it again, feeding his inner hoarder by collecting all of our planet's unwanted junk to help power his crash-landed ship home. Despite a beautiful art style filled with watercolor charm, gameplay feels a tad more shallow and slow paced when compared to its RTS predecessors (at least if the free demo is any indication). We'll be sure to rally up a review sometime soon in the coming days to let you know if the captain's latest misadventures in recycling is worth the trip.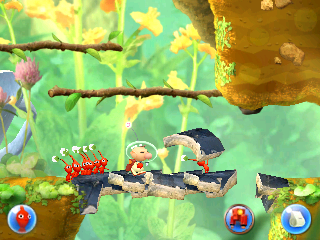 3DS DOWNLOAD SOFTWARE
Kid Tripp (Four Horses, $3.99) – Reminiscent of a simpler time in gaming's past, Kid Tripp is a sometimes brutally hard, yet incredibly rewarding little platform runner. Featuring gorgeously retro sprites clearly inspired by Sega games of yore (most notably Sonic the Hedgehog), players guide an Ash Ketchum lookin' fella through 20 levels of intense platforming madness that's sure to put your patience through the ringer. I'd wholeheartedly recommend it to players with strong memories, lightning quick reflexes and a healthy dose of determination. Though maybe pick it up on your smartphone of choice at a fraction of the cost.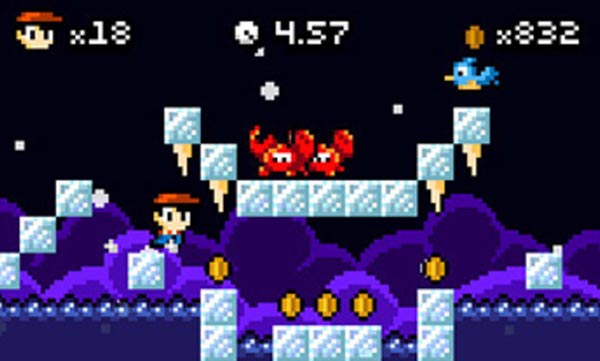 Parascientific Escape: Crossing at the Farthest Horizon (Circle Entertainment, $5.00) – The final chapter in the trilogy of paranormal detective games deduced its way onto 3DS systems today. Both supernatural detectives Hitomi Akeneno and Kyosuke Ayana from the previous two cases return for yet another exciting escape-the-room visual novel that's sure to keep you spinning well throughout its thrilling conclusion. Much like its predecessors, it doesn't quite meet the production values of the Zero Escape series, though it's easy enough to ignore giving the engaging story and enjoyable gameplay system buried just beneath the mountain of grammatical errors.
NEW 3DS DOWNLOAD SOFTWARE
SWIPE (RCMADIAX, $1.49) – The kings of games better suited on mobile, yet inexplicably developed for New Nintendo 3DS systems return with another uninspired high score chaser. Using the D-pad, players move a little blue dot across a 3×3 grid, grabbing little white dots while avoiding large black dots. What's that? Stuck with the inferior processing power of the standard 3DS? I'm terribly sorry, but unfortunately the graphical grit required to render concentric circles floating across a screen is way outside your grasp. Also, you'd think a game called SWIPE would use the 3DS touch screen in some capacity, right? Feel free to swipe left on this one, folks.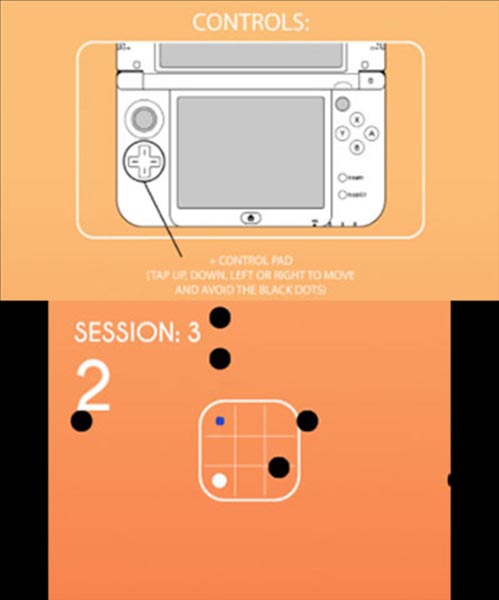 3DS ADD-ON CONTENT
Mighty Gunvolt Burst – DLC Character Ekoro (Inti Creates, $1.99 | free until 8/9) – The blue-haired heroine and protagonist of the Gal Gun series descends from the heavens into Mighty Gunvolt Burst today as a fully playable character! Equipped with her patented Angel's Arrow and backed by the power of the Goddess' Blessing, she'll make quick work of whatever mighty foes happen to cross her path. Remember, you can nab this downloadable character completely free for the first two weeks, after which she'll revert to her regular pricing at a couple bucks.
WII U DOWNLOAD SOFTWARE
Cubeshift (Jace Voracek, Free) – Cubeshift is an infinite arcade puzzler that is absolutely 100% free for all you Wii U fans still vehemently clutching the dual-screened system tight. Its presentation is extremely archaic, featuring Microsoft Paint levels of auto-filled, geometric shapes that certainly helps explain its giveaway pricing. I'm honestly surprised the good folks over at RCMADIAX weren't involved with this one, as it looks to be right up their alley (though admittedly with far less polish). I'm not sure how or why games like these get approved by Nintendo to clutter up the eShop. Sure, free is free, but that doesn't make it worth the time you'll waste better spent playing absolutely anything else in existence.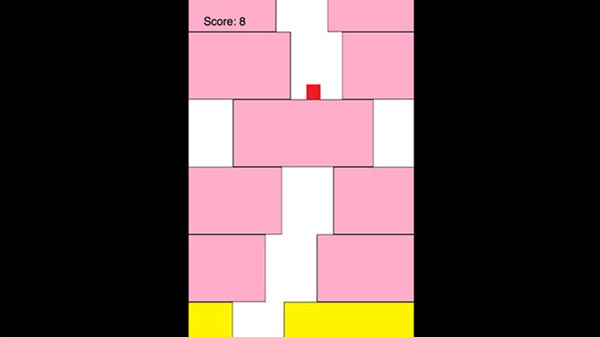 WII U VIRTUAL CONSOLE
Air Zonk (Konami, $5.99) – A spinoff of the popular Bonk's Adventure series, Air Zonk is a side-scrolling shooter originally released on the TurboGrafx-16 back in 1992 featuring a similarly punkish and big-headed hero as he blasts his way through King Drool's robotic army of cyber robots and sentient garbage heaps. Often referred to as a "cute 'em up," the game's distinct visual style oozes enough charm, color and zaniness to make your head spin. In fact, few can match Zonk's pure essence of whimsy. How many games do you know that have missiles wearing sunglasses or a milk canister firing cow-fish named Moo Moo? It's certainly one of the more unique games to ever grace the 16-bit system and well worth the price of admission for genre enthusiasts looking for something trippy.
Victory Run (Konami, $5.99) – A racing game released for the TurboGrafx-16 way back in 1989, Victory Run was one of the earliest games to feature the Paris-Dakar Rally. Players speed through eight different stages set to deserts, savannas and coastlines as you attempt to cross the finish line within the allotted time. Unique amongst similar games in the genre, car parts degrade over time with natural use (or abuse), which need to be replaced assuming the correct spare parts are handy. Anyone familiar with Sega's Outrun will feel right at home drifting through its long windy roads and lane changing mechanics, though don't expect the relatively primitive graphics to impress.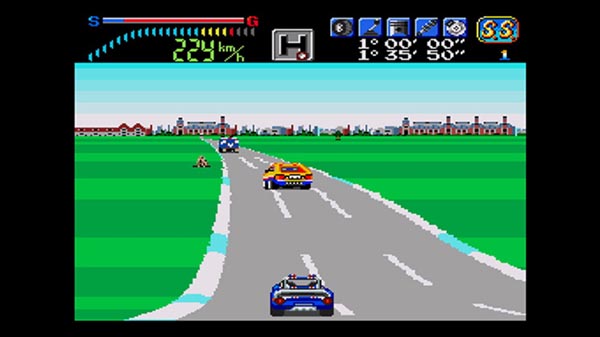 Ninja Spirit (IREM, $5.99) – 1988's Ninja Spirit is a fantastic 2D side-scrolling action game forever doomed to be overshadowed by Tecmo's infamous Ninja Gaiden series. Sure, the plot's your basic sword-wielding shadow warrior out for murderous revenge trope, but what it lacks in gripping narrative is more than made up for in style and over-the-top action. Not to mention, the game sports one of the most impressive jump mechanics ever witnessed in the medium, one that would even rival the great red-hatted plumber himself. Also, how cool is Righteous Cloud for a katana name? Download this classic immediately if you crave more good things in your life.
SPECIAL OFFERS AND DEALS
[3DS] Fairune ($1.99 | 33% off) until 8/10
[3DS] Ambition of the Slimes ($3.00 | 40% off) until 8/17
[3DS] Azada ($1.99 | 66% off) until 8/17
[3DS] Coaster Creator 3D ($5.99 | 25% off) until 8/9
[3DS] Big Bass Arcade: No Limit ($3.49 | 30% off) until 8/9
[3DS] Tappingo ($1.99 | 33% off) until 8/10
[3DS] League of Heroes ($2.49 | 50% off) until 8/10
[3DS] Monster Shooter ($2.00 | 50% off) until 8/10
[3DS] Crazy Kangaroo ($0.99 | 50% off) until 8/10
[Wii U] Mighty No. 9 ($7.99 | 60% off) until 8/2
[Wii U] Trine Enchanted Edition ($7.49 | 50% off) until 8/3
[Wii U] Trine 2: Director's Cut ($9.99 | 50% off) until 8/3
[Wii U] Blue-Collar Astronaut ($5.00 | 50% off) until 8/3
[Wii U] Ohayou! Beginner's Japanese ($3.99 | 20% off) until 8/11
[Wii U] Citadale – The Legends Trilogy ($4.95 | 45% off) until 9/7
[Wii U] U Host ($4.49 | 50% off) until 8/3
[Wii U] Rorrim ($2.75 | 50% off) until 9/7
[Wii U] ZaciSa's Last Stand ($0.74 | 50% off) until 8/17
Check Nintendo's website for the full list of deals available.
AMIIBO
Pikmin: Pikmin Series (Nintendo, $12.99 | available 7/28)
HARDWARE
New Nintendo 2DS XL (Nintendo, $149.99 | available 7/28)

What games will you be downloading this week? Be sure to let us know in the comments!
Leave a Comment