Yesterday Sega held a panel at San Diego Comic-Con delving into the imminent Sonic Mania. Here's a run-down of what was unveiled, with specific info courtesy of The Sonic Stadium.
First up we got some behind the scenes info. In early development the game was called Sonic Discovery, but it was only after the game was pitched to Sonic Team's head Takashi Iizuka that the game was rechristened Sonic Mania. The early build the team pitched was also noteworthy for featuring a fully playable Studiopolis Zone.
We also get confirmation about the game's story, which will be told through sprite-based cutscenes much like Sonic 3 & Knuckles. Early drafts featured Dr. Eggman retiring and his robots forming their own gang, the Hard Boiled Heavies. These villains got their own theme a few days ago, so while the story won't be quite the same, they'll still be a factor.
Attendees got a closer peek into the game's narrative and characters thanks to a manual that was distributed to the audience. Give it a look:
The instruction manual. Gonna get it all signed tomorrow. #SonicMania pic.twitter.com/6tcv4hwAak

— Servbot 42? (@servbot_42) July 23, 2017
Mania will also be getting a fully animated intro courtesy of Tyson Hesse, who worked on the adorable animations seen in the pre-order trailer. This will be uploaded the day before release on August 14th if you can't wait to see it in-game.
The most significant announcement, however, was of the game's special stages, which look to take a page from Sonic CD's, with Sonic chasing after a UFO.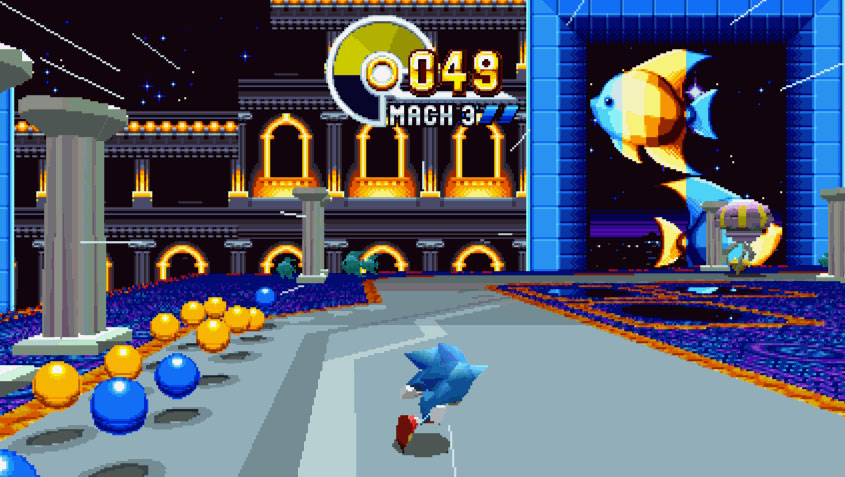 The Tee Lopes-composed special stage music was also unveiled at the panel, and thankfully it was uploaded to YouTube earlier today. Check it out:
Sonic Mania launches August 15th for Nintendo Switch, PS4, Xbox One and PC. We'll be sure to bring more on the retro throwback as we approach release!
Leave a Comment