This week in the Nintendo eShop: Splatoon 2 paints the Switch red, Fate/EXTELLA channels its inner warrior, and Infinite Minigolf provides endless putt-putt action.
You'd think the sales would be flowing in these long and lazy summer days, right? Unfortunately, the eShop continues to disappoint this week as Nintendo clearly wants you playing outside, Switch in hand, rather than beating the heat with your Wii U or 3DS. The only discount of note is for waning Wii U owners, as Deus Ex: Human Revolution – Director's Cut is a whopping 75% for the next few days.
While I've never personally experienced a Deus Ex title, I've only ever heard good things about the series' reputation for adapting to individual playstyles, whether that be a trigger-happy gunslinger or shadow sneaking ninja. It's roughly the same price on Amazon right now should you prefer a physical copy, which does admittedly undermine the digital discount. Here's hoping Nintendo steps up its game soon.
MOBILE
Nintendo Switch Online – SplatNet 2 (Nintendo, Free) – After months of waiting for Nintendo's… let's say "inspired" approach to in-game voice chat, the official Nintendo Switch Online app finally graces our smartphones. Unfortunately, it looks to have far exceeded our most deeply repressed fears, as those fortunate enough to test out its features alongside review copies of Splatoon 2 have reported less than stellar performance. Most disappointingly, voice chat suffers some serious connectivity issues, inexplicably disconnecting anytime your phone is used in any other capacity — like checking emails, answering calls or simply receiving something as benign as text notifications. Yup, dear reader: it's 2017 and you're still better off playing Mario Kart with friends over Skype. Until a patch fixes most of these glaring issues, you might be better off seeking more "convenient" alternatives.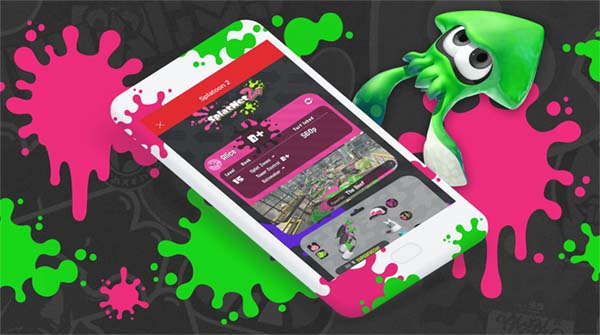 SWITCH RETAIL
Splatoon 2 (Nintendo, $59.99) – The colorful and chaotic sequel to the Wii U's breakout shooter inks its way to the Switch tomorrow! Familiar kid squids can expect a fresh wave of fashion, weapons and more to tear up the splattlefield with in both local and online multiplayer matches. A robust single player campaign also makes its triumphant return, providing another delightful dose of digestible action-platforming stages to splatter through. Though perhaps most intriguing is the new coop mode Salmon Run where up to four players team up against wave after wave of maritime minions. Despite a frustrating lack of proper online support (seriously, what the heck is up with that mobile app, Nintendo), Splatoon 2 looks to hit all the same addictive notes of the original, proving yet another must-have, off the hook title for your Nintendo Switch libraries.
Fate/EXTELLA: The Umbral Star (Marvelous USA/XSEED Games, $59.99 | available 7/25) – Fate/Extella is a bit of an oddball. The heavily anime-inspired series has a history of dabbling in multiple gameplay genres, most notoriously as fighting games, dungeon crawlers and RPGs. Fate/Extella further adds to this repertoire of diverse experiments by essentially mimicking the hack 'n slash stylings of the Dynasty Warriors series, but on copious amounts of speed. While I wouldn't expect to understand its convoluted story without prior series knowledge, fans of fast-paced action, flashy visuals and the satisfaction that comes with mindlessly mowing down legions of foes with the simple press of a button will find lots to fall in love with. Keep an eye out for our full review once we get closer to release, button bashed by our own wayward warrior Tom Brown.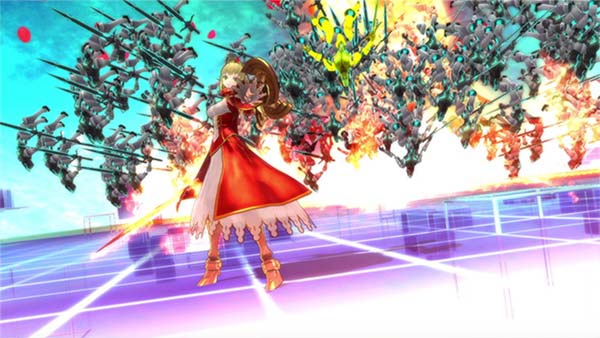 SWITCH DOWNLOAD SOFTWARE
BOOST BEAST (Arc System Works, $9.99) – You can never have enough Match 3 games, amiright? For those of you not yet exhausted by the sheer magnitude of similar titles overflowing from your mobile devices, Boost Beast is here to help continue the bloat on your Nintendo Switch. To be fair, it's made by the same folks responsible for Yoshi's New Island and the upcoming genre bender Hey! Pikmin on 3DS, so it's probably not in the same tier as your common eShop drivel. For starters, the game features 200+ adorably animated stages of beat'em-up puzzle game action as players launch armies of cute and cuddly animals against an undead outbreak. Yup, it's about as zany as it sounds. While I personally feel the genre's better suited for its smartphone origins, feel free to pony up if its simple gameplay mechanics and delightfully morbid premise intrigue you.
Infinite Minigolf (Zen Studios, $14.99 | available 7/25) – The kings of ball physics return to Nintendo platforms this Tuesday as endless mini golf mayhem tees up on the Switch! As the title heavily implies, Infinite Minigolf lives up to its name thanks to a passionate community of caddies and an easy-to-use course editor that makes it possible to create and share new holes in a matter of minutes. If Zen Studios' many addictive pinball games are any indicator, Infinite's simple and responsive controls, charmingly cartoony graphics, slew of multiplayer modes, potent power-ups and innovative scoring system should prove more than above par, ranking high as one of the best putt-putt experiences ever crafted.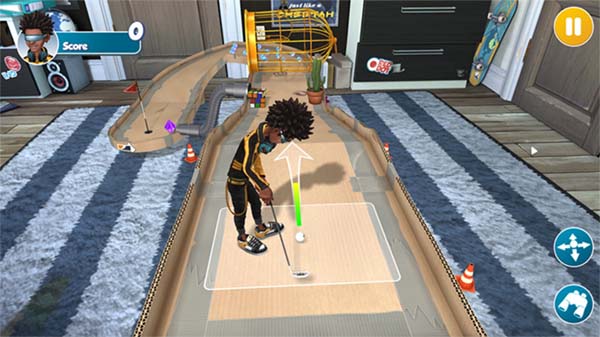 Arcade Archives – Samurai Shodown (Hamster Corporation, $7.99) – Yet another competitive fighting game by SNK joins the fray amongst the Neo Geo's finest on Switch today. Back in the early '90s, Samurai Shodown quickly became renowned for its vibrant presentation, fast-paced action and focus on speedy, powerful strikes and combos. It's also infamous for setting itself apart from the likes of genre juggernauts Street Fighter and Mortal Kombat by handing each of its colorful combatants an arsenal of weapons to wield. Gameplay was further spiced up thanks to creative implementation of slow motion during more death defying blows, not to mention a slew of cheesy Japanese voicework that recaptures the spirit of pumping coin after coin down at the local arcade. If you fancy yourself a fighter fan in the slightest, do yourself a favor and scrounge up the quarters required to experience this cult classic without delay.
3DS DOWNLOAD SOFTWARE
Mononoke Forest (GAMEDO, $3.99) – Sorry to disappoint folks, but if you were expecting some sort of gorgeous video game adaptation for one of Miyazaki's finest films, expect to be gravely disappointed. I'm not even sure the developers know the true meaning of the word "Mononoke" either. Gone are vengeful spirits invoking suffering, disease and death upon those unfortunate enough to cross paths, and in its place a heartwarming simulation game oozing with charm where you build a village alongside tiny huggable animal buddies. Liberties with its inspirational source material aside, the game looks like a fun and colorful distraction for anyone seeking a more lighthearted affair on the go. It's also perfectly priced for a bite-sized snack, making up for this week's relative lack of discount software on tap.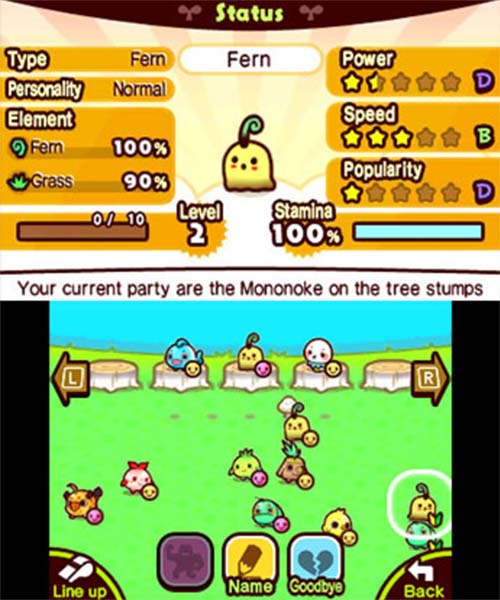 WII U DOWNLOAD SOFTWARE
Eba & Egg: A Hatch Trip (Giga Drill Games, $4.99) – Easily labeled as just another in a sea of endless runner types, Eba & Egg features a unique gameplay twist buried underneath its charming, yet simple, art style. Players accompany a cute and cuddly baby chick on a journey to hatch her baby sibling through 25 perilous stages. The catch? You control both the titular avian and her unhatched baby brother (or sister) simultaneously, providing some much needed depth and challenge to what's typically considered a fairly straightforward genre.
GALAXY BLASTER (RCMADIAX, $1.49) – The kings of shovelware continue to misinterpret the Wii U's do-not-resuscitate order with yet another tediously uninspired arcade shooter previously released on the 3DS. Why at this point in the console's lifespan someone would even bother porting such drivel over is beyond me, yet here we stand. Too lazy for its trademark use of alliteration this time, GALAXY BLASTER tasks players with defending a "base" from "alien ships" using the "blasters" of your own "ship." Of course, that's all left to the player's imagination as all you're really doing is shooting blocks at other blocks as a block. Move along people, nothing to see here.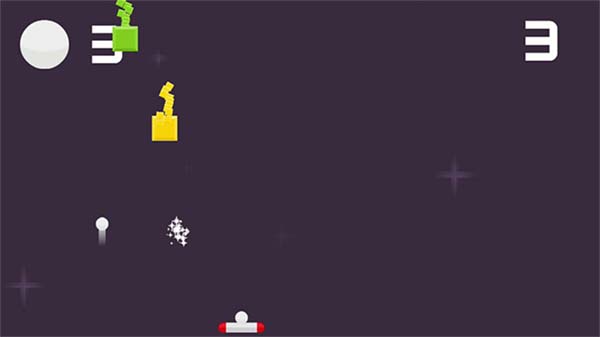 SPECIAL OFFERS AND DEALS
[3DS] Fairune ($1.99 | 33% off) until 8/10
[3DS] Fairune2 ($5.59 | 20% off) until 7/27
[3DS] The Legend of Dark Witch 2 ($5.59 | 20% off) until 7/27
[3DS] Mercenaries Saga 3 ($4.79 | 20% off) until 7/27
[3DS] Gourmet Dream ($4.00 | 20% off) until 7/27
[3DS] Azada ($1.99 | 66% off) until 8/17
[3DS] Noah's Cradle ($3.50 | 30% off) until 7/27
[3DS] Polara ($3.50 | 30% off) until 7/27
[3DS] Jett Rocket II: The Wrath of Taikai ($6.70 | 25% off) until 7/27
[3DS] Polara ($3.50 | 30% off) until 7/27
[3DS] Coaster Creator 3D ($5.99 | 25% off) until 8/9
[Wii U] Deus Ex: Human Revolution – Director's Cut ($12.49 | 75% off) until 7/27
[Wii U] Trine Enchanted Edition ($7.49 | 50% off) until 8/3
[Wii U] Trine 2: Director's Cut ($9.99 | 50% off) until 8/3
[Wii U] Blue-Collar Astronaut ($5.00 | 50% off) until 8/3
[Wii U] Ohayou! Beginner's Japanese ($3.99 | 20% off) until 8/11
[Wii U] Abyss ($0.79 | 60% off) until 7/27
[Wii U] Citadale – The Legends Trilogy ($4.95 | 45% off) until 9/7
[Wii U] U Host ($4.49 | 50% off) until 8/3
[Wii U] Rorrim ($2.75 | 50% off) until 9/7
[Wii U] ZaciSa's Last Stand ($0.74 | 50% off) until 8/17
Check Nintendo's website for the full list of deals available.
AMIIBO
Cloud: Smash Bros. (Nintendo, $12.99 | available 7/21)
Cloud – Player 2: Smash Bros. [GameStop Exclusive] (Nintendo, $12.99 | available 7/21)
Corrin: Smash Bros. (Nintendo, $12.99 | available 7/21)
Corrin – Player 2: Smash Bros. [Amazon Exclusive] (Nintendo, $12.99 | available 7/21)
Bayonetta: Smash Bros. (Nintendo, $12.99 | available 7/21)
Bayonetta – Player 2: Smash Bros. [Best Buy Exclusive] (Nintendo, $12.99 | available 7/21)
Inkling Girl: Splatoon (Nintendo, $12.99 | available 7/21)
Inkling Boy: Splatoon (Nintendo, $12.99 | available 7/21)
Inkling Squid: Splatoon (Nintendo, $12.99 | available 7/21)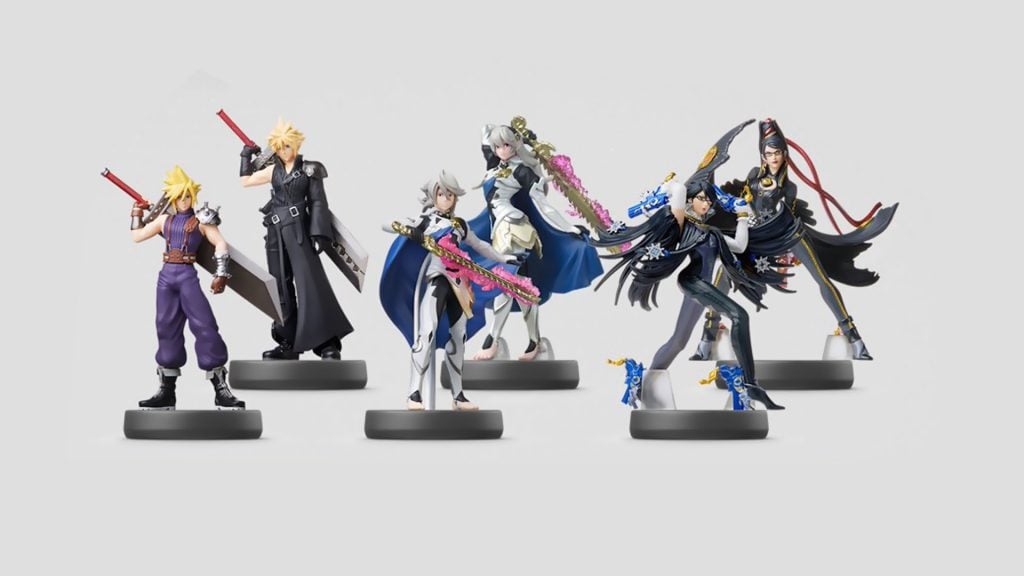 HARDWARE
Nintendo Switch Pro Controller – Splatoon 2 Edition (Nintendo, $74.99 | available 7/21)

What games will you be downloading this week? Be sure to let us know in the comments!
Leave a Comment