EVO, the world's largest fighting game event, has officially kicked off today, and the gaming community is reeling with excitement in anticipation for finding out who will walk away as this year's champions. Crowds made up of competitors and fans alike have made their way to Las Vegas to watch a variety of games from July 14th to the 16th, including Nintendo's very own Super Smash Bros. for Wii U and Super Smash Bros. Melee.
With Melee's finals coming up quickly tomorrow night and the Wii U tournament wrapping up Sunday night, this weekend will undoubtedly be chock-full of tense-filled, nail biting moments. If you're upset over not having the opportunity to make the trek to experience EVO in person this year, have no fear, there are numerous options for you to view the tournaments live, both online and on your TV.
Most excitingly, Disney XD will be broadcasting the Smash for Wii U finals this Sunday, July 16th, as part of the network's new game themed programming block, DXP. You'll be able to watch every second of the Top 8 fighter action during one of EVO's most popular games on your TV in the comfort of your own home thanks to the channel. Check out the Disney XD TV listings to view the schedule.
For those of you looking to watch all of this weekend's Smash, you can tune into EVO, EVO 1, and EVO 2 on Twitch all day to view streaming of the tournaments. View the timetable below to check out Twitch channels and the precise times (which are in PT) that tournaments take place.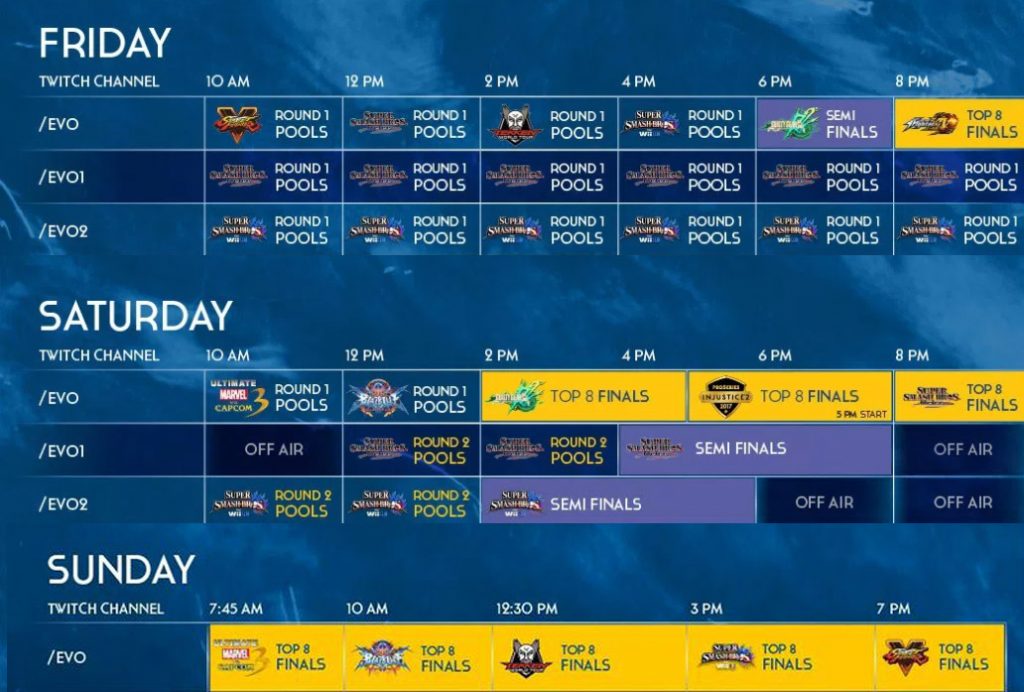 And if you're looking to watch games beyond Smash, you can browse to the official EVO channel on Twitch throughout the weekend, which will be featuring the very finest moments of the event. Tuning into the EVO Multitwitch page will give you the ability to watch multiple feeds all at once.
Leave a Comment