Our beloved narrator from the Squid Research Lab has had a busy year! Salmon Run is only a few months old and made its public debut via E3 last month, so between the interviews and tidbits from Nintendo Directs, today's summary was quite welcome.
24 hours, but not daily
Through interviews it appeared that Salmon Run would only be available during select times and speculation was running rampant. In today's Splatoon 2 Direct the user interface was finally shown.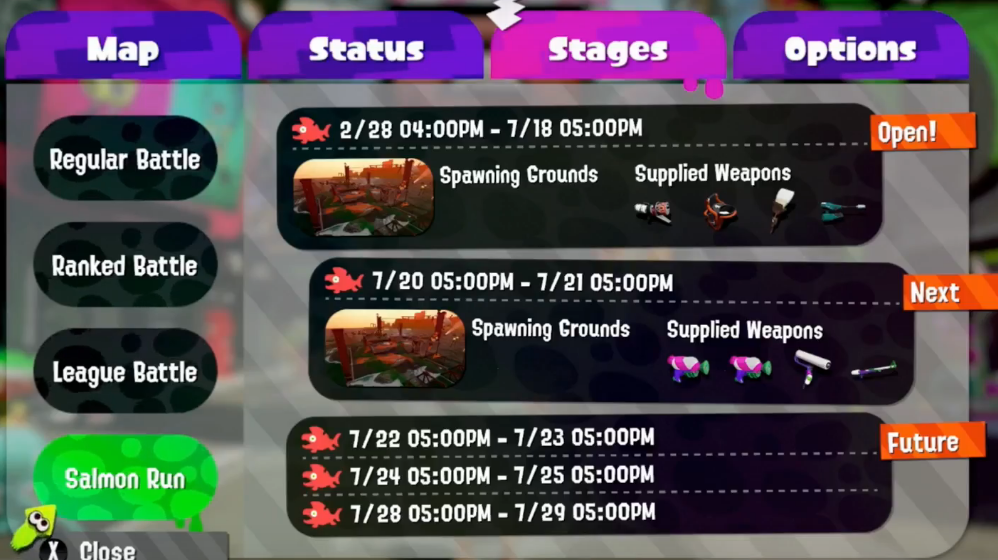 Salmon Run sessions are available for a full 24 hours and it appears that they'll occur every other day. Upcoming schedules of times and dates are posted, so if you can't make the current one you can at least plan ahead. On top of that, it appears you'll be locked into a predetermined map and weapon selection. This mode really will be a true test for teamwork!
Salmonid and the Wild
The Squid Research Lab has quite an artist in their midst, or someone at Grizzco Industries made a fantastic guide on Salmonids, but not where to find them. At least we can see which Salmonids have those coveted Golden Eggs!
As of now, there's two classifications – Lesser Salmonids and Boss Salmonids. In the Lesser category we have Chum, Smallfry, and Cohock with an entry of their own, while the Snatcher is another included in this section. As for the big, bad Boss Salmonids and keepers of the Golden Eggs we have Steelhead, Steel Eel, Scrapper, Stinger, Maw, and Drizzler to look out for. During the Direct, a few specific Salmonids were featured in detail.
Boss Salmonid: Steel Eel
Straight out of an Inkling's nightmare, Steel Eel will make it rain wherever it goes. More of a slug and snake than an eel, this mechanical beast is operated by one lone Salmonid at the tail. Think it'll be easy to snipe out? Good luck, as Steel Eel slithers around quickly and seems to attract Chum by the dozen.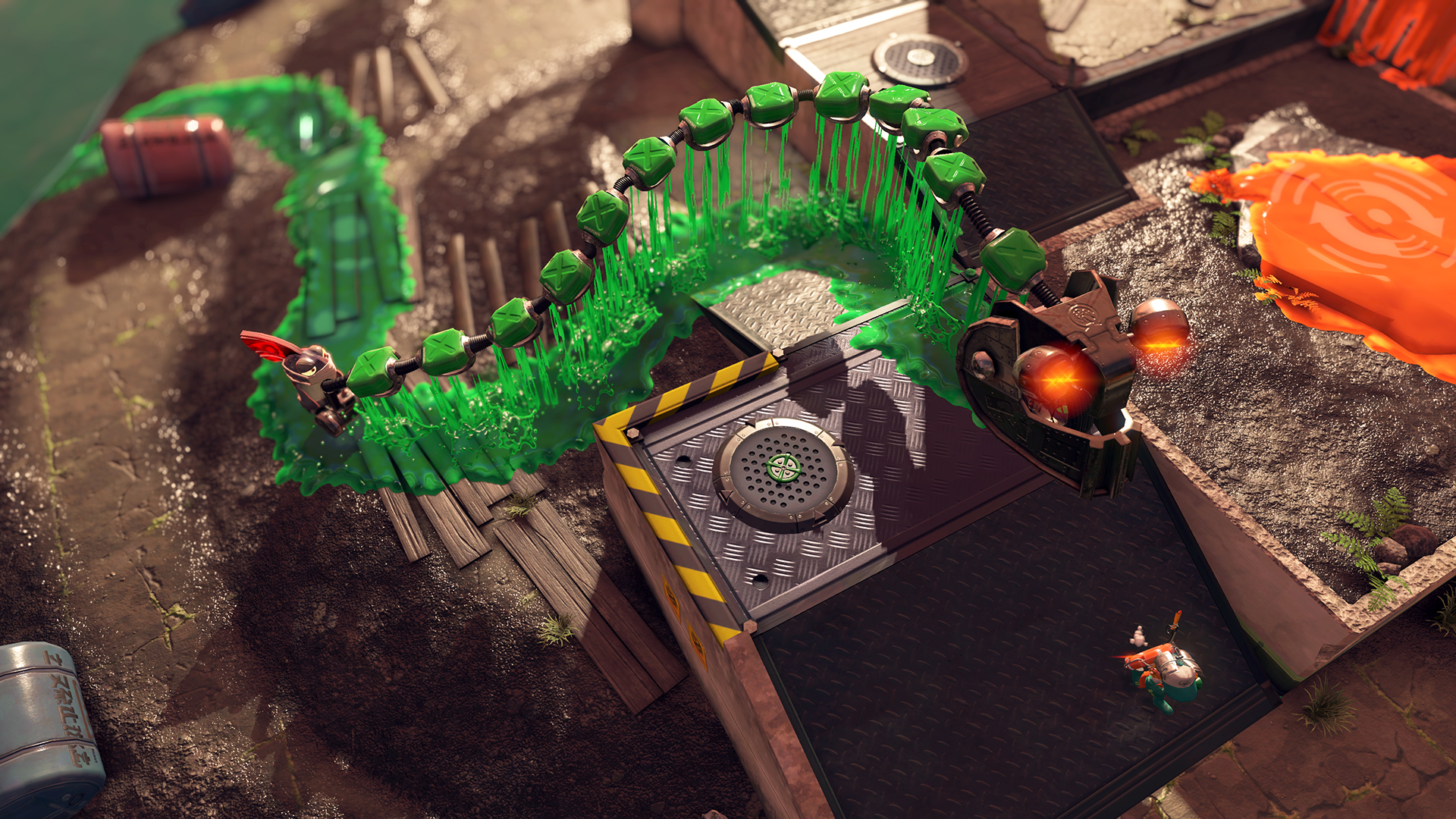 Boss Salmonid: Steelhead
The bomb dropping, towering behemoth was spotted back in April in Salmon Run's initial announcement. Borrowing a page from a certain boss in Splatoon's Hero Mode, Steelhead can certainly chuck ink bombs that can end a team's attempt at farming Golden Eggs. When you see a bomb be shot off, you better flee and disarm it from a distance. After that, it's time to show Steelhead who's the real boss.
???? Salmonid: Flyfish
Not spotted in either sections of the Salmonid manual, Flyfish might be a Boss Salmonid to keep an eye out on. Using jetpacks to hover while decked out with a squid seeking version of Tenta Missiles, this can be one deadly Salmonid. Whoever on your team has bombs, their sub weapon will definitely be the hero to save the day — just chuck one into an open missile container and you're good to go.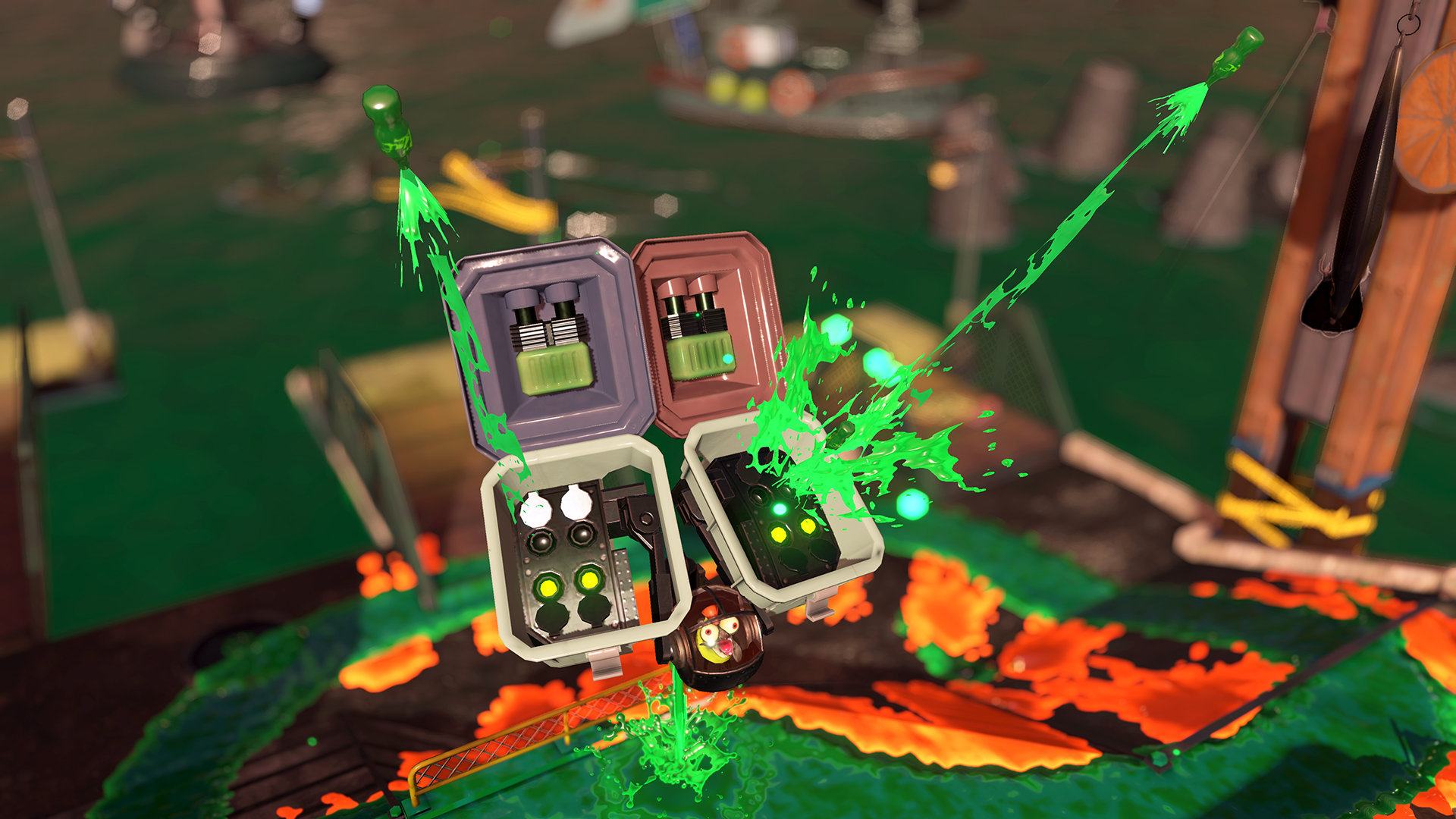 Environments will also be affected in Salmon Run. Perhaps tied to the difficulty level and what map you find yourself on, water levels can rise in Spawning Grounds, thus limiting you to certain land masses. Basically it's Mahi-Mahi Resort, but you're being rushed by an onslaught of enemies. Fog can also occur, making your visibility worse with each new layer. A day and night cycle may also come into play here, given how linked Salmon Run is to real-world times. If so, then tackling Salmon Run at night may be "hard mode". Salmonids are rabid and receive a speed boost, so you better be a sharp shooter or splatter to survive round after round.
A Golden Transaction
We got our first sneak peek at what Golden Eggs can be used for! Not limited to gear (hello Squiddor Polo), under the new Grizzco brand, you may also get some gatcha prizes. Yellow gatcha capsules house gold coin and green gatcha capsules will have abilities that you can probably entice Murch to use on your gear. A few silhouettes were teased at what Grizzco might have at their shop, so fingers crossed that this gear will be extremely fresh.
Leave a Comment