Without a doubt, one of the most exciting surprises to come out of E3 2017 was the official announcement of not one, but two new Metroid games heading to Nintendo platforms. Not just any 'ol Metroid titles either. We're talking fan pleasing returns to both 3D and 2D franchise favorites complete with harrowing themes of isolation and exploration heavy gameplay. While little can be gleaned from Metroid Prime 4's uproariously exciting, albeit brief teaser trailer, it's Samus' return to her action-platforming roots that has this longtime series fan giddier than a Space Pirate on shore leave. While the Nintendo Wire team unfortunately didn't get hands-on time with the infamous galactic bounty hunter herself, we did manage to spot a ton of intriguing details for Samus' return to stardom during the Nintendo Treehouse livestream.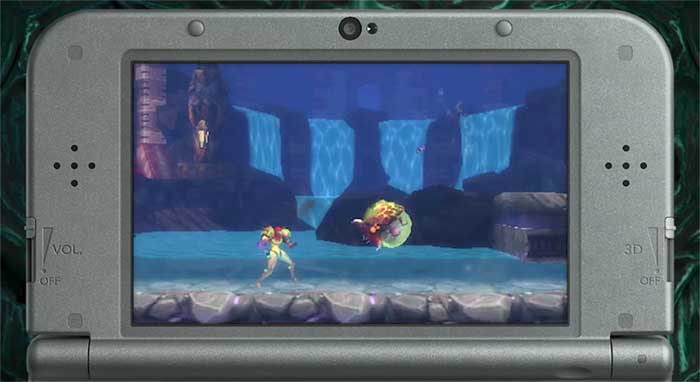 Few would blame you for being overcome with an extreme case of déjà vu during Samus' big portable reveal. That's because Metroid: Samus Returns is ultimately a reimagining of Metroid II: Return of Samus, set for release on the Nintendo 3DS. Yoshio Sakamoto — the game's producer and director of Super Metroid — says he chose Metroid II for a spruce up specifically because it hosts one of the most memorable and key moments in propelling the franchise's narrative forward: Samus' first encounter with the baby Metroid. Also, having never worked on the original, he was afforded much more creative freedom to try new ideas and concepts without being bogged down by sentimentality. As a result, Samus' tale will remain relatively unchanged from the original release on Game Boy way back in 1991, meaning you'll once again be on the hunt for a fixed number of those pesky floating brain leeches near and dear to our hearts.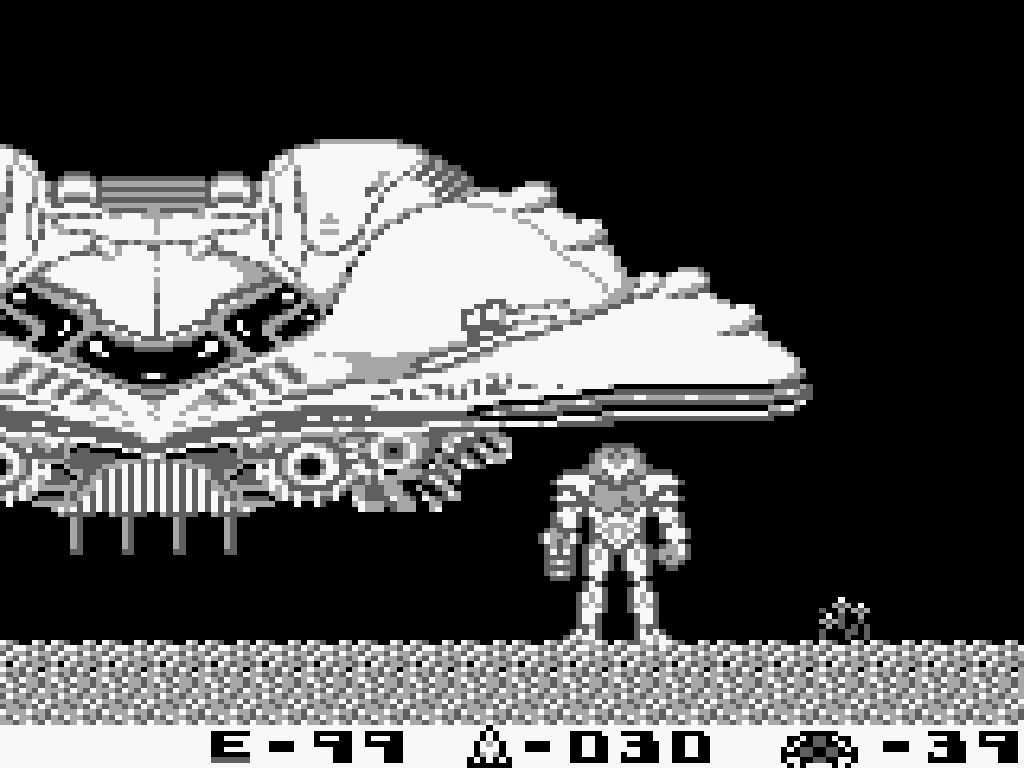 That's great news for old school fans of the series, as it means the return of classic sidescrolling gameplay commonly associated with earlier titles. Progression through planet SR388's isolated world looks to rip a page right out of Metroid's exploration heavy playbook, complete with branching pathways, hidden areas and unlockable power-ups. The 2.5D art style should come as no surprise to anyone familiar with developer Mercury Steam's previous work with the Castlevania franchise, while music aficionados will be happy to learn that a couple of the original composers for Super Metroid are making a comeback, keeping that iconic series sound perfectly intact.
If you're wondering why Samus Returns was developed for the 3DS over the newly released Switch, Sakamoto-san had some pretty interesting things to say. First and foremost, it was important to the development team that both the game and map screen be shown continuously at the same time for exploration purposes. The portable's unique visual flair for stereoscopic 3D also played a major factor, believed to be impactful in creating a more immersive world. Though perhaps most significantly it felt a fitting nod for Samus' adventures in extraterrestrial extermination to recapture the magic of the original for being the very first portable Metroid game in the series.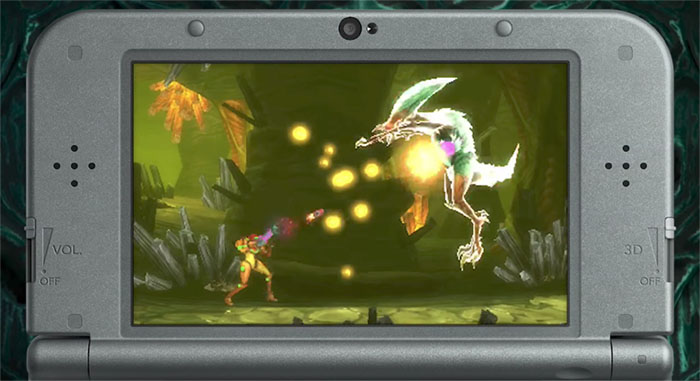 A slew of new elements have been added to the established formula to keep the action exciting and gameplay fresh. Most notably is the ability to counter enemy attacks with well timed melee strikes: an ability prominently on display during the various Metroid evolution boss fights, allowing for massive damage to be dealt. A 360 degree Free Aim Mode also made the cut, allowing the bodacious bounty hunter to easily lock on foes from any angle. Much like in later games, charge stations for health and ammunitions are sprinkled throughout the desolate planet, as well as newly implemented teleport stations for convenient fast travel. General progression looks to be smoothed out too, now with specific markers requiring defeated Metroid DNA to open new pathways over the more ambiguous tremors of its predecessor. Even Samus' patented Varia Suit received some notable changes, set to help you survive areas of extreme heat rather than cutting damage in half.
New to the series are what Nintendo is calling aeon abilities. These include limited use suit upgrades attached to a power meter that can be refilled by defeating enemies. During the livestream in particular, we got a good look at the Scan Pulse, which lets you ping for hidden secrets and breakable rocks to help fill in your map more diligently. It's sure to be a godsend for anyone who remembers wracking their brain back in the day, blasting every floor and wall in the hopes of finding that final elusive missile expansion.
Adding to all the excitement, amiibo functionality was confirmed during the demo alongside two satisfyingly squishy new figures. While their functionality in-game remains a mystery, we do know that both Samus amiibo from the Smash Bros. line will work alongside the recently announced dynamic duo in some capacity.
Fortunately, we won't have to wait too long to find out, as Metroid: Samus Returns is set for release in just a few months time on September 15th. I, for one, am ecstatic to see familiar Metroid mechanics gracing Nintendo platforms once again, especially after the commercial disappointment of Federation Force's co-op catastrophe.
What do you think of Samus' big comeback? Hyped for the series' return to its retro roots? Plan on picking up Metroid: Samus Returns' sick looking special edition? Sound off in the comments below!
Leave a Comment