Happy ARMS day everyone! We're so thrilled to see that the game is finally out there, especially following the tease of the game's first free DLC this week at E3. To celebrate the launch, Nintendo is releasing ARMS goodies worldwide this weekend, including physical swag at select GameStops!
Nintendo LINE
On the Japanese side of things, Nintendo added a few mobile phone wallpapers over on their LINE account.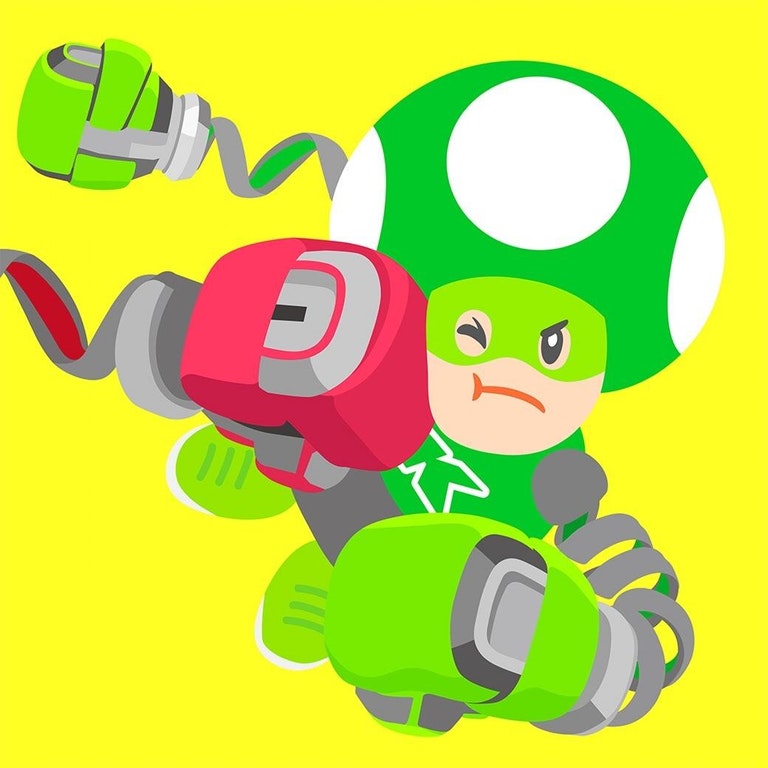 There's the stretchy ARMS of Spring Man, Ribbon Girl, and Ninjara, a very cute drawing of Biff from what appears to be a young fan, Nintendo's LINE Toad mascot (Kinopio-kun), and lastly a "blank" wallpaper with the iconic yellow and logo. One thing is for sure – that "blank" ARMS wallpaper is a good base for crafting your own wallpapers in Photoshop. Thank you Japanese Nintendo for the information!
Oooh Oh Oh – ARMS Japanese theme
Ribbon Girl is a pop idol and star besides an ARMS fighter. The character's voice actress in Japan, Momoka Kawasaki, covered the ARMS theme song and Nintendo of Japan released that song via video on their YouTube page. If you find the song super catchy, then definitely check this version out while ooooooh-ing and na-na-ing along!
GameStop ARMS Event
If you don't have a Switch, on the fence about ARMS, or just want some swag then you'll want to check out Nintendo's list of participating GameStop stores for an imminent event. Tomorrow from 12 p.m. to 3 p.m. your local time you can play ARMS and receive those ARMS sleeves you've been spotting online over the last month or so. Besides, Byte & Barq and Kid Cobra weren't included in the Global Testpunch, so if you're not getting the game today, you may want to give these two fighters a try. Barq is a good boy after all!
Accolades Trailers
Meanwhile both Nintendo of America and Nintendo UK have uploaded videos featuring many of the high scores from various publications. While our review didn't score the game quite as highly, it's still heartily recommended for those wanting a fun new brawler.
How excited are you for ARMS? Will you be playing it this weekend?
Leave a Comment