This week in the Nintendo eShop: Minecraft builds a home on the Switch, Cooking Mama returns to digital 3DS kitchens, and Elliot Quest reimagines one of Link's most overshadowed adventures.
It's a pretty slow week for new Nintendo releases, with not much new in the sales department to brag about either. Anyone looking for a two dimensional companion to go with today's release of Minecraft on the Switch will find Terraria is 50% off for the next couple weeks. Whether on the 3DS or Wii U, indie titles Mutant Mudds Super Challenge and Xeodrifter continue to be marked down at $2.49 a piece: a 75% savings for some truly epic platformers.
SWITCH DOWNLOAD SOFTWARE
Minecraft: Nintendo Switch Edition (Mojang, $29.99) – Gaming's most successful 3D Lego simulator builds its way onto the Switch today! For those of you passing through planet Earth for the first time in eight years, Minecraft is an endless sandbox of creativity that allows players to build and explore entire worlds as they see fit. Crafting, resource gathering and combat make up the brunt of the experience, with multiple game modes custom-tailored to each of these mechanics. There's no narrative to follow or set goals to accomplish other than those set by the player, creating a unique experience only limited by one's imagination. It's truly a masterpiece in gaming that I encourage everyone to try at least once in their lifetime, only made more enticing here thanks to the Switch's portability and inclusion of six awesome content packs — one of which is the beautifully retro-inspired Super Mario Mash Up add-on.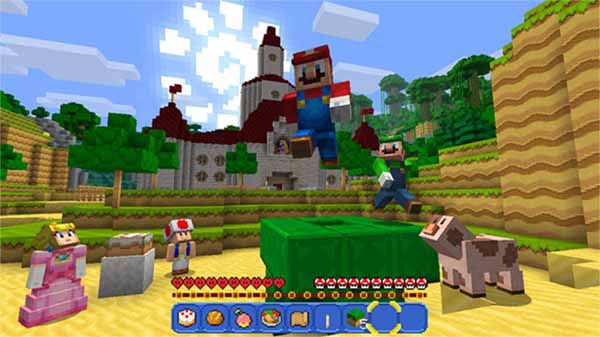 Dark Witch Music Episode: Rudymical (Flyhigh Works, $7.99) – Dancing to the Switch eShop this week is the ridiculously titled rhythm game Dark Witch Music Episode: Rudymical. The game's a spinoff of the Mega Man inspired Legend of Dark Witch series that trades its action side-scrolling roots for frantic rhythmic button tapping. Considering the franchise features some pretty sick beats, the concept of grooving to its soundtrack here on the Switch is pretty enticing. However, given it's currently available on mobile devices for less than half the price, curious genre enthusiasts might want to wait for the inevitable discount somewhere down the line, common among its platforming predecessors.
Arcade Archives – Garou: Mark of the Wolves (Hamster Corporation, $7.99) – Part of the long-running Fatal Fury series, Garou was released in the twilight years of the Neo Geo's lifespan. Back then, it pushed the graphical capabilities of the arcade system to its fullest, featuring a robust roster of colorful characters and immensely technical gameplay. Most notable is the game's Tactic Offense Position system: a battle mechanic that lets players alter their health meters before battle to give them a strategic power boost over their opponent. Even after two decades, it's a fantastic option for fighting fans on Switch put off by Ultra Street Fighter II's astronomically priced remaster later this month.
3DS RETAIL
Cooking Mama: Sweet Shop (Rising Star Games, $29.99 | available 5/16) – It's been a long time coming, but Mama finally returns to digital kitchens, cooking up a storm of delectable treats and candied sweets! Budding sous chefs put their culinary chops to the test in over 160 food-filled minigames using the 3DS' stylus and microphone to cool, slice, bake and decorate their confectionary creations. There's even a multiplayer mode for competitive cook-offs between two to four players to find out who's the true iron chef of palatable pastries. If simulation games make your mouth water and you believe ice cream sandwiches are the most important meal of the day, grab your finest mixing bowl and join Mama in the kitchen for some truly delicious desserts.
Side note: Sweet Shop won't be releasing digitally until next Thursday, May 18th – two days after its retail release in stores. We'll be sure to throw a reminder in next week's eShop Update article.
3DS DOWNLOAD SOFTWARE
Elliot Quest (PlayEveryWare Games, $14.99) – In a last-ditch effort to lift an ancient curse slowly consuming the humanity from his very soul, Elliot jumps ship from the Wii U's barren bones for Nintendo's still vibrant, pocket-sized portable. Simply put, Elliot Quest is the Zelda II spiritual successor Brittin Shauers has been dreaming of for decades, right down to its pixel presentation, freeroaming overworld, side-scrolling platforming and experience based level-up system. Taking further cues from 8-bit legends Mega Man, Metroid and Castlevania, Elliot's morbid journey of immortality proves a welcome homage to '80s gaming that shouldn't be missed by fans of the era.
WII U ADD-ON CONTENT
Lego Dimensions – Wave 8 DLC Packs (Warner Bros., Various) – Support for Lego Dimensions continues to roll out this week with level and fun packs from new and exciting franchises. From snarky undercover beat cops to truffle shuffling fat kids, check out the full list below of toy sets and expansions released last Tuesday, complete with purchasable Amazon links:
The Goonies Level Pack ($29.99)
Lego City Fun Pack ($11.99)
Hermione Granger Fun Pack ($11.99)
SPECIAL OFFERS AND DEALS
[3DS] Terraria ($9.99 | 50% off) until 5/25
[3DS] Xeodrifter ($2.49 | 75% off) until 6/1
[3DS] Mutant Mudds Super Challenge ($2.49 | 75% off) until 6/1
[3DS] Mutant Mudds ($2.24 | 75% off) until 6/1
[3DS] Gunman Clive 2 ($1.49 | 50% off) until 5/16
[3DS] Ambition of the Slimes ($2.99 | 40% off) until 5/18
[3DS] Chronus Arc ($4.99 | 50% off) until 5/25
[3DS] Aqua Moto Racing 3D ($5.99 | 25% off) until 5/18
[3DS] Lifespeed ($3.00 | 49% off) until 5/16
[3DS] Azada ($1.00 | 83% off) until 5/25
[3DS] Soccer Up 3D ($1.97 | 34% off) until 5/18
[3DS] Puzzle Labyrinth ($2.99 | 40% off) until 5/18
[3DS] Mystery Case Files: Ravenhearst ($1.00 | 83% off) until 5/25
[3DS] Castle Conqueror Defender ($2.99 | 40% off) until 5/18
[3DS] Bomb Monkey ($0.74 | 75% off) until 6/1
[Wii U] Terraria ($14.99 | 50% off) until 5/25
[Wii U] Gunman Clive HD Collection ($1.99 | 50% off) until 5/16
[Wii U] Xeodrifter ($2.49 | 75% off) until 6/1
[Wii U] Mutant Mudds Super Challenge ($2.49 | 75% off) until 6/1
[Wii U] Mutant Mudds Deluxe ($2.49 | 75% off) until 6/1
[Wii U] Trine Enchanted Edition ($7.49 | 50% off) until 5/18
[Wii U] Trine 2: Director's Cut ($9.99 | 50% off) until 5/18
[Wii U] Nano Assault Neo ($7.49 | 25% off) until 5/18
[Wii U] Swap Fire ($7.49 | 50% off) until 5/27
[Wii U] Back to Bed ($4.99 | 50% off) until 5/17
[Wii U] Ohayou! Beginner's Japanese ($3.99 | 20% off) until 5/18
[Wii U] Bit Dungeon+ ($3.00 | 50% off) until 5/25
Check Nintendo's website for the full list of deals available.

What games will you be downloading this week? Be sure to let us know in the comments!
Leave a Comment