This week in the Nintendo eShop: Chase McCain cleans the streets of Lego City, Metal Slugs launch a coup d'état on Switch, and Pikmin rally on the Wii U Virtual Console.
Some truly fantastic indie games are on sale for the next week! Both SteamWorld titles (Dig and Heist) join colorful party platformer Runbow at half off their original prices on your platform of choice. DrinkBox Studios' Metroidvania inspired dungeon crawler Severed also gets a 50% price slash (hehe), an even better deal considering its cross-buy compatibility.
A quick Public Service Announcement before moving on to this week's offerings: The Nintendo DSi Shop's eight year reign is sadly coming to an end tomorrow, March 31st. You might want to check your account balance before then to see if there's any loose change hiding between your DSi's digital sofa cushions. Should you happen upon some stray funds, I'd suggest grabbing Art Style: PiCTOBiTS or Mighty Flip Champs! before they vanish into the ether.
SWITCH RETAIL
Lego City Undercover (Warner Bros. Interactive, $59.99 | available 4/4) – Chase McCain is back, baby! For those who missed out on the initial Wii U release, Undercover is the first Lego game that doesn't lean on a major movie or comic book license, instead featuring an entirely original story and cast of characters. Players don the gumshoes of a quick-witted cop in hot pursuit of his notorious arch nemesis in an effort to put an end to his citywide crime wave.
Without a doubt, Undercover's cleverly clichéd narrative and tongue-in-cheek humor steal the show: a beautifully balanced tapestry of slapstick meets serious police drama bursting at the seams with endearing pop culture references. Gameplay-wise, its open world sensibilities and penchant for hidden collectibles are impressive, bogged down only a bit by some fairly generic combat mechanics. It comes highly recommended by yours truly, especially if you never played the original (or any Lego game, for that matter) before.
SWITCH DOWNLOAD SOFTWARE
Arcade Archives – Metal Slug (Hamster Corporation, $7.99) – Arcade Archives, a series of emulated arcade machine games from the 1980s and 1990s, continues to release classic Neo Geo titles on the Switch this week with one of my personal favorites: Metal Slug. This very first entry in the intense run-and-gun action shooting series is widely considered a timeless classic, sitting pretty amongst the best the genre has to offer (and yes, that includes my much beloved Contra III). Even by today's standards, the fluid hand drawn animations, over-the-top sense of humor and frantic two-player action stand the test of time and are sure to blow the minds of genre enthusiasts for years to come. Why are you still reading this? Bite that $8 bullet, grab a Slug and blast some rebel scum!
3DS DOWNLOAD SOFTWARE
Brave Dungeon (Inside System, $5.00) – Brave Dungeon is a dungeon crawling RPG adventure from the creators of the Legend of Dark Witch series. Players wield the scythe of intrepid adventurer Al as they navigate dangerous labyrinths in search of powerful magical items. Boasting an easy, pick-up-and-play combat system and more customization options than you can swipe a sickle at, fledging RPG fans will find lots to love throughout its quirky, seven hour journey. Personally, I find myself infatuated by the 16-bit pixel art and cute character designs. After all, it's not every day that you find yourself decapitating hordes of penguin torpedoes and buff snowmen for the greater good. I've only ever heard good things about the Dark Witch series (both of which happen to be on sale right now), so give this spinoff misadventure a go if you're in the market for a fun, bite-sized dungeon crawling experience.
SubaraCity (Circle Entertainment, $3.99) – If there's one thing I've learned in all my time spent scribbling these eShop updates each week, it's that mobile ports plus summaries written in broken English do not equal quality software. SubaraCity looks to be no exception: a simulation-lite puzzle game involving tapping similarly colored blocks to create sprawling cities. Its visual aesthetic is beyond bland and the soundtrack takes bizarre inspiration from the soothing hymns you'd hear during Sunday morning mass. It's also free in the App Store, making a purchase here on the 3DS near impossible to recommend.
Kung Fu Fight (Nostatic Software, $1.99) – Kung Fu Fight is a by-the-books endless runner with a healthy sense of humor that isn't above poking a little fun at itself. Outside an endearingly pixelated art style akin to the Atari more so than the NES, you'll run, jump, slide and attack in formulaic fashion, fighting your way through a quirky quest of rescue and revenge. Thanks to the game's portable-friendly nature, bargain bin price and fairly decent reception on Wii U two years ago, this nifty little gem is a no-brainer for genre devotees in need of their next reflex-driven fix.
NEW 3DS DOWNLOAD SOFTWARE
FOUR BOMBS (RCMADIAX, $1.49) – It's a Mine Sweeper clone. You know, that game that comes bundled with every Windows operating system since the dawn of time. That game that's basic enough to run on my toaster oven, yet here requires the boosted CPU power only New 3DS systems can provide. To be clear, I've got nothing against Minesweeper, but if you're going to charge people for an uninspired rehash of one of gaming's most classic offerings then expect a lot of skepticism and ridicule. Move along, folks.
3DS DEMO
Mercenaries Saga 3 (Circle Entertainment, Free) – Fans of tactical turn-based strategy games rejoice! Mercenaries Saga 3 received a free demo today, helping gamers scratch that craterous itch left by the absence of new entries in the Final Fantasy Tactics or Tactics Ogre series. Should you decide it's right up your alley, the full experience just happens to be on sale for the next month, so be sure to give it a shot if you're even remotely interested in the genre.
3DS HOME MENU THEMES
Runbow Theme – $1.99
Runbow: Bowhemoth Theme – $1.99
Runbow: Music Theme – $1.99
Runbow: Satura Theme – $1.99
Runbow Theme Bundle – $TBD
WII U DOWNLOAD SOFTWARE
Cube Life: Pixel Action Heroes (Cypronia, $6.99) – If you ever thought Minecraft would play better with machine guns and flamethrowers, then boy do I have good news for you. Looking to fill the void of the Wii U's anemic FPS offerings, Pixel Action Heroes reimagines Mojang's 3D blocky aesthetic as a complex first-person shooter for the whole family to enjoy. (Not really, it's actually way too violent for that.) You'll spend most your time wiping out hordes of zombies as iconic and cleverly pun-filled '80s action stars in fully destructible environments, which is sure to be a blast if you have a couple friends for some local multiplayer mayhem. Most intriguing is a map and character skin editor, essentially ripped right out of Minecraft's playbook, for sharing your own creations with other players. While I'm personally turned off by its unoriginal, practically plagiarized presentation, the premise seems sound enough for franchise fanatics to get their kicks.
Miko Mole (EnsenaSoft, $5.00) – Miko Mole is a puzzle platformer featuring a charismatic mole with a passion for shiny gems. Unfortunately, you don't have to dig deep to find its many imperfections, including fidgety menus, uneven audio and downright horrendous visuals. Miko's sluggish movement and wide hitbox is regrettable (especially ironic for a blind critter), making precise burrowing a difficult nuisance that often leads to unnecessary environmental deaths. If there's a decent package buried beneath all these game breaking blemishes, I'm not seeing it.
WII U VIRTUAL CONSOLE
Pikmin 2 (Nintendo, $19.99) – Originally released on the GameCube back in 2004, Pikmin 2 is a real-time strategy game that tasks players with exploring the surface of a mysterious alien planet from a microscopic perspective. Captain Olimar returns alongside goofy sidekick Louie, once again delegating tiny hordes of the titular plantlike pipsqueaks in an effort to collect "valuable" treasures and alleviate astronomical amounts of space debt.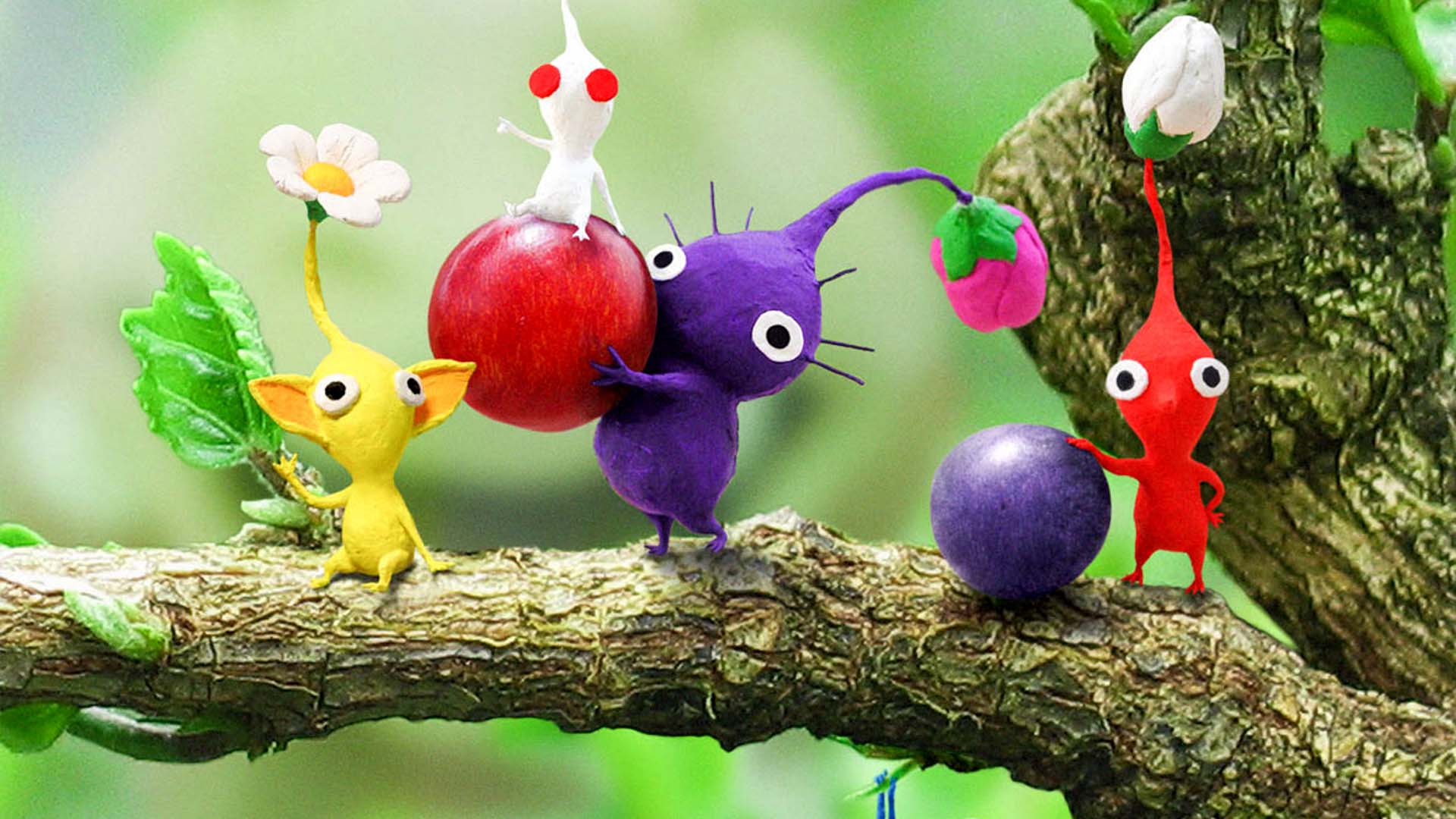 This charming sequel was critically praised for expanding upon the series' fundamental gameplay mechanics while still addressing many of the original's issues. More fine-tuned controls, environmental challenges, varied strategies and Pikmin types are just a few of the notable improvements featured, not to mention the complete removal of the controversial 30 day time limit. Best of all, this is the New Play Control! version of the game, meaning flinging and navigating all your adorably miniature minions is as easy as a literal flick of the wrist.
SPECIAL OFFERS AND DEALS
[3DS] SteamWorld Dig ($3.59 | 60% off) until 4/6
[3DS] SteamWorld Heist ($7.49 | 50% off) until 4/6
[3DS] Severed ($7.49 | 50% off) until 4/6
[3DS] Punch Club ($6.99 | 30% off) until 4/7
[3DS] Retro City Rampage DX ($4.99 | 50% off) until 4/6
[3DS] Shin Megami Tensei: Devil Summoner: Soul Hackers ($9.99 | 66% off) until 4/3
[3DS] The Legend of Legacy ($29.99 | 25% off) until 4/3
[3DS] The Legend of Dark Witch ($2.99 | 25% off) until 4/13
[3DS] The Legend of Dark Witch 2 ($5.59 | 25% off) until 4/20
[3DS] Witch & Hero ($2.99 | 25% off) until 4/13
[3DS] Witch & Hero 2 ($2.99 | 25% off) until 4/13
[3DS] Mercenaries Saga 3 ($4.79 | 20% off) until 4/20
[3DS] Cube Creator 3D ($5.99 | 25% off) until 4/20
[3DS] Gourmet Dream ($3.99 | 20% off) until 4/20
[3DS] Fairune 2 ($5.59 | 20% off) until 4/20
[Wii U] Swap Fire (Free | 100% off) until 4/9
[Wii U] SteamWorld Dig ($3.99 | 60% off) until 4/6
[Wii U] SteamWorld Heist ($7.49 | 50% off) until 4/6
[Wii U] Severed ($7.49 | 50% off) until 4/6
[Wii U] Runbow ($7.49 | 50% off) until 4/5
[Wii U] Ohayou! Beginner's Japanese ($3.99 | 20% off) until 4/6
Cube Life: Island Survival ($7.99 | 20% off) until 4/20
Check Nintendo's website for the full list of deals available.

What games will you be downloading this week? Be sure to let us know in the comments!
Leave a Comment