Hey everybody, welcome back to Collectors Corner! It's been a long while since we've taken a look at some Nintendo collectibles around here, so let me refresh your memory. Every other week I'll be bringing you a special article on the Nintendo consoles, merchandise and collectibles that I love. Ever since I was a kid, Nintendo has held a special place in my heart, and has inspired me to collect and do research on the seemingly infinite amount of collectibles out there and I'm excited to share that passion with you all.
This week, I'm going to take a look at one of Nintendo's most drastic innovations, one that kept me up at night before it launched with a burning desire to own it. A handheld so fascinating, that almost every hour of my life back in 2004 was spent either thinking about it or researching the latest rumors and news on it. This week, we're taking a look at the original handheld with dual screens; a handheld that would lay the groundwork for not only the next decade of Nintendo handhelds, but would also submit its spirit to inspire what the Wii U would become: the Nintendo DS.
The DS received many, many different editions throughout the course of its lifetime. Most of these editions were super limited, one was even ordered special from Nintendo by 50 Cent. There are even some one-of-a-kind DS units out there in the world, causing collectors to cry themselves to sleep every night as they long for them. Today, I'll be covering six different special editions, and my lovely boss, Lauren, will be covering a seventh.
Candy Pink DS
Released exclusively in Japan, the Candy Pink DS featured a glossy pink finish with white buttons and a white bottom. This is one of my favorite special edition DS units due to the contrast between the white buttons and the pink body. It looks very nice and clean and stands out among the several DS systems that have black buttons and a black bottom regardless of the color. The Candy Pink system is sometimes confused with the Pearl Pink system that was released here in the U.S., as the Pearl Pink edition had the aforementioned black buttons and base, rather than white, and is a slightly lighter, more pearly pink color.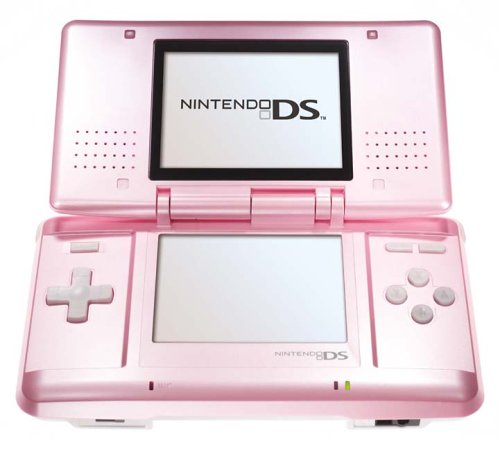 Collectors looking for this beautiful system are in luck, as there is currently a Japanese seller who has several of these consoles listed for a very, very low price. They're not in perfect condition, and not all of them work, but if you'd like one to clean up and/or repair, they're listed for around $8 from that particular seller.
Sundance Film Festival Trio
The next three editions covered are all one-of-a-kind, although they were all raffled off at the same time. Given away in my beautiful home state during the 2005 Sundance Film Festival in Park City, Utah, these three consoles were auctioned off to celebrities attending the event in a silent auction. Altogether, the three systems brought in $23,000. The one-of-a-kind nature of the systems and their crazy color schemes were no doubt contributors to the insane amount of money raised with them. The three systems really are beautiful, even if they are a bit ostentatious. Those looking to own one of these extremely limited consoles are definitely out of luck. It's highly unlikely these systems have even seen the light of day since they were auctioned off in 2005.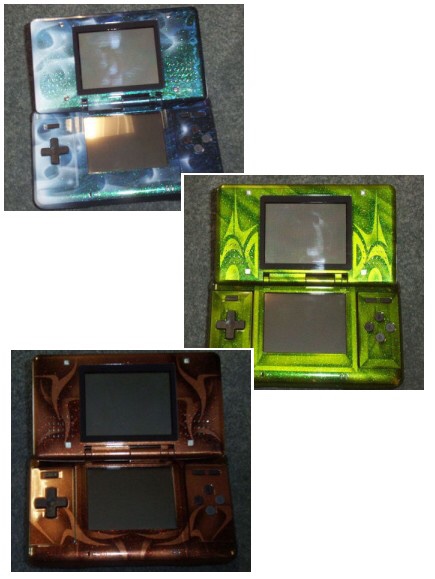 50 Cent G Unit
Perhaps one of the most well-known stories regarding the Nintendo DS that isn't gaming related was that, back in 2005, 50 Cent special ordered his own custom DS straight from Nintendo. The DS featured a signature camouflage shell with "G Unit" printed on the lid above the Nintendo logo.

The story that you heard from that guy on that forum that one time is true, partly. 50 Cent did custom order a DS, although it wasn't from Nintendo; it was from console custom artists Smooth Creations. He also ordered more than one, opting to have 50 of them custom painted and emblazoned with the G Unit logo. It isn't likely you'll find one floating around, although I did find one Reddit poster from about a year ago asking how much his was worth.
Hot Summer DS Collection
Contribution by Lauren Musni
Hey all, Lauren here! Jaxson was kind enough to let me take over for this section. As a longtime collector myself, I have quite a bit of experience when it comes to limited edition handhelds, and this next group really takes the cake for me. You could probably call my search for one in particular my greatest obsession.
The Hot Summer DS Collection is another batch of special handhelds that might not be as well known as the current day limited editions. Originally released in 2005, the small, hard to find series of DS consoles included six designs in an assortment of colors: a white Mario system, a turquoise blue Yoshi system, a black Koopa (Bowser) system, a Candy Pink Peach system, a Platinum Silver Wario system and a silver Donkey Kong system. While the colors weren't brand new to the scene, the simplistic, yet elegant, sketches of characters' faces on the shells gave the series a beautiful and notable appearance that commemorated beloved characters in the Mario franchise.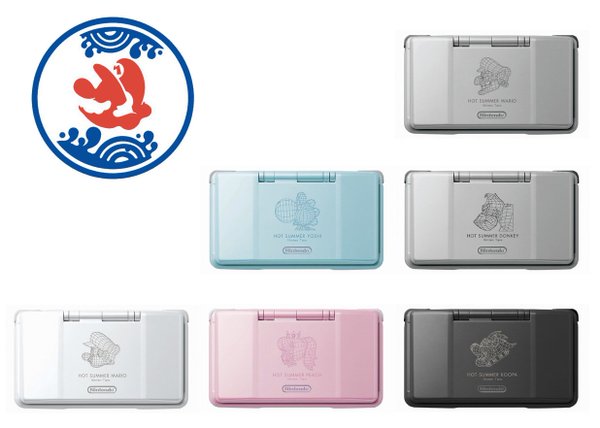 Looking to add one of these sweet, sweet pieces to your collection? Well, the hunt is kind of crazy, let me warn you now! Only 200 of each design was made available to Club Nintendo members in Japan. During a two month period, members could register their DS systems through Club Nintendo membership website and enter a drawing to win one of the few limited editions. Nowadays, most of these editions I see on eBay start around the $600 range and go much higher in price from there.
As many people know, the Hot Summer Peach DS in particular has become the white whale in my journey to complete my rather large Princess Peach collection. I've been searching for it ever since 2005, and I've raved about it so much to the Nintendo Wire team that Jaxson knew only I could go in depth about this particular series. I've had no luck up to this point– thus, my search as a Peach collector continues!
Stay tuned
There they are, folks! And that's only a small handful of the many special edition Nintendo DS systems that have been released. There are many, many more that I wanted to cover, so keep your eyes peeled for part two sometime down the road! Remember, You can always check out past editions of Collectors Corner to get your special edition console fix. Make sure you recommend your favorite special editions over on Twitter and Facebook – and maybe you'll see them pop up in an article sometime. See you in two weeks!
---
50 Cent G Unit 3DS images source.
Leave a Comment