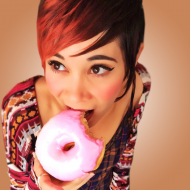 Designer and writer by day, gamer by night, Lauren dreams big when it comes to creative endeavors. Perhaps that's why she's taken on the roles of creative director and managing editor for Nintendo Wire. If she had a video game superhero alias, it might just be The Visionary, a true keeper of imaginative order.
This user account status is Approved
This user has not added any information to their profile yet.
Lauren (also known as Happily Candied) is a sweets connoisseur, photographer, designer, writer, hobbyist and gamer from Milwaukee, Wisconsin.
Throughout her life, Lauren has been drawn to everything and anything creative. From web design to sculpting, her imagination is running at full speed at all hours. She graduated from the University of Wisconsin-Milwaukee with a degree in English: Technical Writing, yet most of her work these days is focused on photography and design.
Many of Lauren's first memories from her childhood in the '80s include watching her mom play the original Legend of Zelda and Super Mario Bros. Growing up, she was encouraged by her mom to play video games with her family. Of all the systems her favorite will always be the SNES with the RPG reigning as the ultimate genre. Chrono Trigger, EarthBound and Secret of Mana rank above all other games in Lauren's book.
Chrono Trigger, Secret of Mana, EarthBound