Initially announced on June 17th, 2020, New Pokémon Snap will be here on Friday, April 30th! The long-awaited continuation to Pokémon Snap, which debuted on the Nintendo 64, is real and taking advantage of today's technology. With a special digital camera in hand and the NEO-ONE ready to guide us through the Lental region, there's plenty to explore and discover for the Laboratory of Ecology and Natural Sciences.
Before we book our passage to the Lental region, there are different pre-order bonuses! Have a look at the offerings and exclusives from various retailers.
GameStop
Announced on February 16th, GameStop's pre-order bonus is a double-sided poster featuring the game's cover art and one of its key art illustrations. Posters will be distributed on April 30th upon picking up/purchasing the game and will be available while supplies last.
Pre-order New Pokémon Snap and pick up a free double-sided poster: http://bit.ly/2XCNoTT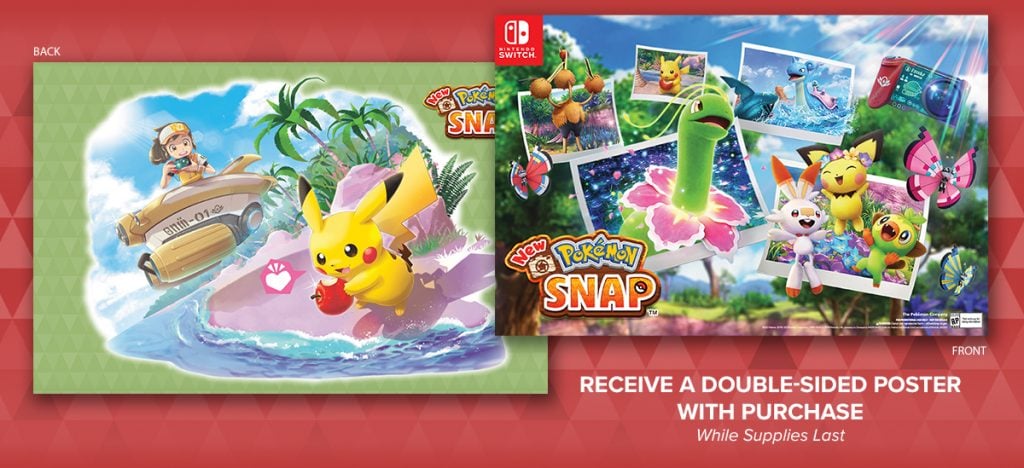 Target
The first retailer to announce their pre-order bonus, Target is offering a free and exclusive Magnetic Photo Frame. While supplies last, all online orders will come with this magnetic photo frame – making it the perfect gift to display any photo (taken in New Pokémon Snap or not).
Pre-order New Pokémon Snap and receive a free magnetic photo frame: https://www.target.com/p/new-pokemon-snap-nintendo-switch/-/A-82255228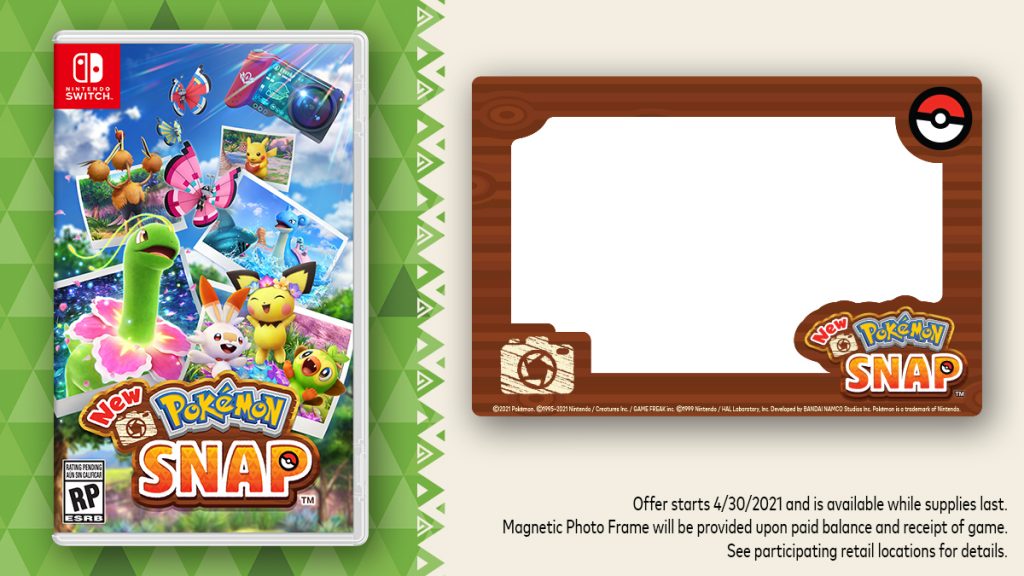 Walmart
This time Walmart isn't offering a pre-order bonus, technically. With New Pokémon Snap, two different "Free Gift with Purchase" promotions are being offered instead – the Poké Ball Hat gift and Pikachu Knit Cap gift.
Pre-order New Pokémon Snap and receive a free Poké Ball Hat: https://bit.ly/3vdJZta
Pre-order New Pokémon Snap and receive a free Pikachu Knit Cap: https://bit.ly/2QnwkBl
For anyone who normally orders at Amazon or Best Buy, there appear to be no pre-order offers at this time.
Leave a Comment