You'll encounter an entire cast of colorful characters during your quest through Erdrea in Dragon Quest XI S: Echoes of an Elusive Age – Definitive Edition. Each party member has a unique background and a specific set of skills, so let's go one-by-one in our guide to all the Dragon Quest 11 characters!
The Luminary/Hero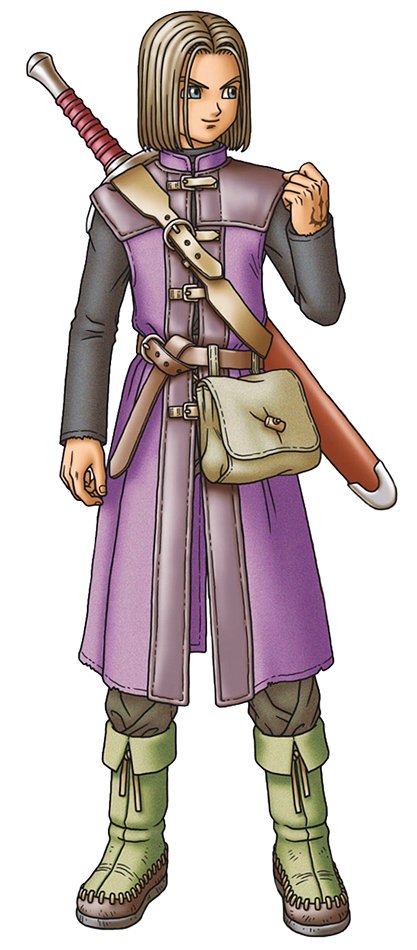 Biography: The hero of our quest, the Luminary is the alleged reincarnation of the Legendary Hero from Erdrea's history books. He was raised in the small town of Cobblestone, alongside his best friend Gemma. After a mysterious power surge on the day the Luminary climbed the Cobblestone Tor, he was sent off to Heliodor to learn more about his destiny.
Strengths: Choosing a sword and shield setup is the way to go for the Luminary. He earns some incredible skills in the late game that need the sword, so you should start building his sword skills up to get him prepared early. Greatswords are a good option too for high damage outputs, but the skills aren't quite as impressive for that path. 
Erik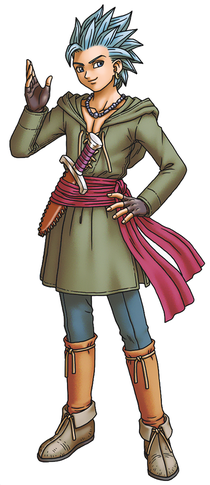 Biography: Erik is a thief with a mysterious past, who, for some reason, is determined to assist the Luminary on his journey. He used to travel the world with his old thieving partner, Derk, but they have since split up. Erik excels with knives and boomerangs, and he's got a knack for sniffing out treasure and pickpocketing enemies. 
Strengths: Knives are the best option for Erik. Eventually, you can unlock dual-wielding through his skill tree, and he can become a lethal force by using a pair of knives.
Veronica and Serena
Biography: Veronica and Serena are sisters who hail from Arboria. They believe their destiny is to protect the Luminary and make sure he achieves his destiny. Veronica is short-tempered, snarky, and sassy, while her sister Serena is mild-mannered, calm, and kind. 
Strengths: Veronica excels at attack magic. Some of her spell attacks are the best in the game, so you should build her around heavy wands. Serena is serviceable with spears, but you can also invest in magical mending, which is a great help in the late game.
Sylvando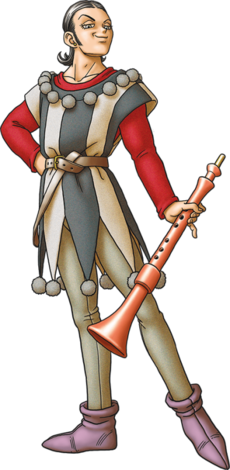 Biography: "The Great Sylvando" is a travelling performer who dreams  of making everyone in the world smile. Along with his goofy personality and fun-loving attitude, he prioritizes chivalry and is extremely skilled in combat. His past is a bit of a mystery at first, and Sylvando prefers to leave it that way.
Strengths: Your weapon choice isn't crucial for Sylvando, because he excels the most at support. He has a number of heals and buffs that can apply to the whole team, making him invaluable in longer, tougher boss battles.
Jade and Rab
Biography: Jade and Rab appear to be simple travellers at first, but their pasts are also shrouded in mystery. Rab is an older man with a thick accent, and he has a deep knowledge of magic and martial arts. Jade also excels in martial arts, and her beauty and grace often distract men all over Erdrea.
Strengths: Rab is equally proficient with claws and attack magic. Since he can also heal teammates in a pinch, you should set him up with a heavy wand for the most flexibility. But, if you prioritize damage, claws are a legitimate option as well. Spears are the best fit for Jade, because she has some spear skills that are essential for late game level farming.
More Dragon Quest XI S: Echoes of an Elusive Age – Definitive Edition guides
Need more help with Dragon Quest XI S: Echoes of an Elusive Age – Definitive Edition (whew, that's a mouthful!)? Check out one of our other helpful guides!
Leave a Comment