Having attended many a Sakura-Con and PAX West in my day, I'm well versed in the layout of the Seattle Convention Center's Arch building (which, until recently, was the only building in the Con Center). The largest part of the building's southern portion, adjacent to the atrium and courtyard, is usually the place of main stages or large expo halls, spacious and dark. But this year, as I stepped through the lobby doors into the one room space for Nintendo Live 2023, the area was unrecognizable.
Before me was a large variety stage for demos and games from many eras, a quick stop before a veritable theme park of attractions. Immediately to my right was a giant Link statue, Zonai hand glowing and outstretched. The Tears of the Kingdom spot was but one of many sequestered areas – Pikmin 4, Splatoon 3, Animal Crossing New Horizons, Super Smash Bros. Ultimate, and of course Super Mario Bros. Wonder each had their own massive slice of the floor space, each with custom booth designs, photo op areas, and of course setups to try the games.
It was while I was walking around in a daze, taking in my surroundings, that I had my first celebrity sighting. Waddling down the aisles with steady determination was none other than Kirby, who passerby all stopped to fawn at – myself included. He was so much cuter in person: I couldn't stop myself from running around a setup area to get good pictures from his front. He was only the first of several costumed characters: K.K. Slider, Isabelle, Tom Nook, Inklings, the Paldean Pokémon starters, and more. Reminded me of going to Disneyland in my youth, though I'm pretty sure my 7 year old self would be more excited to see Kirby than Mickey Mouse (unless Mickey had a keyblade).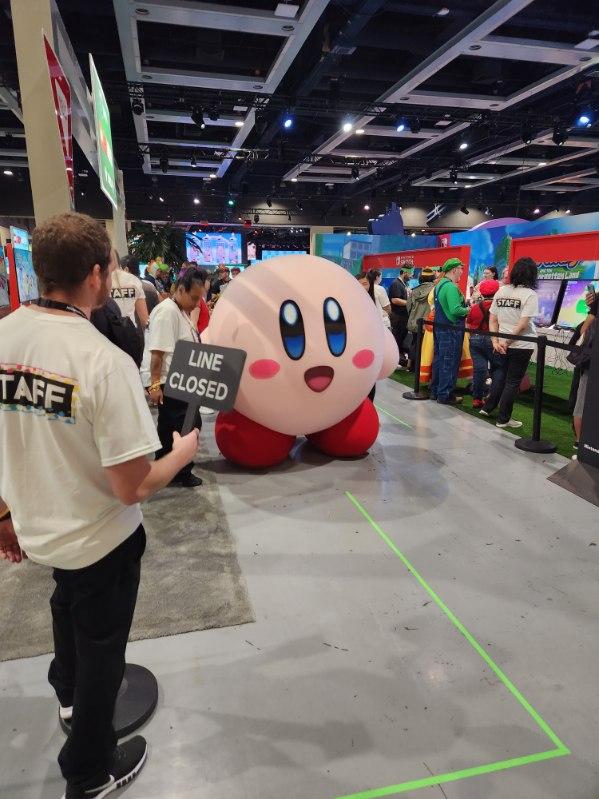 In general, while there were certainly quite a few places to actually play games, the allure of Nintendo Live was much more in the experience of walking the floor, taking it set pieces like the wall timeline of Pokémon games or the Super Smash Bros. props or the graffitiable Splatoon 3 wall than plopping down to play Switch games that were by and large already released. The exception of course was Super Mario Bros. Wonder (I lucked out and came upon the booth at a time the line was nearly empty – and then had a blast). I wonder how much the experience will be tweaked when Nintendo has more entries on their upcoming release calendar.
On my second day, I received a proper tour of the event from an employee named Sam, who was extremely thorough and hospitable the whole way through (and was also rocking some killer Yoshi flannel). Sam pointed out some particular details I missed as a casual observer, like detailed projection lighting of the waves in the Animal Crossing area, that completely blew me away. Plus I was offered the chance to skip lines for photo ops, which I felt very privileged to do, but definitely saved me time in a busy PAX weekend.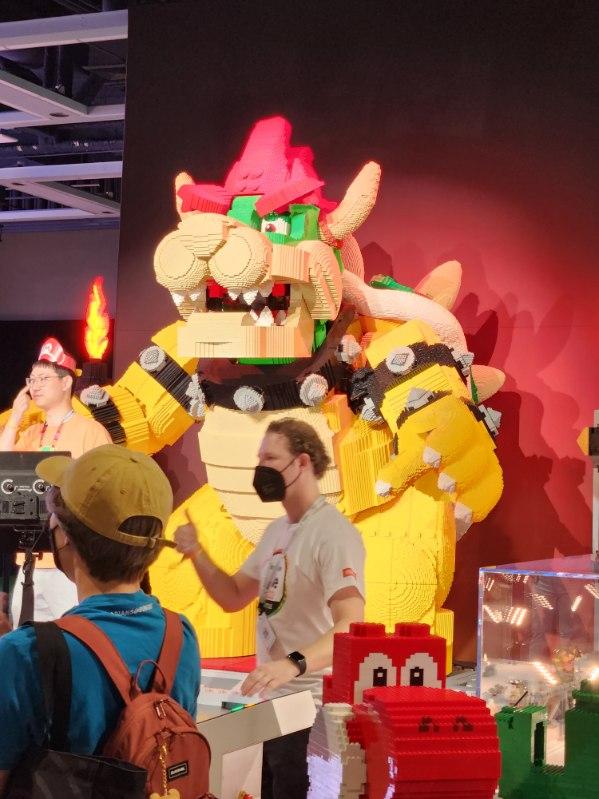 There were a share of other draws too – a classic gaming corner where you could try out retro games on NSO, a Lego Mario area that included the titanic "King-sized Bowser" construct, and a stage for tournaments. But the highlight for me without a doubt was the 45-minute Zelda orchestra performance which I got a front row seat to. Having been a long fan of Zelda symphony arrangements, it was a pleasure to hear old favorites alng renditions of Tears of the Kingdom music that sent a chill down my spine. There were also Mario Big Band concerts in the afternoon that I unfortunately didn't get the chance to see, but I'm sure they were similarly spectacular. 
Overall, my time at Nintendo Live 2023 was a blast, and certainly one that valued the immersion and presence of being in the building over sheer streamability or game demos to play. While there were certainly booths at PAX that had their own impressive appearances, Nintendo Live was in a class all its own, and I hope its one that continues and spreads across the US in years to come.
Gallery
PAX 2023 RELATED
Leave a Comment