If I had a nickel for every time Sega made an arcade game focused on monkeys and a strange controller I'd have two nickels. Which isn't a lot but it's weird that it happened twice.
Though Super Monkey Ball went on to be a recurring presence well past its banana control stick beginnings, Samba de Amigo never quite took off the same way. It was still a highlight of the Dreamcast era when it came to homes with its maracas intact, also embodying the early 2000's Sonic Team aesthetic perhaps even more so than Sonic itself. After that and a couple of remixed releases, Amigo and his band of excitable bandmates lay dormant outside of cameos until it was ported to the Wii back in 2008.
Yet again Nintendo's dedication to unique controllers would be just the thing this series needed, as Samba de Amigo: Party Central arrives as a true follow up. Much of what made the original so endearing is still here for sure, and I'm ecstatic to see the brand return. With a completely retooled selection of songs and a couple decades worth of genre innovation though, is there still a place for its unique rhythm to shine like its smiling sun?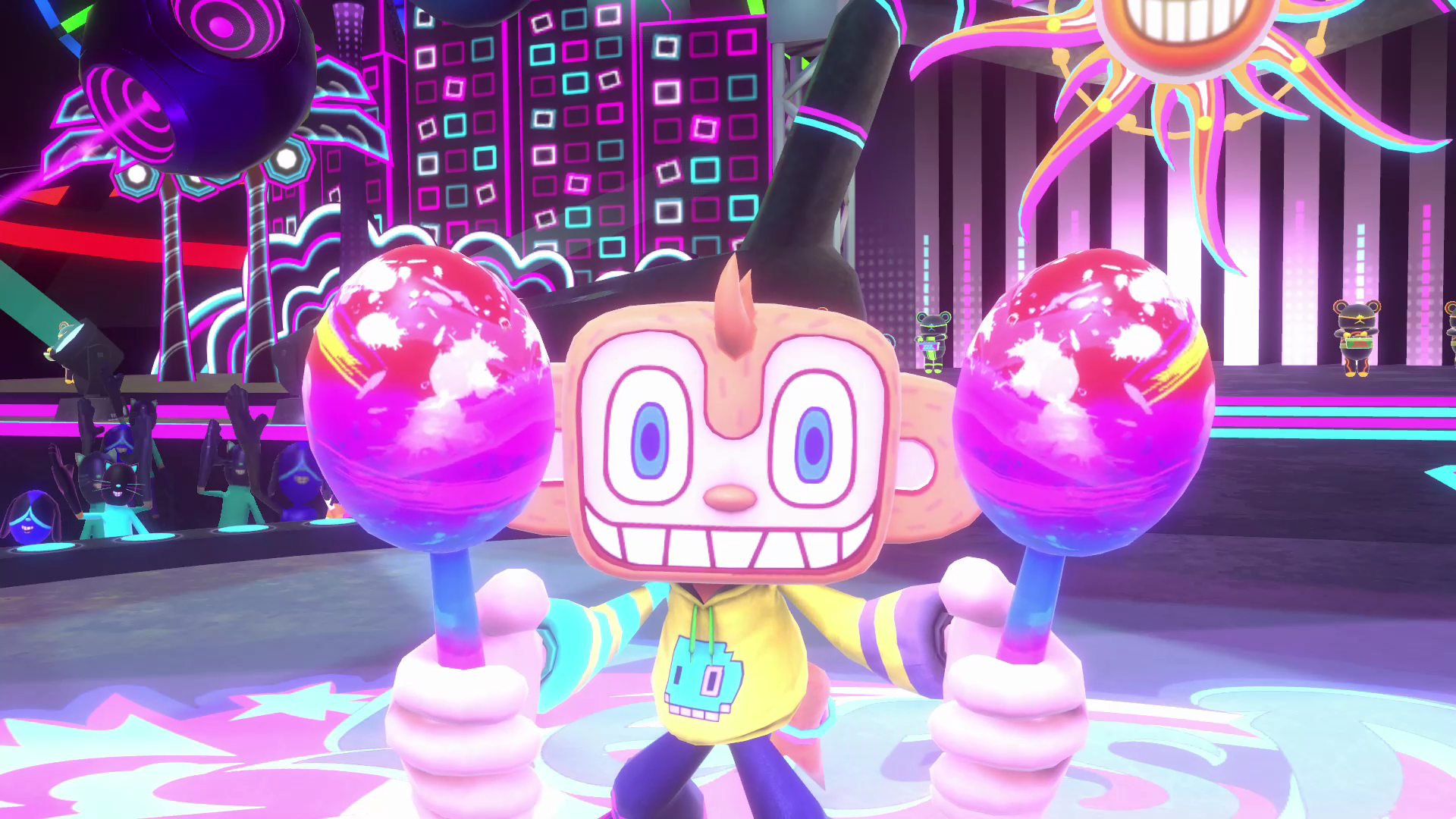 Samba de Amigo's gameplay is focused on six rings – two high, two middle, and two low. As a song progresses the notes (in the form of various circles) will radiate out to those rings, prompting you to shake your Joy-Con in time to the music. Most of these are single blue notes, pairs of yellow notes that need to be triggered simultaneously, or sequences of purple notes that are your cue to shake your controller as much as possible.
It all works and can be a lot of fun. Party Central definitely made me realize I could stand to work out my arms a bit more, but is otherwise less demanding than more full body focused games when it comes to physical movement. That doesn't mean things can't get out of hand fast on harder difficulties though, where things can approach Taiko no Tatsujin levels of unreasonableness, which I most definitely mean as a compliment.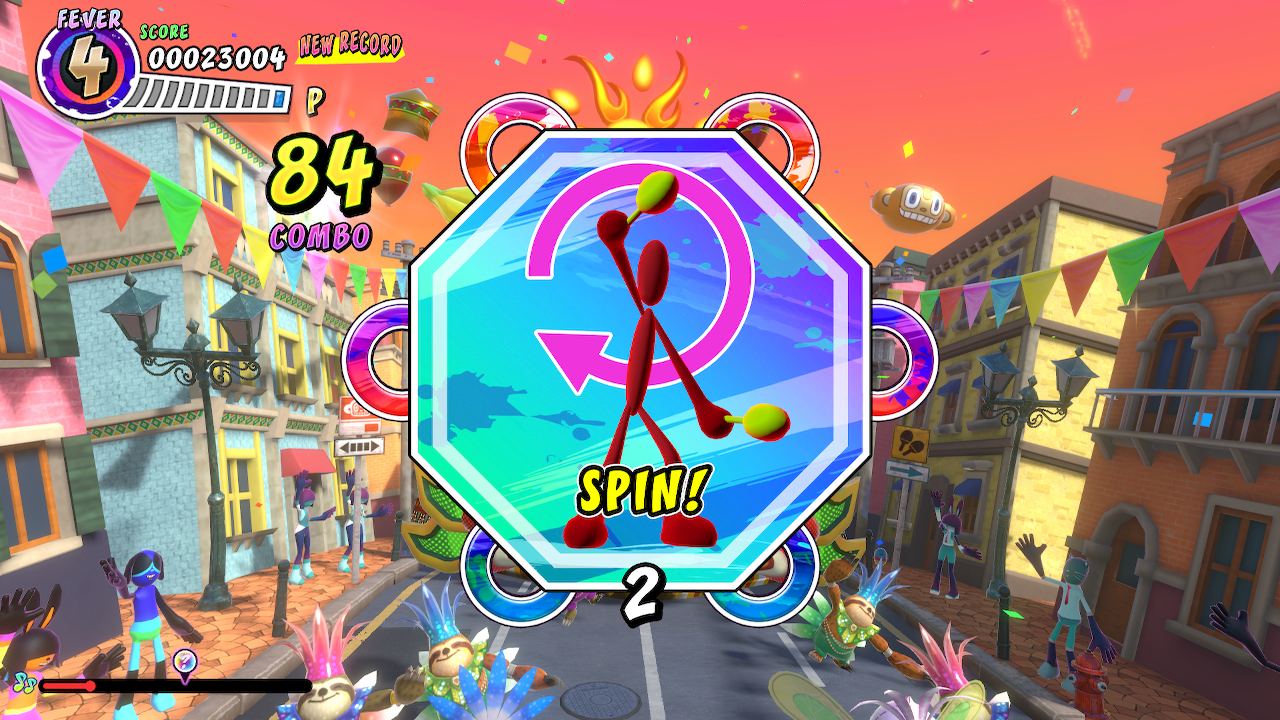 Unlike Rock Band, Guitar Hero, or even Sega's own Hatsune Miku titles, the goal never seems to be mastery of the game's tracklist. Instead it's all about having a great time, with some of its more outlandish additions speaking to that. Roulette chosen sequences of random "mini games" can occur during songs, prompting you to do a mini home run derby or do nothing but pose for a portion of the chart. These are mostly good fun, but I did come across one that literally caused immediate failure when I missed a note. That one's not so fun.
As is the case with any rhythm game, the soundtrack is going to inform pretty much the entire package. No longer beholden to its titular Samba, Party Central instead goes for a more general pop and dance focus. The likes of Lady Gaga, Maroon 5, Owl City, Miley Cyrus, and Ariana Grande are joined by some surprises from Culture Club and Bon Jovi. The series' Latin roots aren't completely forgotten either, with the return of Ricky Martin and some original compositions from the original game (Vamos a Carnaval was a requirement), and no less than three tracks from Pitbull.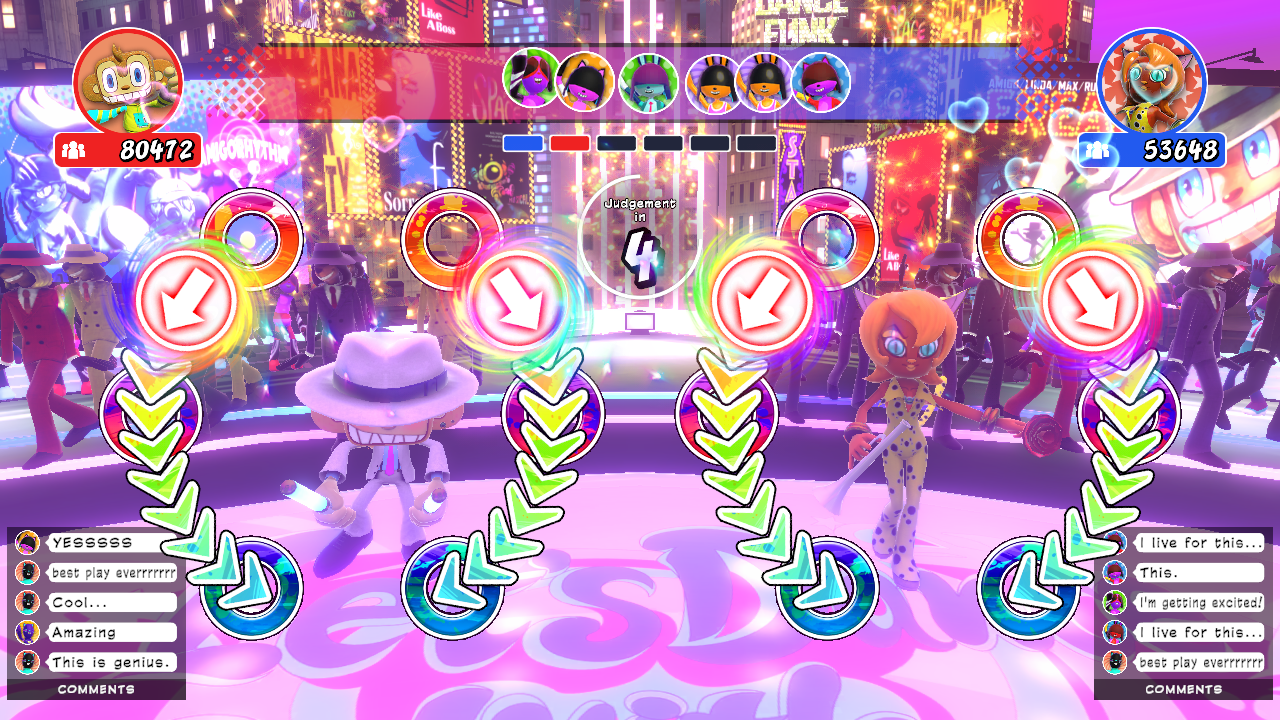 All in all what's here works, and will likely play better in the same spaces as Just Dance, but if it's not your jam then there's not much to really sell Samba de Amigo. Some choices also feel just slightly outdated, but not enough so to be called classics – like a playlist you find from about half a decade back. The only thing more prevalent than Mr. Worldwide himself is the blue blur – we've got five whole Sonic the Hedgehog tracks, three of which are DLC. Can it really be called a party if someone hasn't belted out Escape From The City at the top of their lungs while flailing imaginary maracas?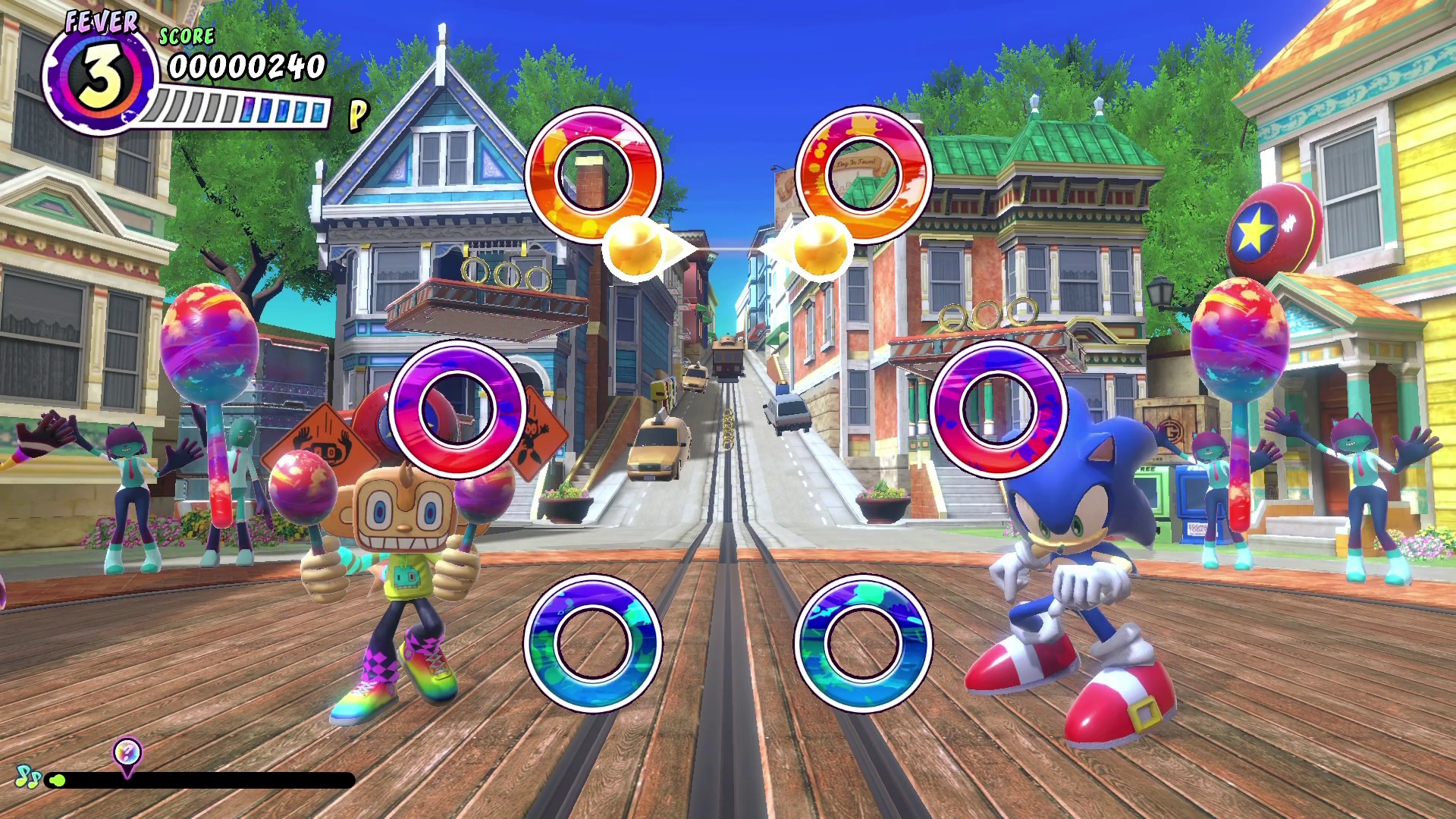 That all said, Party Central makes its vibe known throughout. Gone is the vibrant sunshine and omnipresent use of red, yellow, and green from its predecessor; traded here for clubs and infinite neon. What isn't gone though is the series' infectious energy and surreal style. While it certainly works, compared to previous Samba games it's missing a certain je ne Sega. That dare to be weird essence that prompted a concept like maraca controllers to exist in the first place. This critique's a bit hard to put into words, but for my longtime fans out there – this one drops the past games' chuckle for the more modern Sega 'tone' on start-up.
That's not to say there's no charm to be found. Amigo and the gang still exude positivity, with their new outfits (customizable for our main monkey!) suiting the updated theme. I do miss the Wii port's surprisingly spectacular opening cutscene, but it's good to have these characters back.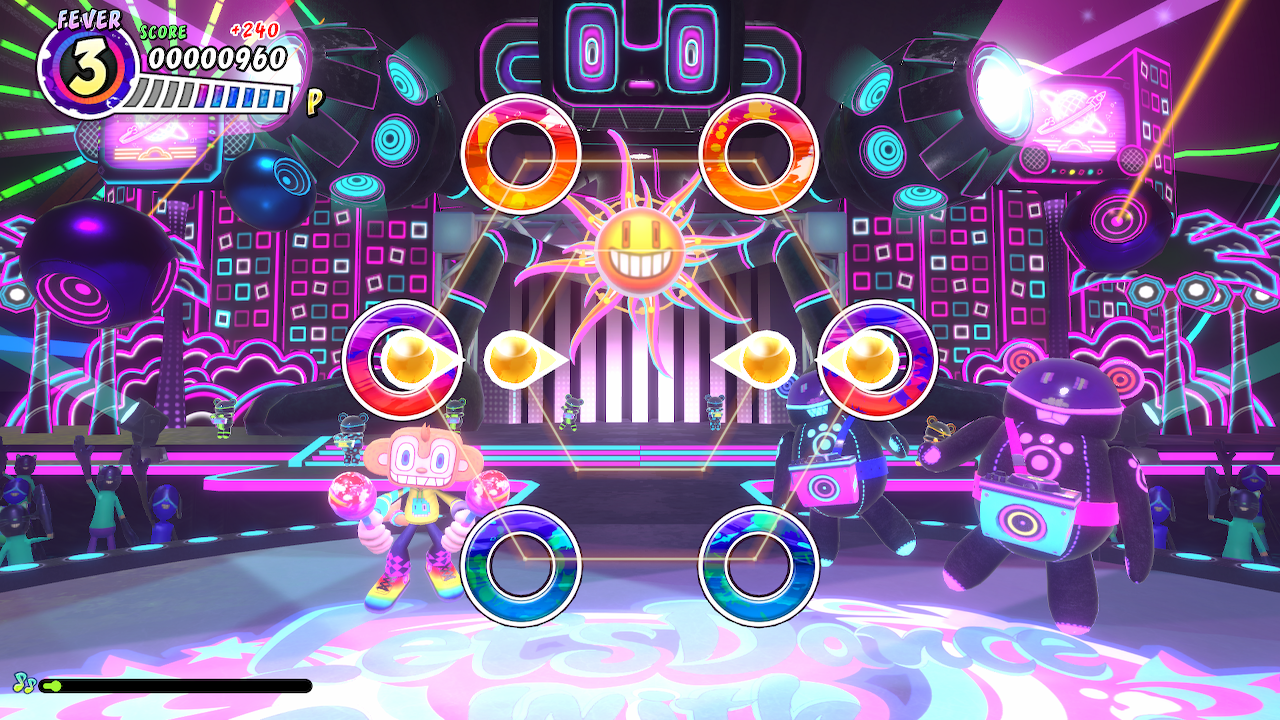 Beyond the standard Rhythm Game and two player offerings (Love Checker returns!) the most notable modes are StreamiGo! and World Party. The former serves as something of a single player campaign, where you'll take on specific songs and missions in the name of chasing clout and upping your followers. The latter on the other hand is something of a rhythm battle royale, where you'll face off with other Amigos in the hopes of being the last monkey standing, giving some Fall Guys vibes with its three round structure where more players are knocked out after each song.
Both of these give a little extra something to the experience, and encourage you to play and practice songs you wouldn't otherwise be into, but don't push the core gameplay in any interesting directions. They also come with some frustrations all their own. I didn't put much time into World Party during my early access period, meaning building up an online group of twenty participants took too long for my liking. StreamiGo! on the other hand tested my patience in different ways, though I'd chalk that up to Party Central's biggest problem.
When the original Samba de Amigo launched, both in arcades and on Dreamcast, it came with dedicated controllers. The maracas made the experience, and served their purpose well. Despite over two decades of technological advances, the Joy-Con somehow don't live up to the series' legacy when it comes to shake-shake-shaking through its soundtrack.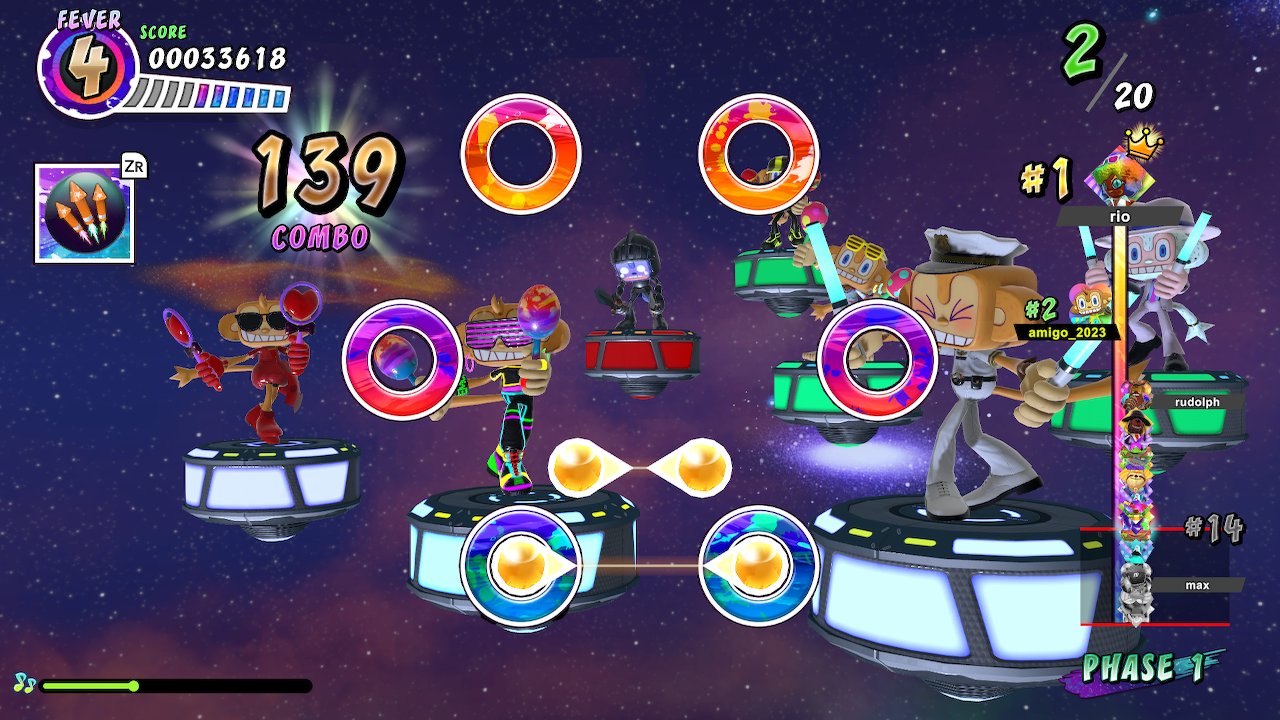 Extra inputs and lost HD rumbles were the norm, even with adjustments with respect to positioning. Fidelity is essential to a rhythm game, and while there's plenty of casual fun to be had here it did make some of StreamiGo!'s missions (complete a song with two misses or less, have a perfect streak of 125 notes, etc.) more agonizing than they ever needed to be. Even the joystick centered button controls didn't alleviate this, as the game just doesn't feel optimized for this option, especially on harder difficulties with more demanding chart sequences.
No Ke$ha song should ever seem impossible, and yet it ended up the first real roadblock in my StreamiGo! Journey.
In the end, Samba de Amigo: Party Central feels like it's being pulled in multiple directions but not fully committing to one. It wants to be the same quirky rhythm game it's always been but mostly sheds its niche aesthetic for something more mass market. It wants to be a fun party game (and again, it certainly can be with the right crowd) but it's not going to carry the same appeal as other options with more recognition. That light identity crisis paired to its not so reliable controls firmly cements this one as more of a distraction than a headliner – an opening act to get the crowd curious for what else you've got to top it.

Leave a Comment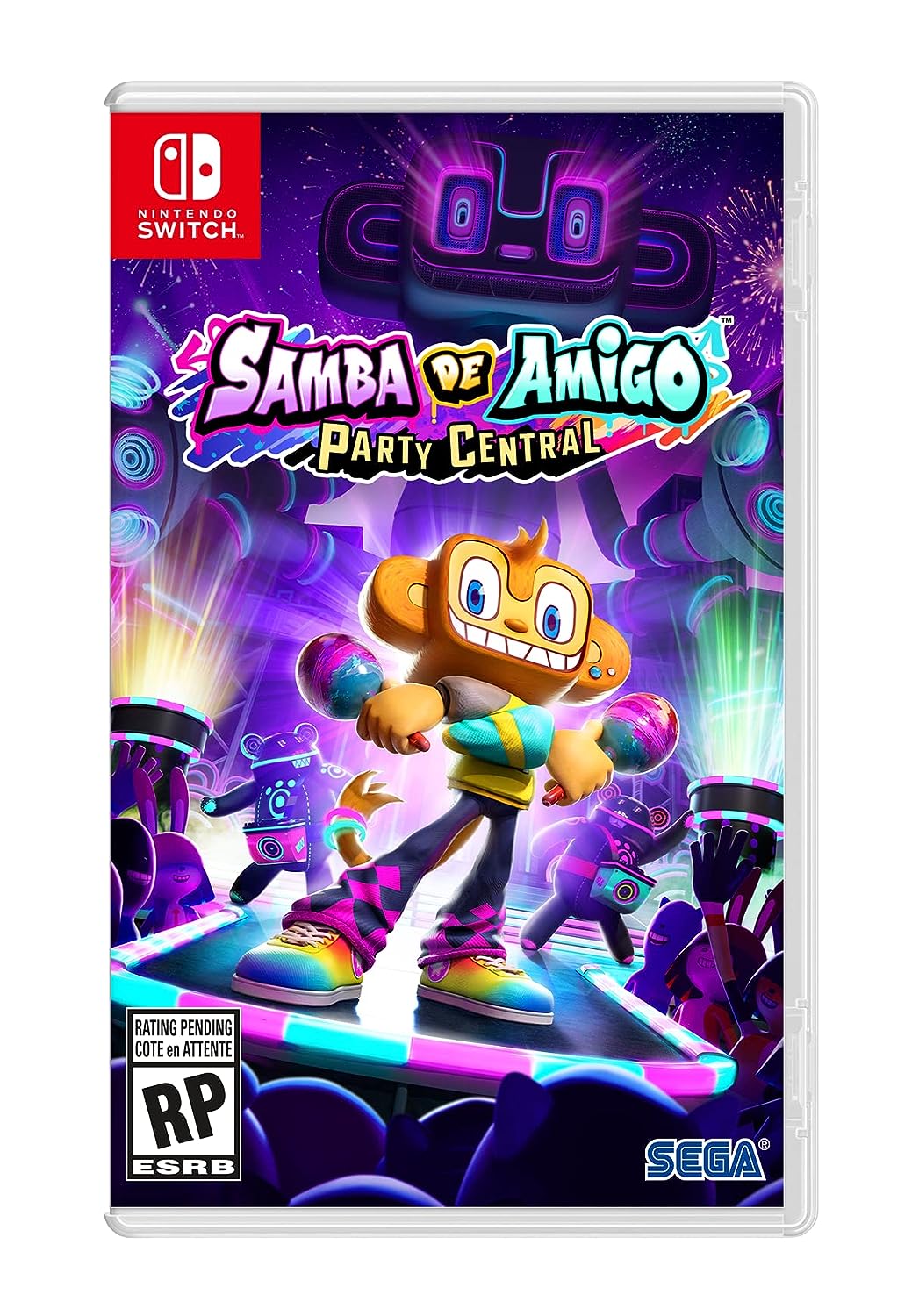 System: Nintendo Switch
Release Date: August 29, 2023
Categories: Rhythm
Publisher: Sega
Developer: Sega