Pokémon merchandise has been a constant for the franchise, with apparel fitting into that money-making equation for decades. Walking into almost any nationwide clothing retailer you'll be able to find Pikachu, and while that availability is welcome and great for kids in particular, they're not exactly the most fashionable offerings. What's a young adult hoping to hold on to that fondness but also look professional or stylish to do?
That's been the realm of Original Stitch, with their Pokémon Shirts line. We've spotlighted various releases of these, usually coinciding with an expansion into a new regional Dex-worth of patterns, and even got our hands on some of their recent face masks. Now though, we've been able to go through the entire Pokémon Shirts process — designing, ordering, receiving, and wearing! 
While there were a few "wrinkles" to the overall experience, if you're after a more premium piece of apparel or are looking for a special gift for a Pokémon fan, we're definitely pleased with the results and are happy to share our experience. 
Designing and Ordering
Easily the most enjoyable part of the process, heading to the Pokémon Shirts website will let you design your shirt based on the patterns that are available. The site is available in both English and Japanese, and currently offers the following: 
Button-up shirts

Polo shirts

Face masks

Bandanas

Aprons
I decided to go with a short-sleeved, casual button-up shirt, which gave me a grand total of nine areas to customize. Some of these are optional, but for any that are fabric-based you'll be able to mix and match Pokémon patterns as you see fit, with the only restriction being the availability in designs. These are sorted by Pokémon region, meaning you can specifically browse Johto if you're so inclined, both by Dex number and alphabetically. 
As a quick aside, Original Stitch has typically released these in National Dex order. That means the earlier a Pokémon debuted in the series, the likelier it may be sold out based on being available longer. Only up through Hoenn is fully represented as of now, with a few from Galar being available as outliers. If you're a Gen I loyalist, worry not, as some of the most popular from Kanto have actually just been replenished, including starters and Legendaries. 
After scouring all these options, I decided on this setup for my shirt as far as Pokémon representation:
Base fabric and outer collar – Gengar

Inner collar – Cyndaquil

Front pocket – Typhlosion
Some other details were also available, like embroidery based on Unown (I went with a monogram on the pocket, plus a "?" on the sleeve) and buttons modeled after various Poké Ball types (standard red and white for this shirt). These add-ons will run as a premium, building upward from the $110 base cost of the shirt itself.
My most appreciated aspect of this was that a representation of my under construction shirt was visible the whole way through, changing in real time as I experimented. I'd have liked a way to save and compare outside of taking my own screenshots, but even setting that extra time aside I spent a good hour just testing out options until I was satisfied.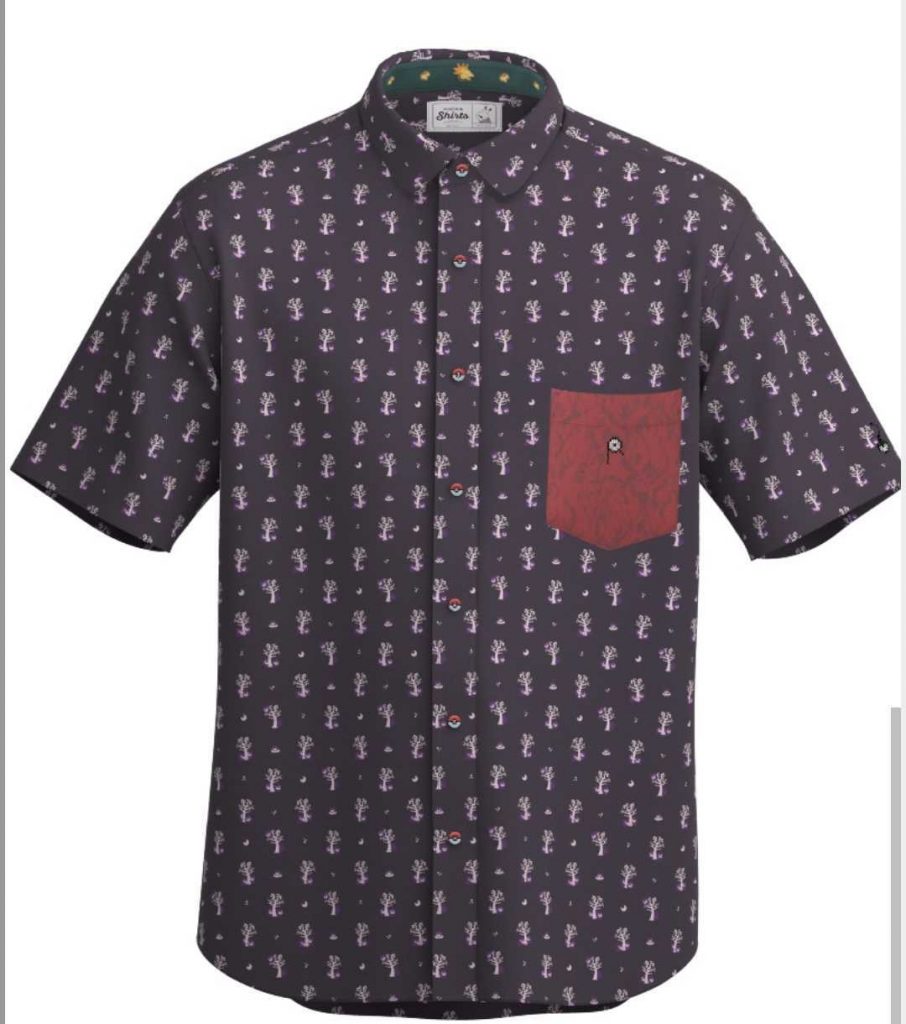 At this point, I could save my completed shirt design for my own use and asked to set a size for it. Standard US sizing was used, though I was able to adjust the neck sizing which was welcome and appreciated. While you can go off of the standard sizing, I did appreciate being provided with multiple dimensions of measurement. For a custom piece of apparel, this sort of detail can make or break the final product, so I'd definitely advise having a tape measurer on hand for that added peace of mind. 
Receiving and Wearing
After finalizing the order and paying, it was on to wait for the shipment to arrive. For the purposes of this coverage the shirt and shipping were complementary and expedited, so I can't speak much on those metrics. What I can say is that in terms of presentation of the finished product I was impressed. 
The delivery arrived in secured and discreet packaging, which in turn housed a stately, black Pokémon Shirts box. Opening that I was greeted by the shirt, neatly folded and housed in a similarly branded bag. This led to the shirt being somewhat stiff on arrival, but that lessened with time and wear.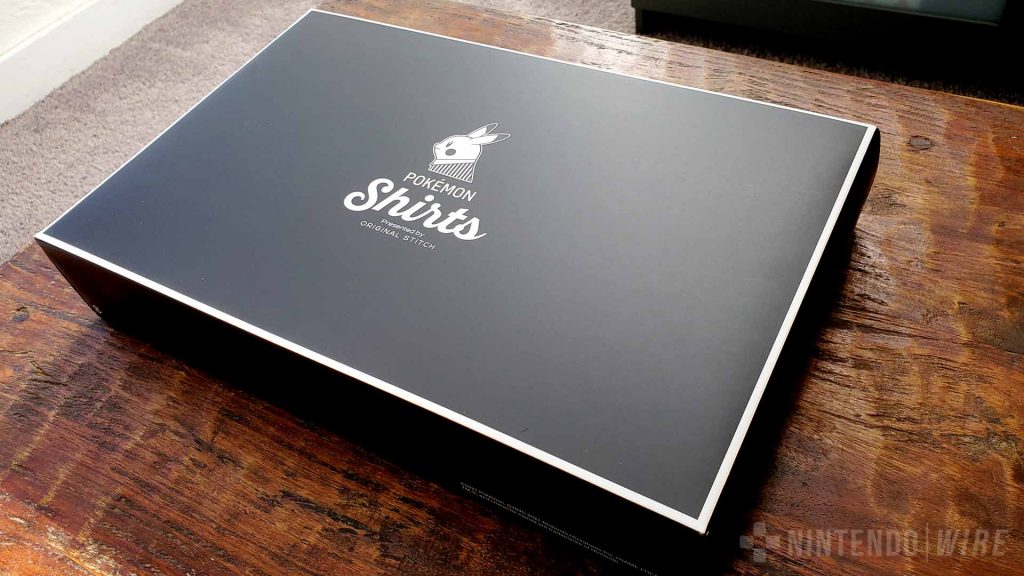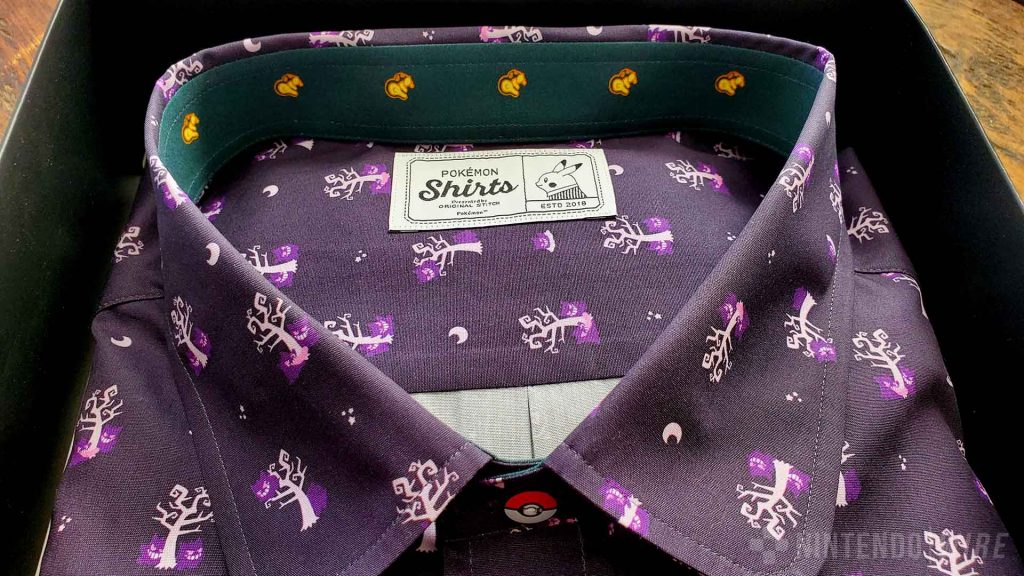 Inspecting the shirt itself, I was impressed by the feel and fidelity to the mock-up I'd put together. That sense of my idea becoming reality was a good one, and overall I was pleased with the shirt, though there are a few things worth mentioning. 
While the main Gengar pattern was handled well, the Cyndaquil and Typhlosion details both had a shortcoming. For Cyndaquil, the mock-up had specifically shown the pattern featured versions of the Johto starter with his back flared up. None on my shirt's collar had that detail, likely since it was such a small area to begin with. Not a dealbreaker, but that small aspect was one that drew me to going with my chosen look in the first place. 
Similarly, my Typhlosion-based pocket looked great outside of one detail. The way the pattern's designed, the pocket would have only one fully visible Typhlosion on it — that was fine. What wasn't, and it's my fault for not noticing during the mock-up, is that my chosen Unown embroidery somewhat covered that detail. Be sure to consider those sorts of fine points when it comes to your add-ons if you're interested in ordering a shirt of your own; but for what it's worth, the monogram is still a nice touch and I wouldn't have omitted it even if I caught my own oversight.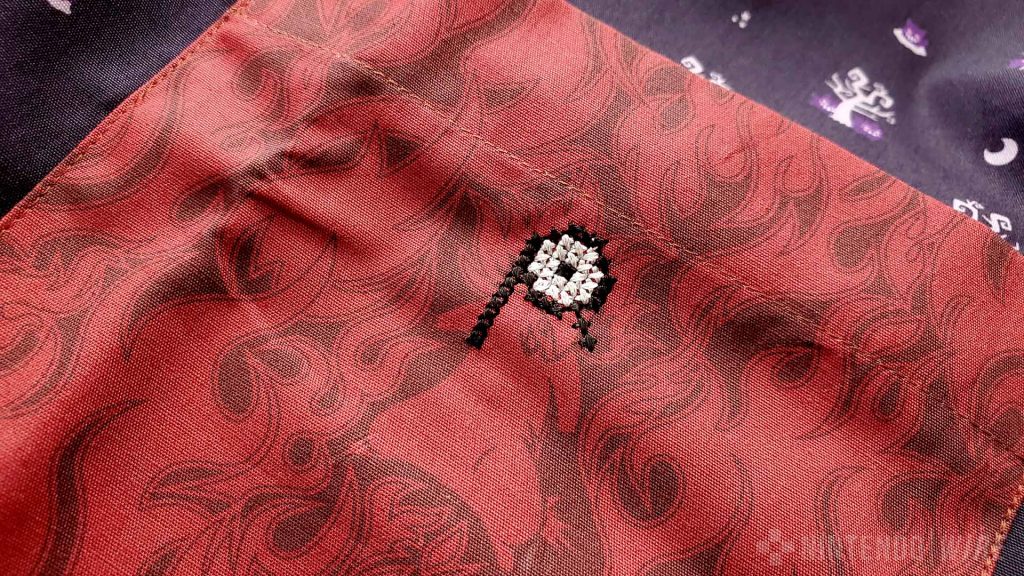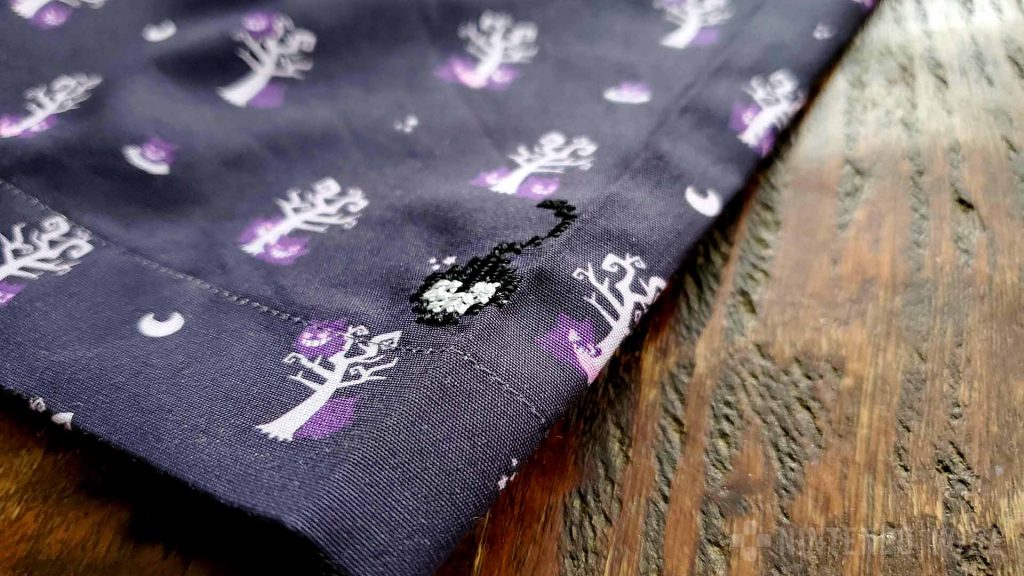 What's a little less acceptable is that some of the Poké Ball buttons arrived chipped. For a paid add-on on a premium product, that's perhaps my only real complaint. It also has me concerned for the longevity of that detail when it comes to routine wear and cleaning. Of course, as-is I'm the only one noticing those nitpicks, as the reception to my new fit has been great.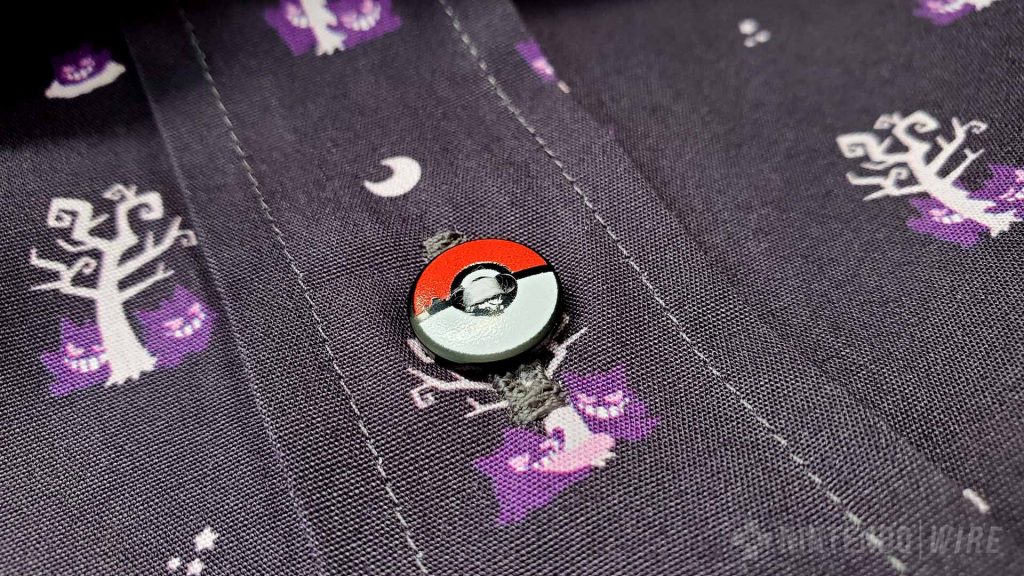 Yes, this shirt has absolutely passed the compliment test. Several times now I've gotten praise for the look, both in terms of its own style and how it suits my body size-wise. Outside of that initial stiffness, it's been a comfortable shirt that's suitable both for my workplace and going out with friends. Happy to report that there's not a single loose thread or longstanding crease to be seen, and it's become a highlight of my wardrobe. I can't say that much of what I wear is one-of-a-kind, but here we are with something both sentimental and stylish that's fully mine. 
Again, this is more of a premium pickup, but if you're a Pokémon fan willing and able to put down $100+ for a shirt, then I feel you'll be satisfied with the final result. If you're looking for that same flair on a tighter budget, the face masks and bandanas are options that also pull from the same designs. As they've made their way through more than a third of the Pokédex, I'm excited to see how Sinnoh, Unova, and beyond end up looking as Original Stitch moves forward on their own Pokémon journey.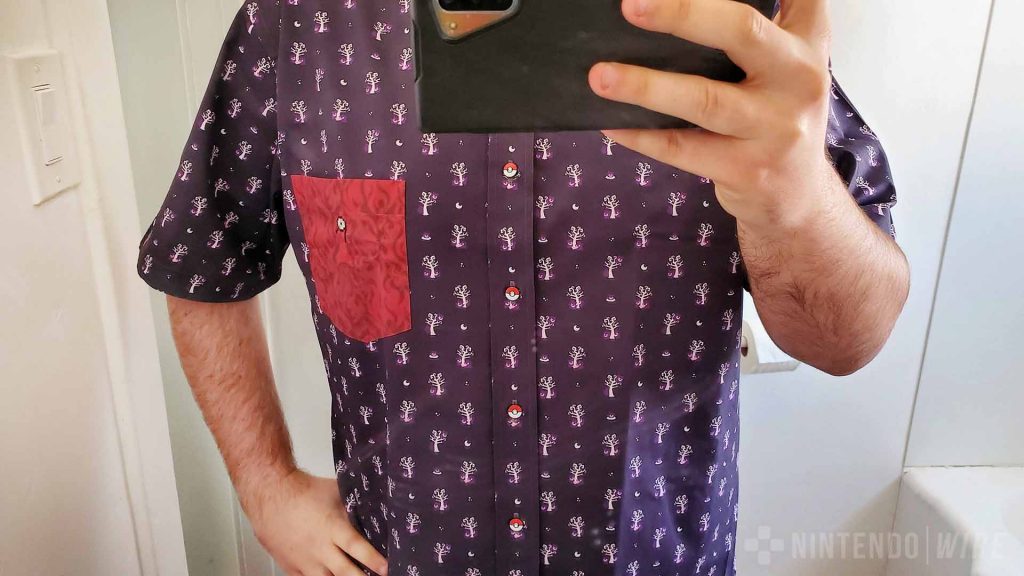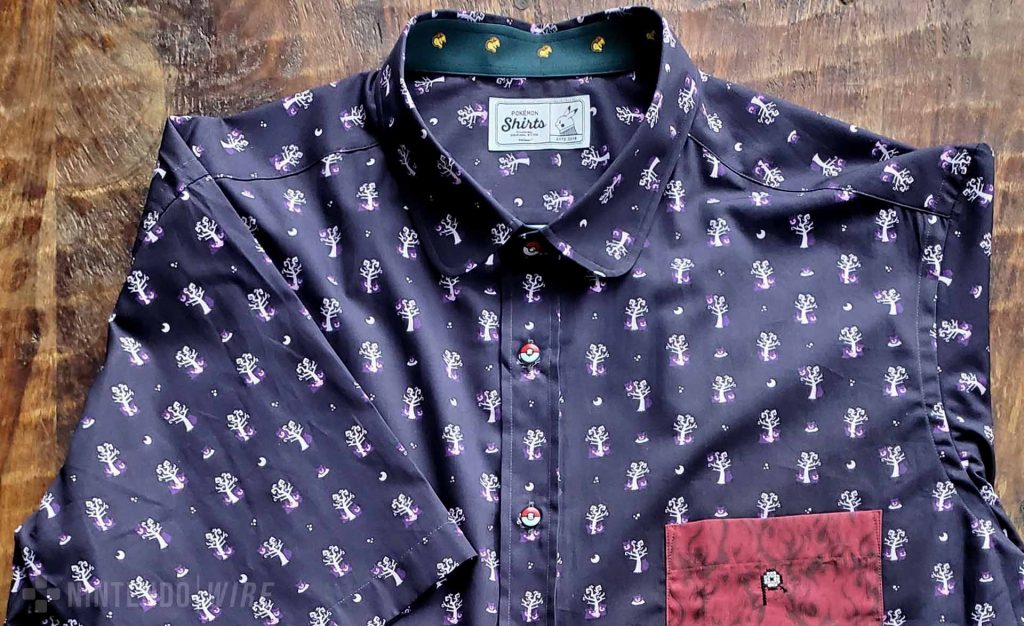 Leave a Comment