Party games need a particularly special sauce to be worthy of being a featured dish at a family game night or get-together with friends. This sauce has no name, yet its taste is undeniable – it has a full, robust flavor full of fun, with a chaotic nutty aroma that can ruin marriages and turn best friends into bitter rivals. Since its initial Switch release back in 2017, the Overcooked! series has proven to Nintendo fans that it deserves to be served alongside the gourmet dishes of Mario Party, Smash Bros., and Mario Kart at any gaming meal.
Overcooked! All You Can Eat aims to stuff the entirety of the series into one massive package, including all its DLCs while sprinkling in a dash of new features. While both Overcooked! titles are essentially known quantities at this point, this version of the game has a handful of upgrades that are definitely worth looking into, even if you already own one of the standalone entries in the series.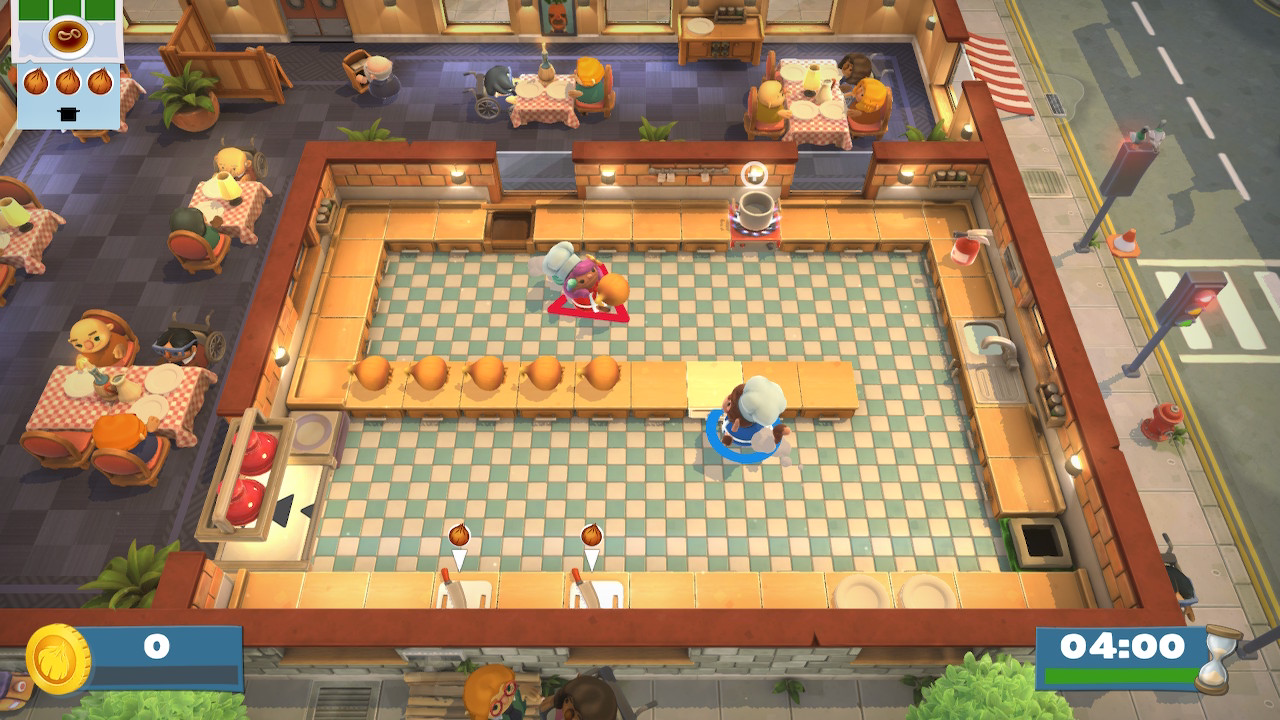 Order up!
The Overcooked! gameplay loop takes the simple premise of arcade-style restaurant management games and cranks it up to eleven by adding in wacky kitchen scenarios, even wackier hazards, complex dishes, and a heavy emphasis on cooperation. Players will need to work together to fill orders quickly and efficiently while contending with shifting floors, giant rats, and conga lines full of hungry vacationers.
The campaign modes in both versions of the game included in this package tell the story of the Onion King, his dog Kevin, and his Royal Chefs as they jump through time and space to save the oft-doomed Onion Kingdom from culinary catastrophes brought on by sentient side-dishes. While the premise is lighthearted and fun, it serves as little more than a table setting for the real meat and potatoes of the game, which is the hundreds of challenging kitchen scenarios. Players will prepare fantastic feasts within dense jungles, ancient ruins, atop shifting icebergs, and even in the deepest reaches of outer space.
While the campaign provides a structured way to experience all the game has to offer, the Arcade mode features Co-Op and Versus modes that allow players to take on any kitchen they'd like whether they're playing in-person on the same Switch, or via cross-platform online play. The addition of online play in this version of the game allows the original Overcooked! to be played online for the very first time, which is especially appreciated in current times we find ourselves in. The first entry in the series has a fantastic set of levels that are absolutely worth playing with others, though at the time of this review, many of us are still unable to spend time with friends and loved ones in-person just yet. While the Arcade Mode's offerings fully support online play with matching, the campaigns are still only playable in local co-op.
New Additions to the Menu
On the topic of new additions, All You Can Eat adds a few new bells and whistles to the already delicious offerings of the base Overcooked! games and their DLCs. Alongside the addition of seven new levels and three new chefs, both titles' visuals have been noticeably enhanced. While the game lacks the 60fps upgrade that is available on other platforms, the rest of the games' visuals have been polished up and enhanced, resulting in a higher-quality look and improved load times overall. In the case of the original Overcooked!, the game was entirely remade in its sequel's engine, resulting in what is essentially more of a remake than a remaster.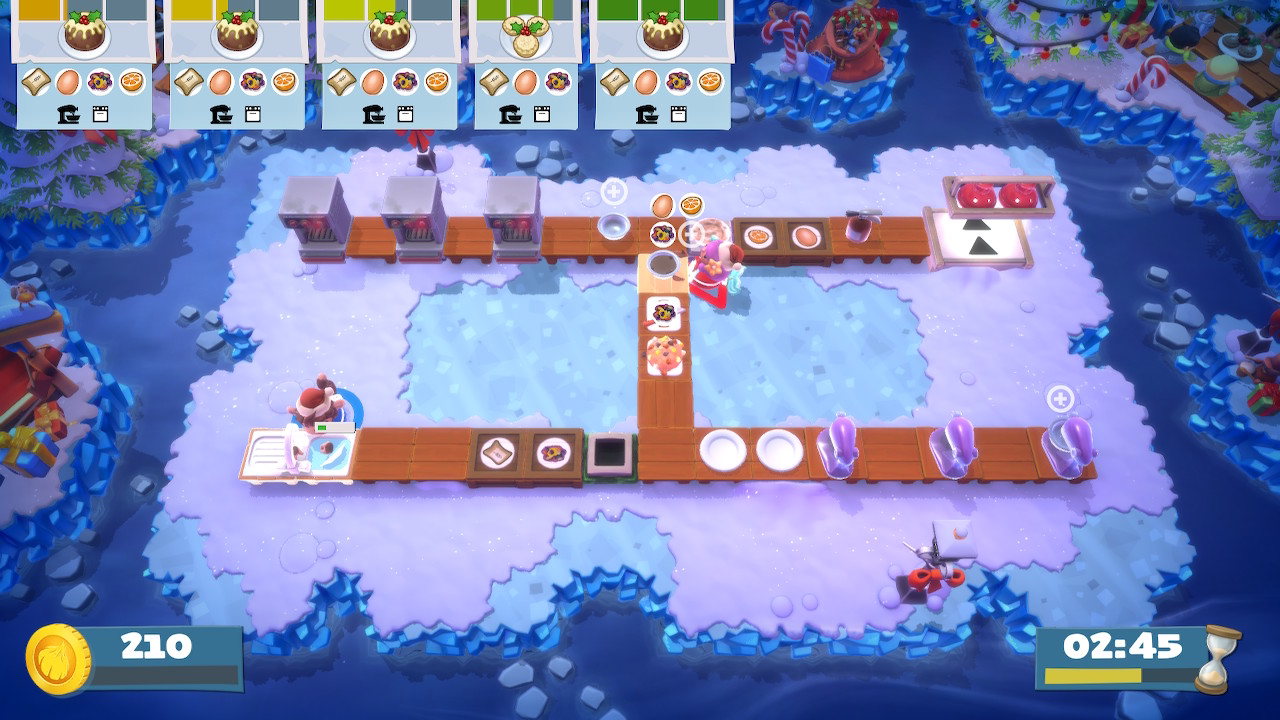 Another new addition to the game is Assist Mode, which has been added as an option for both campaigns. Assist Mode allows players to increase the overall time limit of levels, the time allowed to complete individual orders, and adds the ability to skip levels outright if they're still proving too tricky. The Assist Mode is part of this package's commendable efforts to increase accessibility across the board, with new color-blindness options, dyslexia-friendly text options, and scalable UI options which are available across all modes.
Where's the Lamb Sauce?!
Overcooked! All You Can Eat serves as the pu pu platter of the entire series, yet instead of being a simple appetizer sampler, the chefs at Ghost Town Games and Team17 have dumped the entire menu onto your plate and seasoned it with enhanced visuals, new features, and increased accessibility. The same chaotic, frustrating, and endlessly enjoyable gameplay is all there and better than ever!
There is one flaw that I do have to bring attention to, and it's really more of a caveat than an actual flaw, and that's the simple fact that if you don't have someone to enjoy this game with, I cannot recommend picking it up at all. The game is completely playable from start to finish solo, with the game providing chefs that you can switch between to handle different sections of the kitchen. However, it's just not the same game if you don't have someone to scream at because they accidentally dropped your fully-cooked kebab in the trash as a conga line cut you off from being able to put out a kitchen fire while your orders are about to expire.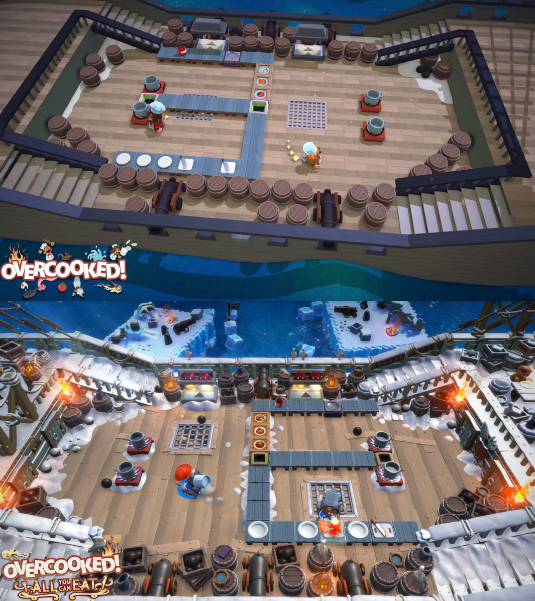 Overcooked! All You Can Eat is one of the most fun and chaotic co-op experiences available on any platform. Should you have at least one other person to play with, the value proposition for this game is astronomical. The very fact that it comes with both Overcooked! 1 and 2 is worth the price on the tin alone. However, when you factor the additions of every single DLC campaign and chef released for both titles, as well as the new additions and accessibility options on offer, it starts to become a no-brainer for any co-op session or party game night, and quite frankly makes the original releases of the games downright obsolete.

Leave a Comment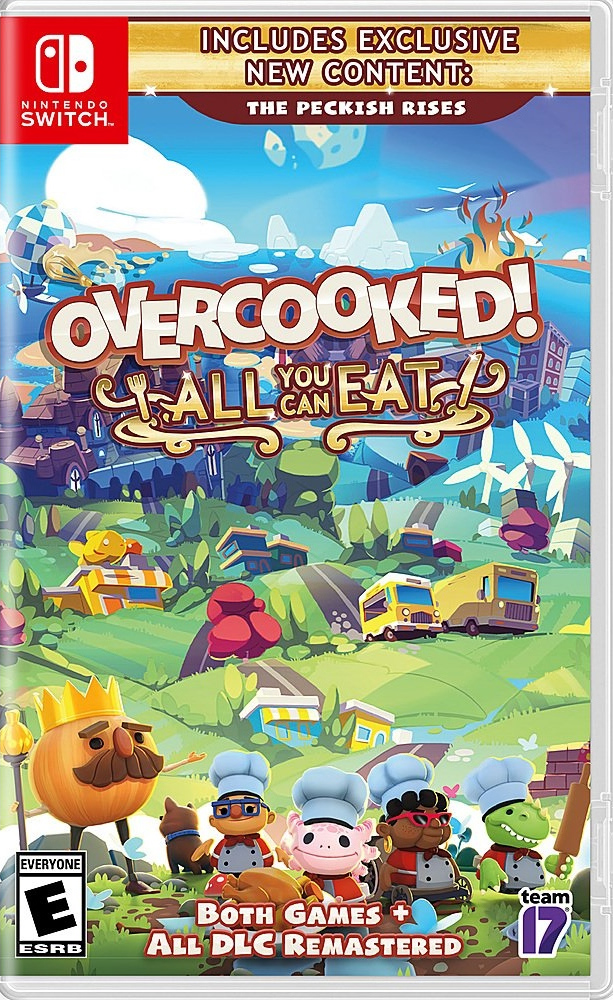 System: Nintendo Switch
Release Date: March 23, 2021
Categories: Party
Publisher: Team17
Developer: Team17, Ghost Town Games