When amiibo Tap: Nintendo's Greatest Bits was announced several months ago, many people were thrilled to finally get their hands on a stand alone amiibo game. Fans have been wondering when Nintendo would start to implement amiibo into games in a larger way ever since the introduction of amiibo last December.
Enter, amiibo Tap: Nintendo's Greatest Bits.
This new release is a freeware title available in the Wii U eShop in North America, Europe and Japan. By tapping an amiibo on the Wii U GamePad, a random NES or SNES game is unlocked for a short play session. Each title consists of nine scenes that showcase some of the best pieces of every game. For example, by unlocking The Legend of Zelda: A Link to the Past, the player is able to battle several bosses that appear throughout the game. Each scene, however, is only playable for three minutes. This rather short time restriction may leave many fans wanting more, but it still offers just enough time to get a good feel for what the game is about and how it is played. Not surprisingly, each of the games included in this title are available to download via the Wii U Virtual Console, which makes this new toys-to-life experience feel like more like an advertising tactic rather than a fun-filled amiibo adventure.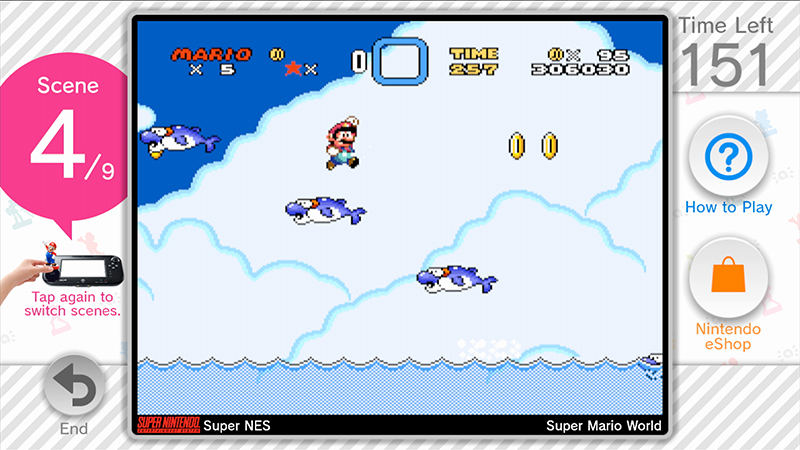 The most surprising aspect of amiibo Tap is the randomization of classic titles when an amiibo is tapped in to play. One would assume that tapping a Link amiibo would unlock a classic Zelda adventure. Instead, each amiibo unlocks a totally random title. I can understand that Nintendo wants to give its young players access to many classic titles that they may have never heard of before, but requiring the player to keep track of which amiibo unlocks which games can be confusing.
My personal experience with amiibo Tap was lackluster and short-lived. I found myself quickly playing through each scene and was disappointed every time the three minute timer reached zero. Then again, I own most of the games that this title unlocked and have played them many times over the past 20 years, so that may have affected my overall experience.
amiibo Tap: Nintendo's Greatest Bits is definitely not a game that was designed for Nintendo's hardcore audience in mind. In many ways, it's a glorified demo for Nintendo's Virtual Console service on the Wii U, which is not necessarily a bad thing. Older Nintendo fans might find themselves bored playing small clips of games they have been playing for 20 plus years, but for many younger amiibo collectors this title could be a perfect introduction to Nintendo classics.
Where amiibo Tap really has the opportunity to shine is with Nintendo's younger audience. The game gives a new generation access to dozens of classic Nintendo titles that may have not been available to them until now. So as unimpressed as I felt with my own experience, I'm somewhat comforted by the fact that the game will appeal to other people in the Nintendo community.
Leave a Comment