Super Mario Bros. Wonder releases in a week's time, but we may have discovered Mario's new voice actor ahead of time. Someone got their hands on one of the store demos that have popped up all over the US, and while not much info was within, it did have a list of cast members in the code.
Technically all of the listed names weren't attached to characters, but a little bit of deduction can be done: Kenny James, Samantha Kelly, and Caety Sagoian are already established Mario VAs for Bowser, Peach, and Bowser Jr. respectively. There are only two other male American VAs listed, and one of them – Kevin Afghani – sounds a lot like the Talking Flowers whose voices we've heard on many occasions already. That would mean the presumed new voice of Mario is Mick Wingert, who's played Tony Stark/Iron Man in multiple animated Marvel joints and several Fire Emblem characters (Abel, Jeorge, Jesse, Arden, and Inigo/Laslow).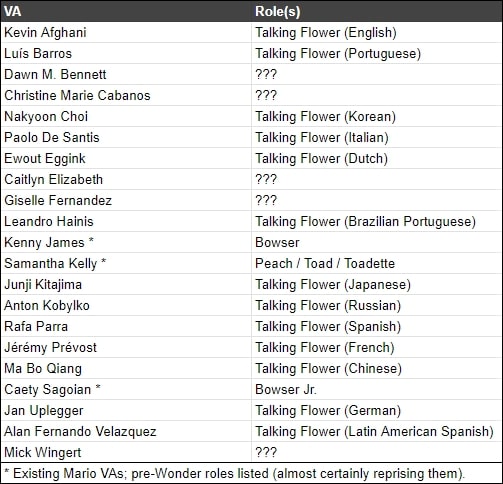 There's hardly any time before release, so we'll confirm one way or another before long. Super Mario Bros. Wonder releases October 20th. Looking to secure your copy? Make sure to check out our pre-order guide where we list off retailers you can order from, as well as all the known bonuses available!
---
Via: Famiboards
Leave a Comment