It's time to shake it – Samba de Amigo: Party Central marks the return of the rhythm game franchise after a long period of dormancy, and its talent is truly A-List. Of the 40 tracks included in the game, a ton come from prominent artists like the Jonas Brothers or Pitbull, including the following:
"Break Free ft. Zedd" by Ariana Grande

"I Really Like You" by Carly Rae Jepsen

"Payback (feat. Icona Pop)" by Cheat Codes

"Let You Go (feat. Kareen Lomax)" by Diplo & TSHA

"I Will Survive (Eric Kupper Mix Extended)" by Gloria Gaynor

"I Love It" by Icona Pop

"Centerfold' by J. Geils Band

"Bang Bang" by Jessie J, Ariana Grande, Nicki Minaj

"Sucker" by Jonas Brothers

"TiK ToK" by Kesha

"Panama" by Matteo

"Plastic Hearts" by Miley Cyrus

"Celebrate" by Pitbull

"The Cup of Life (La Copa de la Vida)" by Ricky Martin

"XS" by Rina Sawayama

"Bom Bom" by Sam and the Womp

"Azukita" by Steve Aoki, Daddy Yankee, Play-N-Skillz & Elvis Crespo

"Macarena (Cover)"

"Fugue (classic)"

"La Bamba (Cover)"
So a mix of Pop, EDM, and classic Latin tracks. These are only half the tracks in the base game, so we'll have to see what the rest are soon enough, as well as what post-launch DLC is like. 
Samba de Amigo: Party Central releases June 30th.
Gallery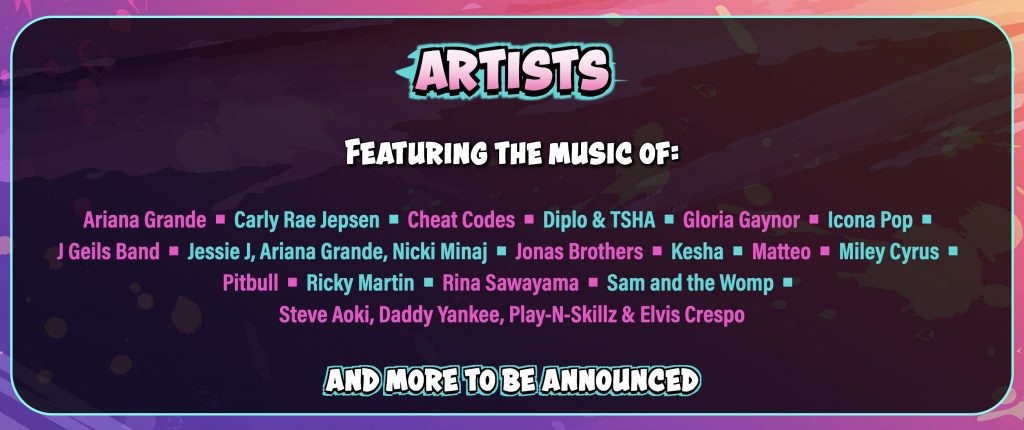 Leave a Comment