Disney Dreamlight Valley's population is growing! As briefly shown off in the February 2023 Nintendo Direct, Simba and Nala have been added to the game, and if you complete the necessary quest(s) and requirements, they can live in Dreamlight Valley with the rest of the game's Disney and Pixar residents.
Along with them, the game's update includes a new Star Path. Similar to a Season Pass, players can use the game's premium currency (Moonstones) to unlock the full Star Path and get all the Premium Rewards (provide they complete all Star Path tasks in time). This Star Path's theme is all about the Disney Parks. A variety of Disney Park-themed furniture, clothing, motifs, and more make up the reward pool. Notably, attractions like Mickey's Fun Wheel (now known as the Pixar Pal-A-Round), Dumbo the Flying Elephant, and Mad Tea Party are just some of the rewards you can get. And yes, the image below is real – even the trash and recycle cans are a reward item!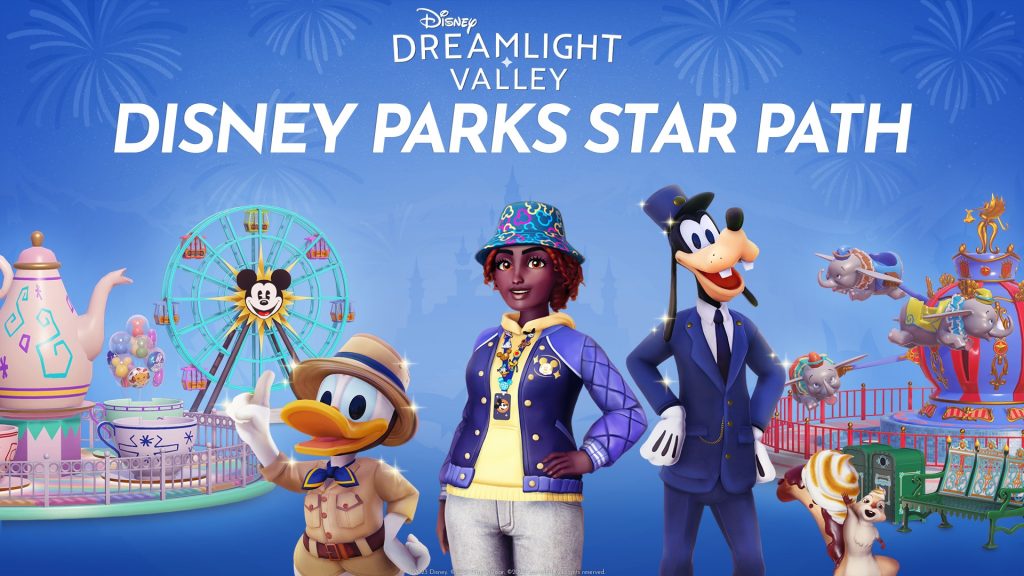 That's not all that's happening in this update. As detailed in an official press release, an Easter egg-themed event will happen in a few days. Referred to as "a special Eggstravaganza mini event", those who call Dreamlight Valley home can collect a variety of eggs, tackle daily missions alongside WALL·E, and more from Saturday, April 8th to Saturday, April 29th. Players who take part in this event can unlock exclusive cosmetics and rewards.
Plus, this week is the first batch of Disney Dreamlight Light Twitch Drop items.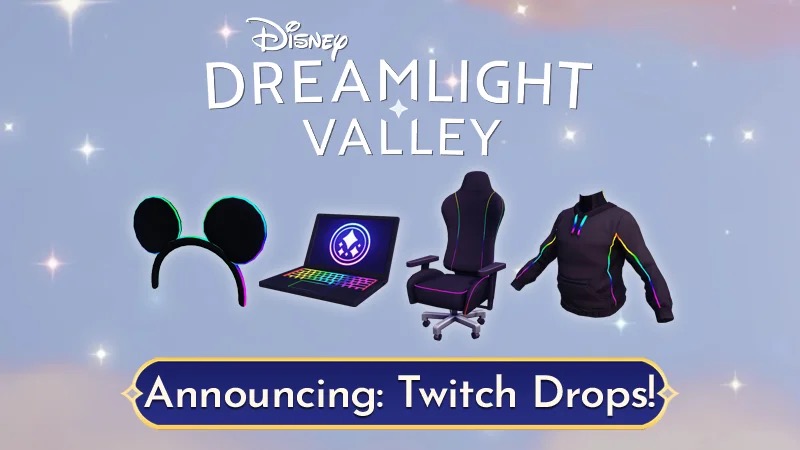 Detailed in its own blog post, players that link their Twitch and Gameloft (Cloud Save) accounts and watch from a select list of DDV streamers can obtain the following RGB-themed items above. To get all four, you must watch a total of 150 minutes (2 and 1/2 hours) of the spotlighted streamers on Twitch (with your accounts linked up). (EDIT: You must also claim the item you unlock in order for the watch time to count towards the next item.) You'll only have a week to get those 2 1/2 hours in of watch time, as this particular promo will end on Wednesday, April 12th at 4:30 p.m. PT | 7:30 p.m. ET. Items must be claimed by Thursday, April 13th, 2023 at 4:24 p.m. PT | 7:24 p.m. ET. For more details, check out the official blog post and the dedicated Twitch Drop page on the official Disney Dreamlight Valley website.
Lastly, for players that want the patch notes… Prior to the rollout of this update, the patch notes were released on the official Disney Dreamlight Valley site. In this update (bringing the game to Version 1.4.0), players will spot these differences in Dreamlight Valley:
NEW CONTENT AND IMPROVEMENTS:

A new Realm door is open in the Dream Castle: The Lion King Realm!
Welcome Simba and Nala to the Valley as you build your very own version of Pride Rock.
Celebrate Disney Parks with the most ambitious and magical Star Path yet! Place your very own Pixar Pal-A-Round, Dumbo the Flying Elephant or Mad Tea Party rides and transform your Valley into the happiest place on earth!
Scrooge McDuck's Store has received a new shipment of exciting new items, including some snazzy bathroom equipment, mushroom-inspired sets and more.
New optional items are coming to the Premium Shop for a limited time! Get ready to live your perfect life at sea with Prince Eric's Boat house Dream Style and meet Dreamlight infused animal companions for the first time.
Enjoy the return of sunny days outside and take part in our Eggstravaganza event from April 8 to 29!
Craft new interactive items for your animal companions to give them more to do around your valley, including little houses, feeders and toys.
A new selfie pose for each of your animal companions is now available in Photo Mode.
Paging Star Command! It seems like there have been a few more alien sightings in the Valley. You should, uh, talk to Buzz…
The well-fed bonus that is earned from eating cooked meals has been beefed up! When well-fed, you now get more chances of Critical Results each time you interact with the world (i.e. picking fruits, fishing fish, mining gems, etc.). But that's not all…
Get moving with the ability to hover! When the well-fed bonus is active, you can now start channeling your magic to slide around your Valley even faster!
Take a breath. Sitting down on a bench – or any other object, for that matter – anywhere in the Valley, will now replenish your energy very slowly.

TOP BUG FIXES:

Players should no longer encounter issues initiating a hang-out with Eric (we hear he was busy with his boat).
Improved companion behavior to reduce the chance of being blocked by them.
Fixed an issue which prevented some players from feeding critters while they had a training manual in their inventory.
"A Festival of Friendship" quest: The 4th piece of the Madrigal Table should now spawn as expected on the beach.
"The Definition of a Hero" quest: Players should now receive the Space Ranger Buffet required to complete this quest.
"A Restaurant Makeover" quest: Fixed an issue which would prevent the player from completing this quest by entering the restaurant.
"Remy's Recipe Book" quest: Fixed an issue that prevented the book from spawning.
"The Final Trial" quest: Fixed an issue which caused the Ice Heart to disappear after planting it for some players.
"Missing Prince" quest: After placing the Prince Eric statue, the memory needed to progress this quest should now spawn properly.
Altered the Sunstone Fragment icon to make it more easily distinguishable from Night Shards in the Forest of Valor.
The Spacecraft Porthole window should now properly display a space background.
Players can now pick up the blue clothing bag in Moana's home that was blocked by furniture for some folks.
Camera collision in the Toy Story Realm has been improved.
Fixed an issue which prevented some players from equipping Mickey and Minnie's D100 Dream Styles.
Fixed an issue preventing some players from tracking quests in the menu.
Fixed an issue in which a small number of players reported Star Path rewards disappearing after restarting their game.
Fixed an issue in which some Nintendo Switch users would encounter a black screen when entering the WALL-E Realm.
Fixed an issue in which a small number of Mac users encountered crashes upon entering the Sunlit Plateau.
Fixed an issue in which some players were unable to pick up flowers in the Frosted Heights biome.
Fixed an issue which caused certain quest items to remain in players' inventories after completing the relevant quests.
Adjusted Stitch motif.
Various localization fixes.
Various audio and visual fixes.
Various Premium Shop fixes.
And more bug fixes, optimizations and stability improvements!
Disney Dreamlight Valley is still in its Early Access phase and is available on Nintendo Switch, Xbox Series X | S, Xbox One, PlayStation 5 and 4, PC, and Mac. It will switch to its free-to-play version sometime in 2023.
IMAGE GALLERY
Leave a Comment