The Xenoblade Chronicles series is known for its extensive and gorgeous soundtracks, fulfilling countless hours of exploration, battle, and heartrending drama – and now you can collect absolutely all of it in one fell swoop. A special edition "Trinity Box" collecting the massive OSTs for Xenoblade Chronicles: Definitive Edition, Xenoblade Chronicles 2 (plus DLC Torna ~ The Golden Country), and Xenoblade Chronicles 3 (including its upcoming DLC) is up for pre-order now.
The whopping 20 CD set goes for ¥20,000 (just over $151 at current exchange rate), and contains a special 56-page booklet featuring messages from the composers (Yasunori Mitsuda, ACE, Kenji Hiramatsu, and Manami Kiyoto) and series Executive Director Tetsuya Takahashi (in English and Japanese). The box is available for pre-order until the end of April and is slated to ship out on July 29th.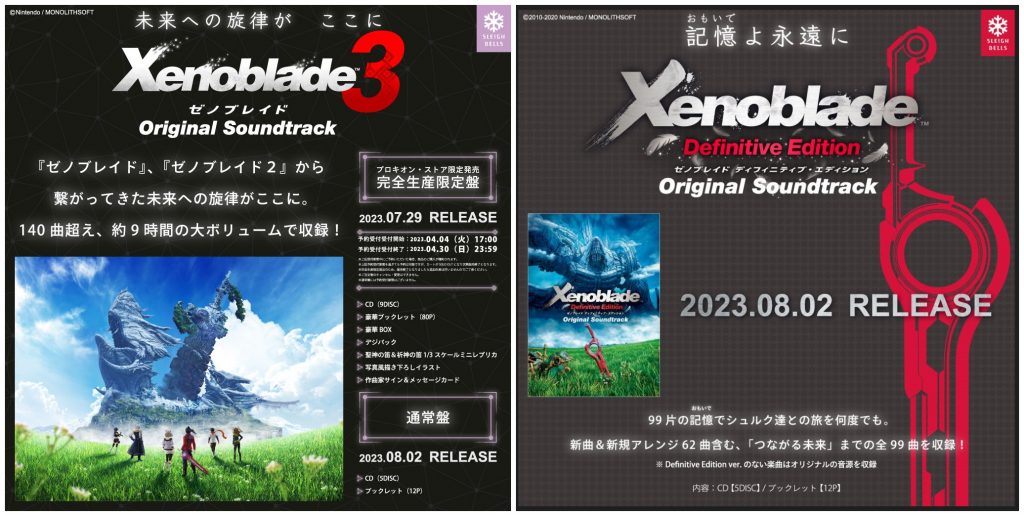 For those interested in an alternate experience, you can also order the Xenoblade Chronicles 3 Original Soundtrack Limited Edition, which contains nine CDs, a deluxe 80 page booklet, and also replicas of Noah and Mio's flutes. It goes for ¥16,800 (~$127) and has the same release date of July 29th, 2023. 
Leave a Comment