When the Game Boy Color arrived it offered the perfect opportunity for classic Game Boy games to get a facelift, but only a handful of games took advantage, such as Link's Awakening and Tetris getting the DX treatment. In recent years, fans have took it upon themselves to make ROM hacks that bring a bit of color into a variety of monochrome classics, like Super Mario Land.
Now, the last classic Mega Man game on the platform has gotten some love. While it may seem like an odd choice, unlike its predecessors Mega Man V has a unique story and enemies in the form of the Stardroids, and as a result is a fairly underappreciated entry in the Blue Bomber's lineage.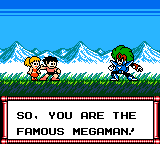 After two years of development, the colorization hack by marc_max not only gives the game a splash of vibrancy akin to the NES games but it also eliminates slowdown and incorporates a new pause menu.
Leave a Comment