Have A Nice Death,the hand-drawn action-roguelike coming to Nintendo Switch in March, released its final pre-release update for Early Access today, which gives us a peek at some features that we'll see on console. Some of the included new features include the following:
Six brand-new difficulties, including a beginner-friendly "Self-Fulfillment" mode and five new levels of Breakdown intensity (Breakdown XI, XII, XIII, XIV, and XV) that make your runs even more challenging.

Two new bosses – a new Sorrow (Barnaby Proudfoot) and a secret mini-boss/Thanager.

Holiday decorations for Death Inc.

New weapons and spells

Over 50 new rooms, and updates to old ones

Two new questlines – a limited time "Secret Santa" one (that will be over by the time of the Switch release) and "The Musical."

The ability to choose between either your original scythe or a random one at the start of a run

The ability to upgrade your starting scythe

Meta progression that you can level up with

QOD (Quality of Death) improvements
Have A Nice Death launches March 22nd, 2023. 
Gallery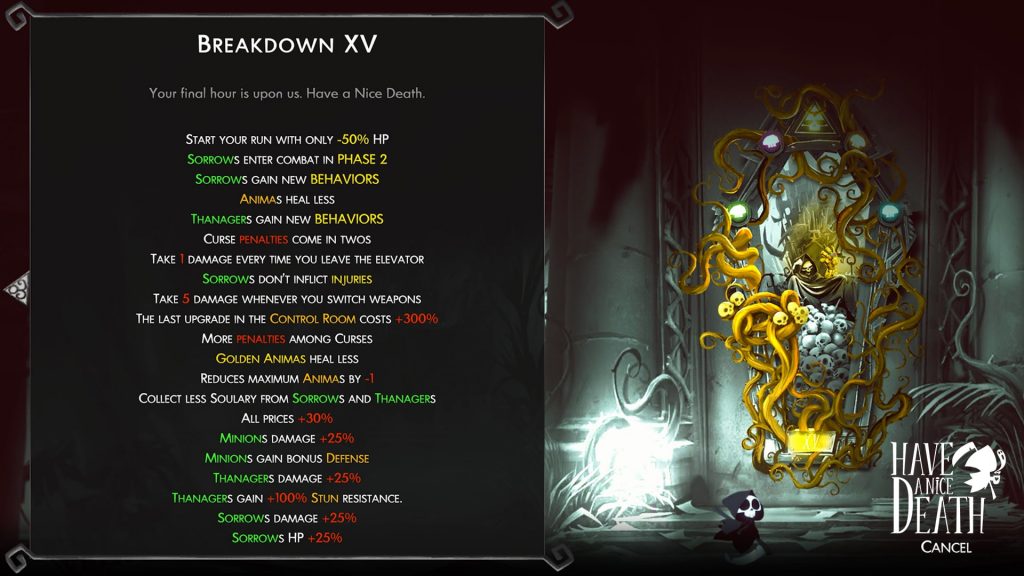 Leave a Comment