It used to be a running joke on the internet, a mark of notoriety for decades — journeyman Pokémon anime protagonist Ash Ketchum and his Pikachu never won anything. Not in Kanto, in Johto, in Hoenn, in Sinnoh, or in Unova. Things got especially bad in Kalos, when fans cried he'd been robbed of the title by shoddy writing and a seeming mandate to keep him losing. But after becoming the first champion of Alola, Ash has aimed and reached even higher: becoming the Pokémon World Champion after defeating legends in the Masters Tournament, vanquishing Leon in the final round to become the true #1 after years of futility.
And it might mark the end.
He's done it! Ash has become a World Champion! 🏆🎉 pic.twitter.com/a2jPb8pym3

— Pokémon (@Pokemon) November 11, 2022
Ash winning is a big deal — The Pokémon Company put an entire press release out about it, even though the episode has only aired in Japan and still has quite a bit of time before reaching the rest of the world. Fans and news outlets from all about are talking about it. It even showed in Shibuya.
The first glimpse of Ash winning that I've seen. I wish I could bend space and time to have been in Tokyo for this. HE DID IT!!!! https://t.co/tNC5FxCIOV

— Sarah Natochenny (@sarahnatochenny) November 11, 2022
However, this crowning achievement may also be a concluding one. Speculation is rampant among swarths of the community that the end of the Pokémon anime — or at least Ash's role in it — is imminent. For one, the final episode titles for Pokémon Journeys have been revealed, with titles that certainly don't sound out of place for a grand finale, with the last episode title even being a bit of a nod to the very first episode of Pokémon ever.
More New Titles Confirmed:

JN134 (Dec 2) "The Future I Grasp!"

JN135 (Dec 9) "Pokemon! I'm Glad To Have Met You!" #Anipoke pic.twitter.com/yMMYyx9Oou

— Anipoke Fandom (@AnipokeFandom) November 8, 2022
More pressingly, Studio OLM — which has made the entire Pokémon anime during its entire existence, for well over a thousand episodes — is in trouble. The entire anime industry is in dire straits, facing staffing shortages and stretched by overproduction in the wake of insane levels of demand: and this has grown to affect Studio OLM as well, with simply not enough hands on deck to make episodes consistently. And we've heard nothing about a Paldean anime followup, which is intensely unusual and possibly a sign that not just Ash's journey but the Pokémon anime itself will conclude.
OLM animation director confirms the Pokémon anime is in trouble

After all the recent issues with the Pokémon anime (filler, gap weeks, recap episodes) a staff member has confirmed that they don't have enough people.

This may be why we haven't heard anything about a Gen 9 anime. pic.twitter.com/zNHYutJ82T

— Centro LEAKS (@CentroLeaks) October 2, 2022
If this is the case, then Ash's conquest is surely a poetic end to an adventure that touched millions — if not billions — of hearts over the years. If this comes to be the grand finale, we'll be sure to report on it as Journeys concludes in December. 
Gallery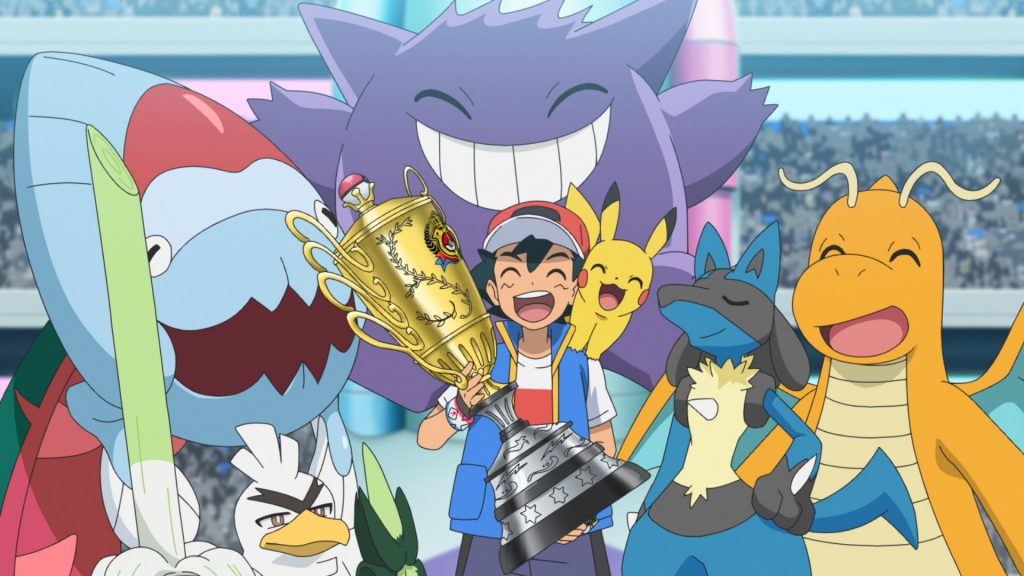 Leave a Comment