The great fax machine has spoken! During September 2022's Nintendo Direct, Splatoon 3 briefly appeared with the Anarchy Splatcast crew announcing Splatoon 3's first post-game launch Splatfest. Shiver, Frye, and Big Man are ready to party and want to know what team you'll be repping.
From Friday, September 23rd, 2022 at 5 p.m. PT | 8 p.m. ET to Sunday, September 25th, 2022 at 5 p.m. PT | 8 p.m. ET, Squids and Octos can battle it out by answering the big question, "What would you bring with you to a deserted island? Gear? Grub? Or fun?"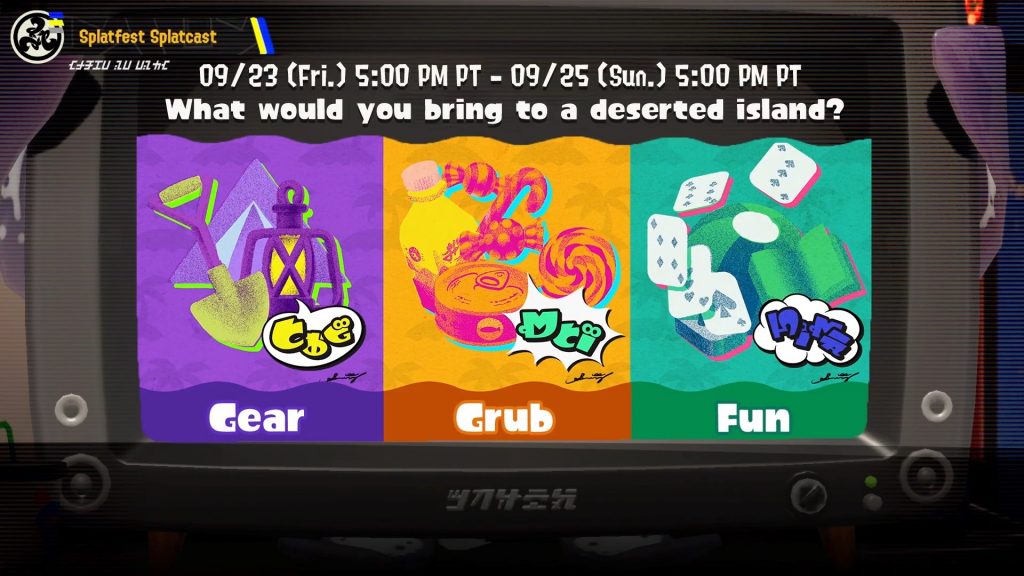 Watch out for the Spaltfest team pledge box later this month in Splatoon 3's Splatsville hub (possibly the week of the 23rd). Until then, you have plenty of time to decide if you'll be repping Team Gear (Shiver), Team Grub (Frye), or Team Fun (Big Man). And practice your moves on Hammerhead Bridge, as it'll be the Splatfest's Tricolor Turf War map (or at least one of 'em).
Speaking of Tricolor Turf Wars, the official Splatoon Twitter account did make a note of how often they'll be appearing for this Splatfest (compared to the Splatfest World Premiere demo last month).
[Notification] In the next Splatfest, we'll reduce the frequency of Tricolor Turf War battles compared to the Splatfest World Premiere. Users may encounter regular Turf War battles more often even if they choose Tricolor Battle. We'll continue to improve our matchmaking system!

— Splatoon North America (@SplatoonNA) September 13, 2022
Plus, if you enjoyed the Splatfest World Premiere's tunes, they'll return too. In the meantime, the Squid Research Lab has got you covered by releasing a clip of Deep Cut's "Fins in the Air".
While you're pondering which Splatfest team to join, know that that we'll ALL be on "Team Great Tunes" thanks to Deep Cut's latest, Fins in the Air. Between Shiver's sprawling vocals, Frye's bouncy harmonies, and that dazzling intro, Musicology says it's "straight fire." pic.twitter.com/hk22lQA4tZ

— Splatoon North America (@SplatoonNA) September 13, 2022
Of course, that wasn't all during today's Direct! We also got a sneak peek at some gear that'll be included in a future update. No release date for that, sadly. But for now, just have fun in Splatsville with some good old battles, Salmon Run jobs, Tableturf card battles, and more!
Leave a Comment