Now with Splatoon 3 released, Nintendo has started to roll out brand new, Splatoon 3-themed icons for Nintendo Switch Online members. Looking to freshen up your icon? You'll have the chance to exchange icon elements for My Nintendo Platinum Points over the next four weeks!
That's right, the Splatoon 3 collection is getting a total of four waves and the first wave is now available.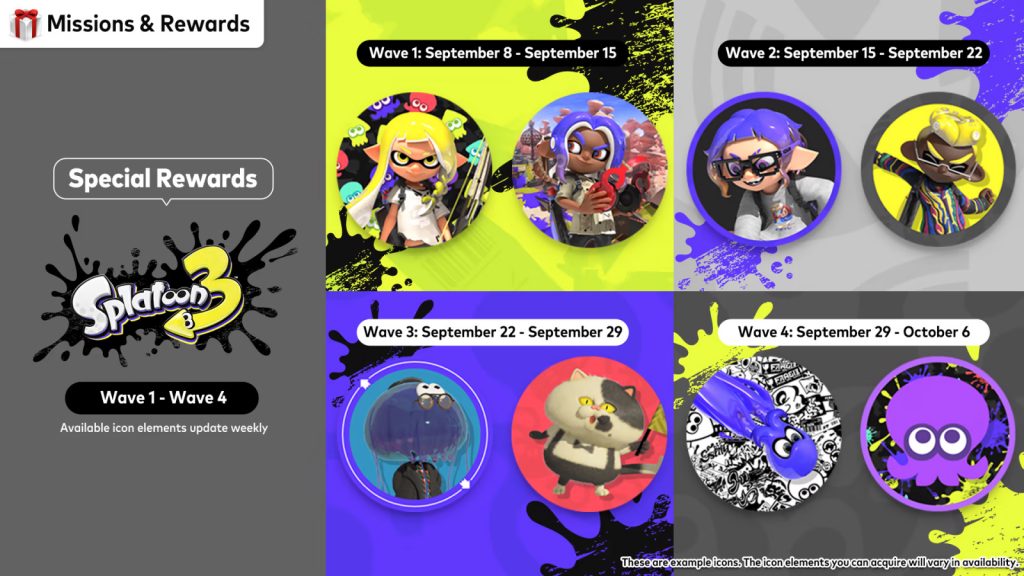 Active Nintendo Switch Online subscription holders can head over to the Nintendo Switch Online app on the Nintendo Switch and go to the Mission and & Rewards tab. There, you'll find all the various NSO icon collections. For Splatoon 3's first wave, you'll find the following icon elements available until Thursday, September 15th, 2022 at 5:59 p.m. PT | 8:59 p.m. ET. Altogether, this first wave costs 150 My Nintendo Platinum Points.
On Thursday, September 15th, 2022 at 6 p.m. PT | 9 p.m. ET, Wave 2 will take its place! Thanks to the preview image, you'll be able to add more Inklings, Octolings, and more to your pool of Splatoon 3-themed icon elements.
Collect 'em all each week until Thursday, October 6th, 2022 at 5:59 p.m. PT | 8:59 p.m. ET.
Leave a Comment