In honor of Splatoon 3's upcoming release this Friday, a new volume of Nintendo's Ask the Developer has been published (and localized into English). Split into four parts, Part 1 and Part 2 have been released today. In them, Hisashi Nogami (producer of the Splatoon series), Seita Inoue (one of Splatoon 3's directors and art director), Shintaro Sato (one of Splatoon 3's directors), and Toru Minegishi (Splatoon 3's sound director) were interviewed about Splatoon 3 and its relation to the previous Splatoon titles.
The Splatoon series celebrated its 7th anniversary back in May of this year, and it has grown and evolved with each new game. One big theme throughout Part 1 and Part 2 of the interview is all about the passage of time in Splatoon and how the world has evolved thanks to the popularity of ink-filled battles.
To help illustrate where we'll be in Splatoon 3, a "world map" showing off where Splatsville (Splatoon 3) is in relationship with locations featured in the previous Splatoon games (Splatoon: Inkopolis Plaza and Octco Valley, Splatoon 2: Inkopolis Square, Octo Canyon, Deepsea Metro, and Salmonid swim zone in Inkopolis Bay).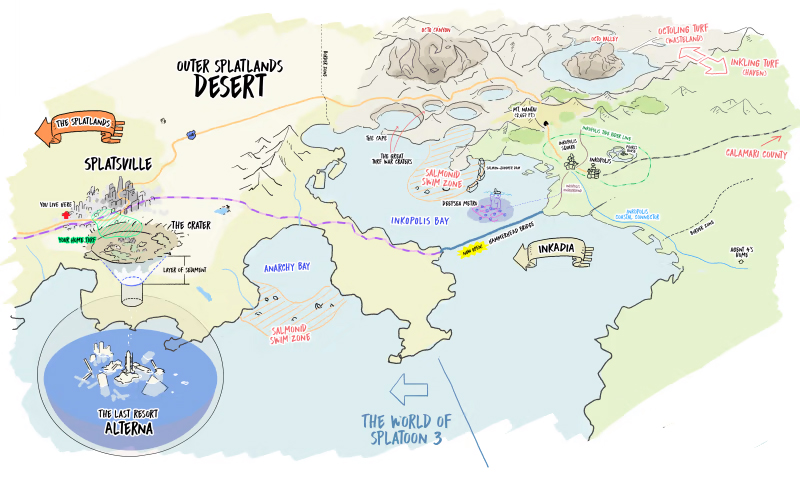 As you can see, it's quite a trek from Inkopolis Plaza and Square to the Splatlands (Splatsville)! Inoue and Sato discuss that and why it's feasible for Squids and Octos to venture here for battles and Splatfest celebrations:
Inoue: As you can see, Inkopolis Plaza in the first title and Inkopolis Square in the second title are both located in the heart of the city, and they are only about as far apart as Shibuya Station and Harajuku Station on the train in Tokyo. In terms of distance, it is about 1.2 kilometers (approx. 0.75 miles). However, we were discussing how we wanted Splatsville to be set in a region far away from the locations in the previous two titles and with a completely different climate. We prepared a map like this so that we could develop the game with an understanding of the geographical distances.

Sato: Splatsville is barely accessible from Inkopolis Plaza and Inkopolis Square by taking a single local train line. The distance is similar to that from Tokyo to Atami or thereabouts in Japan. It is in a rural area that would take a few hours to drive to on the highway. For people in the United States, it may be like driving to Las Vegas from Los Angeles. Although geographically quite distant, highways that opened up in the five years between the second and third titles allow convenient access to the area.
Inoue: The Splatlands developed rapidly because the construction of the bridge across the sea made it more accessible from the city center. [Author's Note: Inoue is referring to Hammerhead Bridge, a multiplayer map that debuted in Splatoon and is returning in Splatoon 3.]
It'll be interesting to see if this map and other illustrations like it are released in a Splatoon 3 art book (which hasn't been announced), along with a detailed shot of a map that's hanging in Sheldon's Ammo Knights store in Splatoon 3.  No doubt fans will start plotting out where all of Splatoon, Splatoon 2, and Splatoon 3 maps are located with all that data! Plus, with future updates planned for Splatoon 3, who knows how far we'll be venturing in the Outer Splatlands Desert for matches. There's plenty of undiscovered land out there.
You can read Part 1 and Part 2 of the Ask the Developer interview on Nintendo's website, as well as Part 3 and Part 4 when they're published tomorrow.
Splatoon 3 launches this Friday, September 9th on Nintendo Switch.
Leave a Comment