According to a listing spotted on Amazon Japan, a new Avatar: The Last Airbender game from publisher GameMill Entertainment will be coming to Nintendo Switch and PS4 this year. As can be seen below, while the listing for "Avatar The Last Airbender: Quest for Balance" doesn't contain any details about the title itself, Amazon's listing does claim the title will release on November 8th, 2022.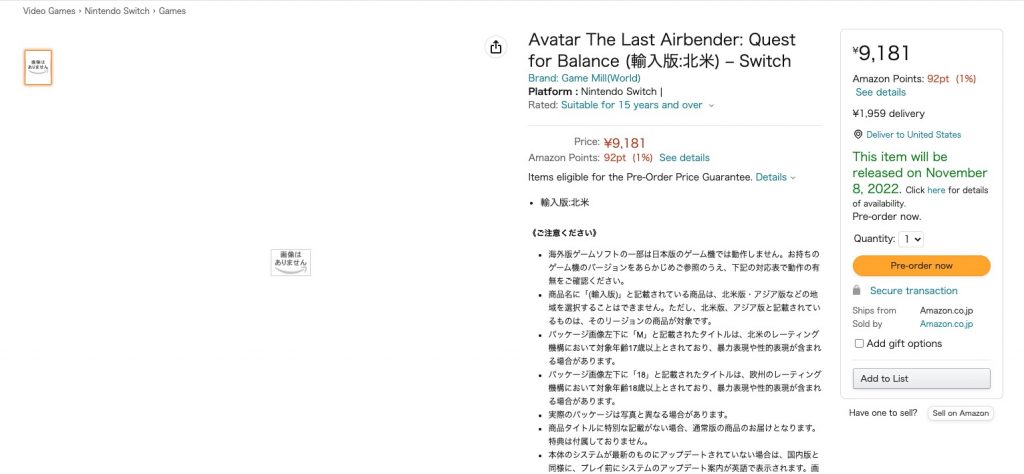 It's been quite some time since the Avatar: The Last Airbender franchise had a game release. The last video game to come out of Nickelodeon's Avatar universe was 2014's The Legend of Korra game for PlayStation 4, Xbox One, and PC from developer Platinum Games and Activision's The Legend of Korra: A New Era Begins for the Nintendo 3DS. Due to licensing issues between both developers and Nickelodeon, both games have since been delisted for years from their digital store pages. However, physical copies were made of A New Era Begins (3DS) and can be found on the second-hand market.
While it has been quite a while since Aang, Korra, and their friends had their own video game, the characters have appeared several times in GameMill's recent Nickelodeon crossover titles including Nickelodeon All-Star Brawl. Plus, a free-to-play mobile game, Avatar: Generations, is in development and will soft launch later this month in select countries.
When more Avatar video games news makes the rounds, we will be sure to keep you all updated on what's going on with Aang and Korra's world on Nintendo's digital front.
Leave a Comment