A web-slinging adventure awaits in Webbed! Released on the Nintendo Switch earlier this year via the Nintendo eShop, Super Rare Games has announced today that they've partnered with Sbug Games to bring this adorable 2D platformer into a limited physical edition.
A story about a happy little spider who goes on an adventure after her boyfriend is taken by a big mean bowerbird. Become the cute little web-slinger you've always wanted to be and swing through the trees, spin sticky webs, and make friends with the bugs you meet along the way!

Physics-puzzling – Explore the dangerous wilderness with nothing but your webs and your wits. Practice the art of web-swinging to speed your way through the world!

Get creative – Leave your own unique mark by spinning webs through the interconnected world. Stick webs to almost anything and use them to create your own paths.

The friends we make along the way – Make friends with bugs, and dance with them. Some bugs could use a little help from a friend and might even join your rescue effort in return!
Webbed will be available as one edition (standard), priced at $35.21, and only 4,000 copies will be made available. In it, you'll get the following: a case with the current build of the game on a cartridge, a cover with interior artwork, an exclusive sticker, a full-color manual featuring a variety of art from the game, and a 3-pack of trading cards (with 5 cards plus 1 shiny variant in total to collect). Copies are limited to two per person and if you want extra trading card packs to try and make a complete set, additional packs are available for $3.04 each (limit 5 per person). For a detailed look at Super Rare Games' physical releases, you can check out our review of Wytchwood where its physical edition was featured.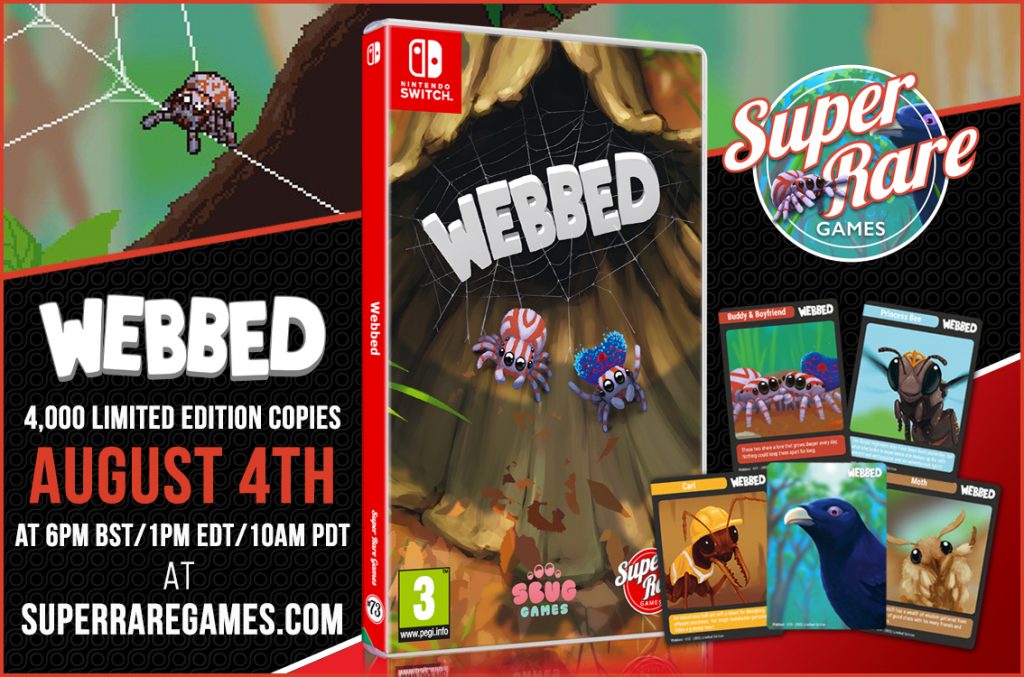 Sales for Webbed open on Thursday, August 4th, 2022 at 10 a.m. PT | 1 p.m. ET only at Super Rare Games, and orders will ship shortly after. Once all 4,000 copies have sold – that's it! After that, you'll have to pick up Webbed digitally from the Nintendo eShop or get lucky and find one of the 4,000 copies for sale secondhand. So if Webbed is a must-have addition to your physical Nintendo Switch collection, make sure to set an alarm for next week!
Leave a Comment