Twitter, Twitter, on the wall, who's the most popular of them all? The website has released data on its most tweeted about games of 2022 so far, and the results may or may not surprise you depending on how many gacha games you play. The rank, from 1 To 10, is as follows:
Genshin Impact

Wordle

Ensemble Stars

Final Fantasy

Project Sekai: Colorful Stage (localized as Hatsune Miku: Colorful Stage)

Apex Legends

Elden Ring

Fate/Grand Order

Valorant

The Legend of Zelda
Quite a bit to unpack here. To start, the only Nintendo game is Zelda, which didn't even have a release but the mere announcement of a delay was still talked about enough to land in the top ten. The only other game that isn't some form of "live service" with continual updates is Elden Ring, whose success is an absurd and unprecedented phenomenon, and yet it couldn't even crack the Top 5. That echelon is the domain of gacha games, with Hoyoverse's Genshin Impact reigning supreme, Russian Literature homage/idol game Ensemble Stars at number three, and "Hatsune Miku is my therapist" rhythm game Project Sekai at number five. Wonderhoy! The rest of the top ten isn't free of gacha either, with historical figure fan-fiction machine Fate/Grand Order clocking in at number eight. 
Lightning rod social phenomenon Wordle ranks at number two, but apparently isn't enough to topple people crying about their Genshin rolls. Final Fantasy gets the number four position (presumably off the dual strengths of Final Fantasy XIV updates and Final Fantasy XIV news) while shooters Apex Legends and Valorant round out the list. Notably, meme phenom and crossover factory Fortnite isn't here, perhaps suggesting its time in the limelight is fading (though I doubt it's anywhere outside the Top 20). Also interesting, if not unexpected, that none of the Nintendo games actually coming out this year (Kirby, Xenoblade, etc.) can match up to Zelda.
The skew towards gacha games that a mainstream Western audience might not know is explained by the country ranking, where Japan takes the number one spot for Gaming tweets, followed by the US, South Korea, Thailand, Indonesia, Brazil, the Philippines, India, the UK, and Mexico. Twitter doesn't list its methodology for how it collects or prescribes all this data, so we just have to take their word for what the most discussed games are, though as somebody who currently resides in gacha hell nothing about the list is particularly surprising. We'll have to see if any trends get shaken up in the second half of the year.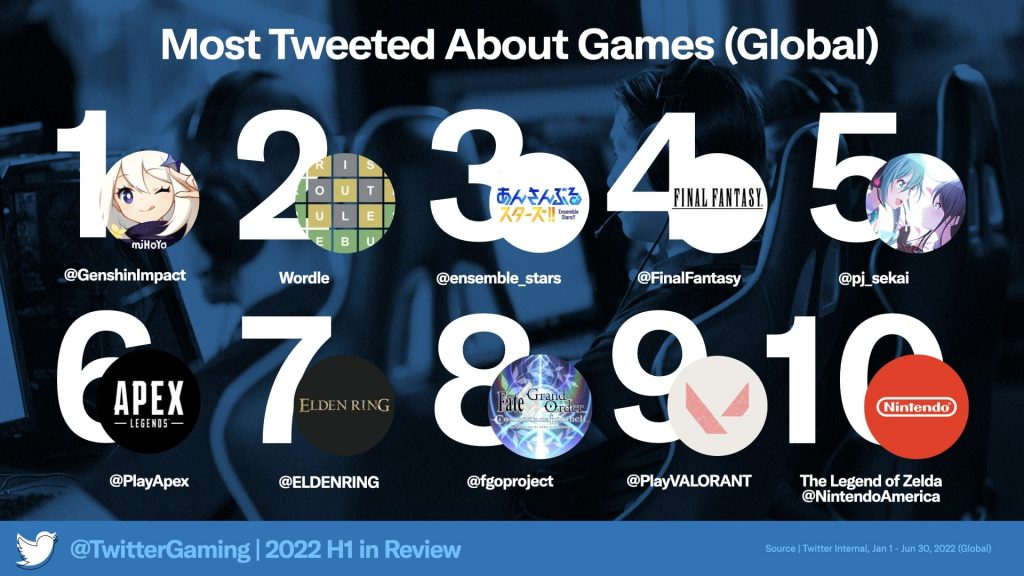 Leave a Comment