Xenoblade Chronicles 3 is shaping up to be another strong entry in Nintendo's (dare I say flagship?) RPG series. Everything shown during today's Xenoblade Chronicles 3 Direct points to a robust experience that's maintained the strengths of its predecessors while both trying new things and improving on weaker ones. There'll be no telling for sure until it's available, but for anyone withholding judgment until it's complete, you've got a long wait ahead of you. 
Announced at the tail end of the presentation, there's going to be a Xenoblade Chronicles 3 Expansion Pass composed of multiple waves of DLC. This will be broken into four packs by the look of things, with the first launching alongside the game and the last slated for release by December 31st, 2023.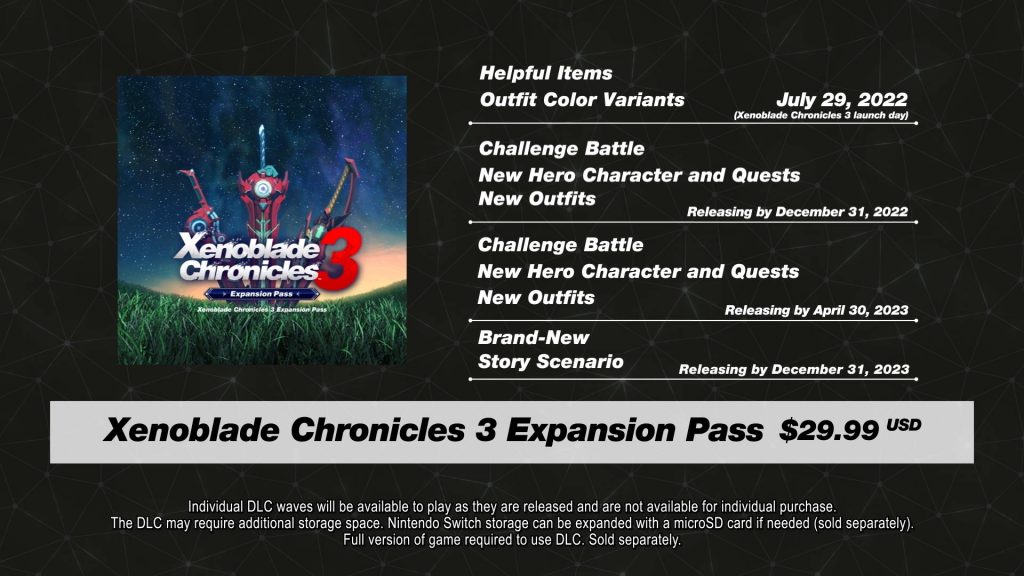 Helpful Items, Outfit Color Variants – July 29th, 2022

Challenge Battle, New Hero Character and Quest, New Outfits – by December 31st, 2022

Challenge Battle, New Hero Character and Quest, New Outfits – by April 30th, 2023

Brand-New Story Scenario – by December 31st, 2023
Judging by both Xenoblade Chronicles 2's DLC support and the accompanying image for this Expansion Pass, there's a good chance those new characters could be Shulk (based on the Monado's presence) and Rex and/or Pyra (per her version of the Aegis). That's just speculation, of course, and is redoubled when it comes to the prospect of a new story scenario as part of the final content drop. 
It's also worth noting that, per a disclaimer shown on screen during the Expansion Pass reveal, these packs will not be available for individual purchase. There's also no indication on if that story will be able to stand alone ala Torna ~ The Golden Country, though per that disclaimer I'd say not. 
The Xenoblade Chronicles 3 Expansion Pass will be available to pre-order for $29.99 today on the Nintendo eShop and will officially launch on July 29th.
Leave a Comment