Ahead of her playable debut at this year's Combo Breaker, the next Skullgirls 2nd Encore character has gotten an early look at their gameplay. Black Dahlia was previously announced as a newcomer to the Skullgirls' endless launch party, making the jump from story mode figure to fully playable, and now we have an idea of how she'll fight. 
Hidden weapons and one giant (and literal) hand-cannon are the name of her game, though that doily cape certainly adds to the character's flair. Over on the Skullgirls Steam page, Black Dahlia got further detail with respect to her mid-range playstyle (based on loading different kinds of rounds and a command jump) as well as her release roadmap when it comes to the PC version's various builds. 
Scrolling further down though, we have new murmurs of the Skullgirls 2nd Encore Season 1 Pass coming to Nintendo Switch. Announced alongside this paid DLC's start, the content's release on Switch has been held back compared to Steam and PlayStation 4. Per this news, the Season 1 Pass will be part of an update for the Switch version planned for later this year, with no firm release date given.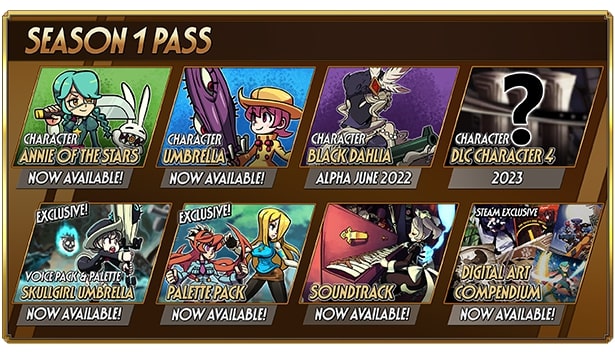 It's worth noting that the fourth character in this pass had their release target just slide back to early 2023, but this is still great news for fans eager to see their Switch copy of Skullgirls become a more complete reflection of this game that just won't quit.   
Leave a Comment