Nearly a month since it was first announced, Niantic has divulged even more details about this year's Pokémon GO Fest. The event, falling in line with the previous two Pokémon GO Fest events, will not be limited to select locations and will have free and paid ticket options available.
Niantic outlined what Trainers can expect for Pokémon GO Fest 2022 via the official Pokémon GO blog this week. The event will consist of two days (Saturday, June 4th, and Sunday, June 5th), and will be followed up with a special finale event happening months later on Saturday, August 27th (which will be ticketed and cost US$10.99, yet GO Fest 2022 ticketholders will get the ticketed version at no extra charge).
For Pokémon GO Fest 2022's first day, it'll follow a similar layout compared to previous events. From 1o a.m. to 6 p.m. your local time, rotating habit hours will be in effect alongside themed confetti effects. The habitat themes for this year are City, Plains, Rainforest, and Tundra. Select Pokémon – including new event Pokémon (an unannounced Costume Pikachu) and Shiny Pokémon that will be available for the first time in-game (Shroomish, Numel, Karrablast, Axew, and Shelmet) – are outlined in the blog post in addition to what Pokémon will be available via Incense. For the Unown collectors, get excited as Unowns B, G, O, and U will be appearing during the event via Incense and all will have Shiny forms available (so get catching).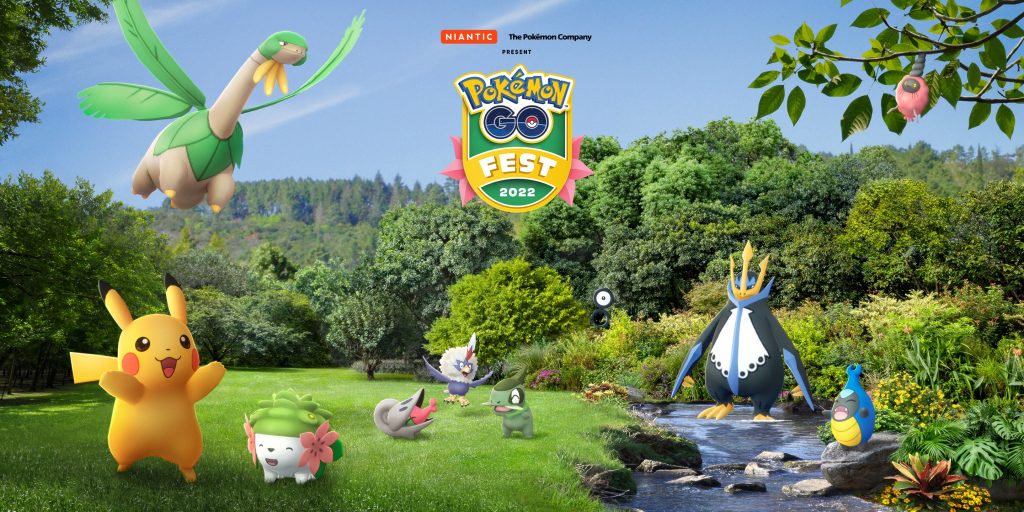 As for the event's second day, it's all about Raid battles! Niantic is teasing that "a certain Pokémon will be making its Pokémon GO debut" via Five-Star Raids. The Raid list is a bit short right now, but we'll certainly know more as we get closer to the event. What Niantic will disclose is that Trainers, regardless of ticket purchase, will get access to a short Special Research story and Trainers will be able to catch Pokémon that were featured on the previous day.
Throughout the event, Trainers will have access to a free Pokémon GO Fest 2022 Tee for their avatar and can participate in the Global Challenge Arena (though Day 1 is limited to ticket holders).
With all this information, Niantic has updated the Pokémon GO Fest site with this year's info, including a handy chart that breaks down the differences between the event's free version and ticketed version. Trainers who wish to experience the entire event will want to pick up a Pokémon GO Fest 2022 for US$14.99 "(or the equivalent pricing tier in your local currency, plus any applicable taxes and fees) until Sunday, June 5, 2022, at 4:00 p.m. local time. Tickets cannot be purchased with PokéCoins. Tickets to this event are nonrefundable (subject to applicable law and the exceptions set forth in the Terms of Service)."
The fun for Pokémon GO Fest 2022 won't stop after June 5th, as in-person events will be taking place in the US, Germany, and Japan (which are subject to change) in July and August. Ticket details for those events have yet to be announced.
Leave a Comment