Cowabunga is right! Teenage Mutant Ninja Turtles: The Cowabunga Collection is getting itself a fancy limited edition collector's set sometime this year. On Konami's social media, the company announced what will be included in the game's special edition along with pricing and pre-order information.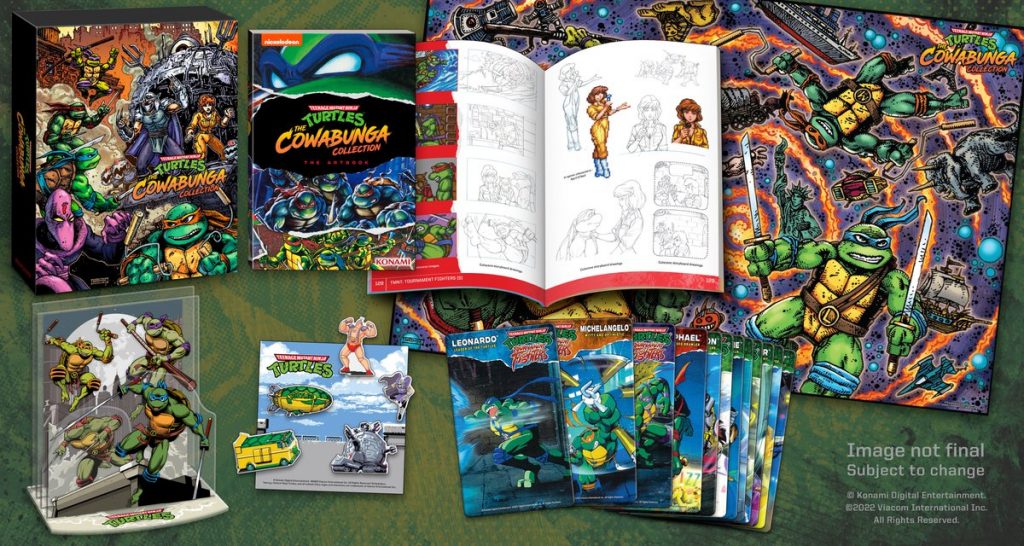 As can be seen above, the limited edition collector's set of TMNT: The Cowabunga Collection comes with an original box, a physical copy of the game, cloth poster, acrylic diorama, enamel pin set, 12 tournament fighters cards, and a 180-page artbook. As longtime TMNT fans can probably tell, the most notable aspect about this limited-edition set is that the box art and cloth poster were designed by long-time Teenage Mutant Ninja Turtles artist Kevin Eastman.
TMNT: The Cowabunga Collection contains 13 classic Ninja Turtles games in one complete package. From the original NES iteration to the Super Nintendo's critically acclaimed Turtles in Time, Konami's upcoming release offers fans of the franchise plenty of different adventures to experience. The standard copy of the game will retail for $39.99 while the limited edition is priced at $149.99. The limited-edition is already selling out, so be sure to grab a pre-order while you can!
TMNT: The Cowabunga Collection is yet to receive a concrete release date, however, it should be noted that the game will release sometime this year alongside the new Ninja Turtles game from DotEmu, TMNT: Shredder's Revenge. Both games feature throwback elements to the Ninja Turtles' defining years. When more information about TMNT: The Cowabunga Collection is made available we'll be sure to report on them.
Leave a Comment